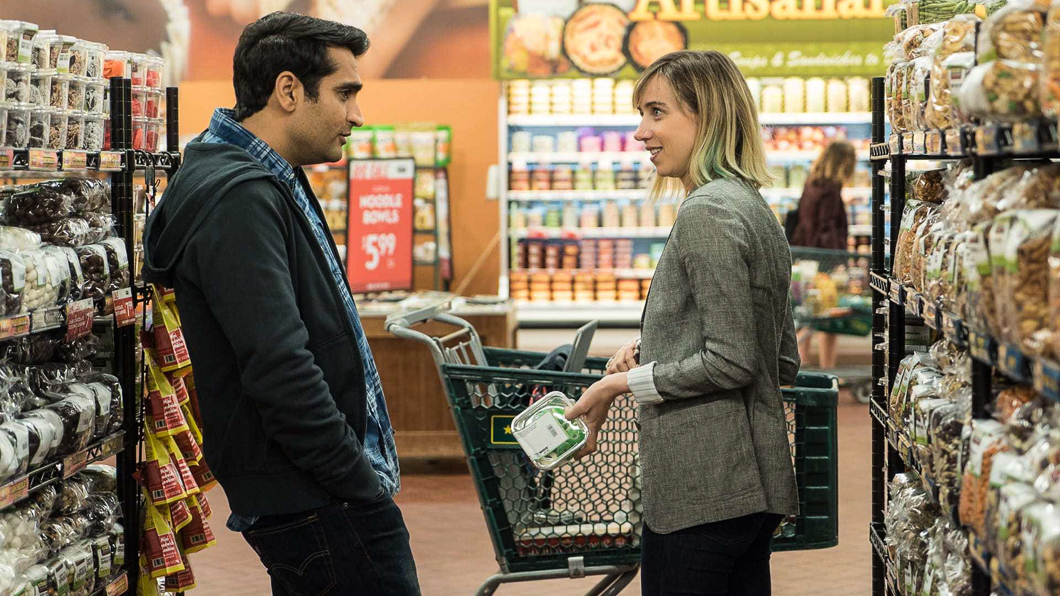 As an aside, I am definitely doing something wrong, this is the third time I've typed this. Then I think I save it and all that comes back is the picture. Michele and I went to a small get-together to honor Catherine Santos, it was at her home and I had never been there without her and that really brought home the realization that she is gone. Today I learned one of my co-cardiac-rehabbers, Placida Chavez, died last Wednesday at 93. We often walked on treadmills next to each other and sometimes we chatted; a week ago, we chatted about her finally getting all the weeds in her garden pulled. Now all that is left of Placida is our talking about her and an obit on the table where we write down our vitals. Somehow, my pitch on The Big Sick disappearing seems to fit right in. End aside.
Michele and I saw The Big Sick last Friday and I've been thinking of it ever since. It stars Kumail Nanjiani, playing himself, and Zoe Kazan, playing the movie's script writer, Emily V. Gordon who in real life is married to Nanjiani and the movie is about their early relationship. Zoe Kazan is radiant – the only other time I've seen her in a movie, Ruby Sparks, she was also radiant and she should get more work – and that radiance is bright enough to carry her presence through the Big Sick phase of the movie in which she is in a coma. The movie is billed as a RomCom and it is very romantic and very funny but it is also about how our relationships don't exist in a vacuum and a big chunk of the film is about Nanjiani's relation with his and Emily's parents. Every player in this movie, from the loving- couple to the nurse in the hospital seems real.
Trust me on this, go see The Big Sick.