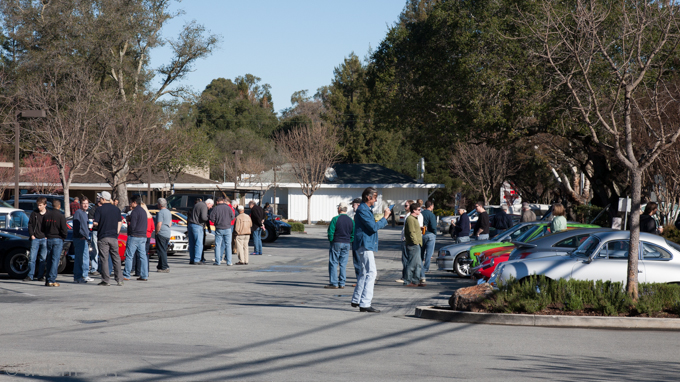 symbiosis: a relationship between two people or groups that work with and depend on each other Merriam-Webster
parasite: a person or thing that takes something from someone or something else and does not do anything to earn it or deserve it Merriam-Webster
Last Sunday morning I went to our local shopping center – if you can call a parking lot with a market, a nursery/gift shop, an art/framing store, several banks, three restaurants, and a coffee shop; a shopping center – to see a, sort-of Car Show. Car Show may be way too grand, what this was, were some cars parked in a parking lot. What makes it different from  an average Walmart parking lot is that the cars were, by and large, unusual.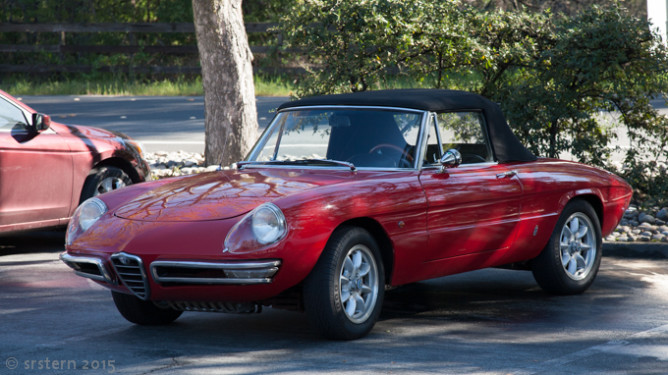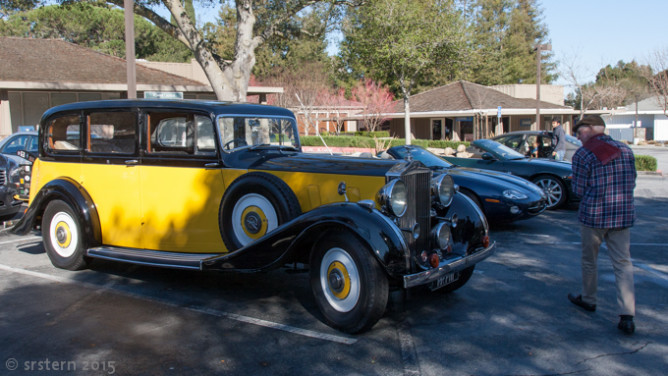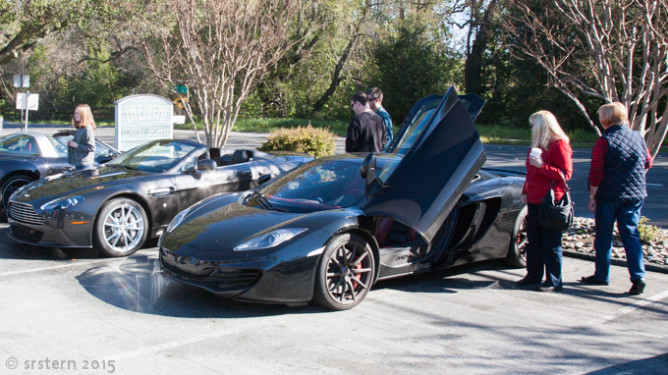 When I was in High School, I went to my first car show, the first Hillsborough Concours d'Elegance. Two of my friends actually had their cars in the Concours, one was a 1950 Ford Hotrod and one was a Morris Minor Coupe. Last year, the winner of the Hillsborough Concours d'Elegance was an immaculately restored 1938 Talbot Lago T150C Figoni et Falaschi; my friends cars obviously would not have made the grade. But even today, they would be interesting cars, cherished by their owners. Up until recently, they would have had no place to show them off, but that is starting to change.
I first heard about what is now known as Cars and Coffee – or Cars & Croissants in its more pretentious form – about ten years ago when Malcolm Pearson's cousin-in-law mentioned going to one in Orange County. Now they seem to be popping up everywhere. The idea is that the owners – with their cars – meet on a Saturday or Sunday morning, in a parking lot that has a coffeehouse, and anybody who is interested can drop by to ogle and talk cars.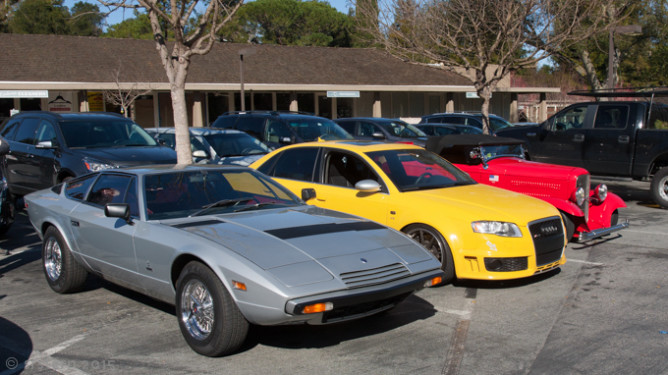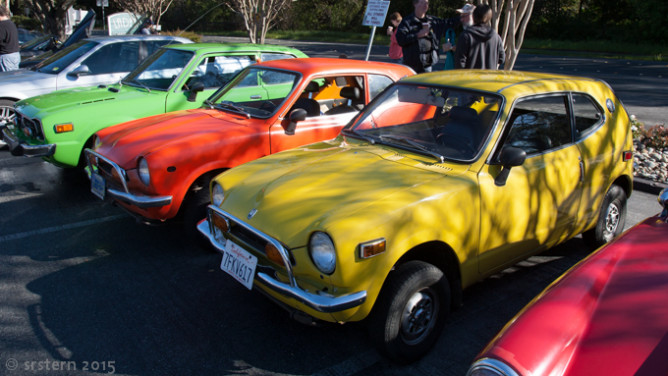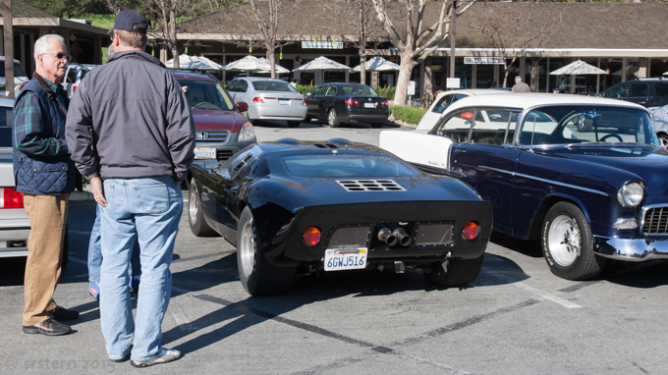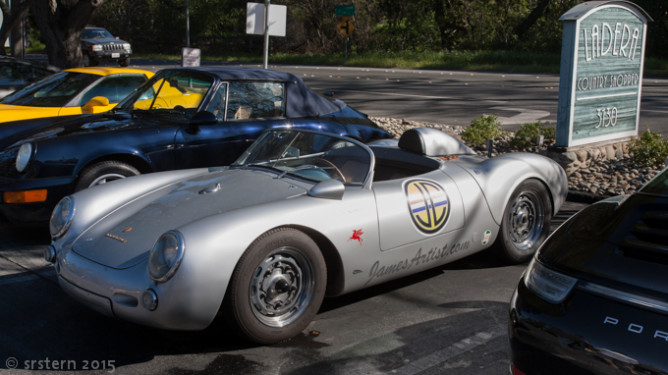 Some of the cars are outstanding but not prepared enough for a official concours, like the Maserati Khamsin above. Some are outstanding but not concours material, like the Audi RS4, a somewhere around 500 horsepower factory hotrod that looks like a regular A4 to the casual observer. Some are not particularly good cars but are still interesting to anybody who is interested, like the Hondas above. And some are replicas of cars that would be in a concours if they were real.
The replicas look like the real thing and are often just as interesting in their own way. After a typical Porsche 550 Spyder was no longer competitive as a racecar – in, say, 1960 – it was not worth very much. They were much simpler cars than a contemporary street Porsche and not very practical as transportation, still they would be great fun to occasionally take out on a crisp fall morning and play in the leaves, as I once read in a book on driving race cars on the street. But, now they sell for north of $3.5 million and that just seems ludicrous. Beck came along and made replicas with newer Volkswagen engines that were faster and more reliable, sold for somewhere around twenty grand, and were just as enjoyable, if not more so. But nobody is going to let one in the Hillsborough Concours d'Elegance – yet – so here it is. The  Ford GT40 is roughly the same situation, only on a more expensive scale.
When I started this post, I wanted to make the Beck/Porsche relationship symbiotic but, in telling Richard Taylor about the cars, he pointed out that the Beck/Porsche relationship isn't really symbiotic because, while the Beck replica depends on the Porsche 550 Spyder price becoming astronomical, the Porsche doesn't depend on the Beck. Then I thought maybe it could be considered a parasitical relationship but, while the Beck does feed off of the Porsche to a certain extent, parasitical doesn't quite describe it. Still, I like The Good, The Bad, and The Symbiotic as a headline and want to keep it, so I looked around for another example to allow me to keep the headline.
A relationship that does fit is between the circumstances that led to the gourmet food truck. In the collapse of 2008, construction – especially residential construction – was one of the biggest losers. According to the U.S. Bureau of Labor Statistics, Construction employment fell by 1.5 million during the December 2007–June 2009 recession. By 2007, most guys working in the field were buying their lunch from food trucks – affectionately known as roach coaches –  and, as the construction industry collapsed, the roach coach biz collapsed with it. That resulted in lots of food trucks being taken back by lenders. At the same time, restaurants were laying off scores of very qualified cooks.
In November 2008, Roy Choi, a graduate of the Culinary Institute of America, and Mark Manguera bought a well used roach coach and converted it to Kogi BBQ, an Asian Mexican fusion restaurant on wheels. They say they were peddling $2.00 Korean barbecue tacos on the streets of L.A., but, really they were selling cheap gourmet food from a food truck. This would not have happened without the happy – for us – availability of used food trucks and out of work gourmet cooks.
As I was thinking about symbiotic and parricidal relationships, I couldn't help but think of Walmart and the U. S. Government. Walmart doesn't pay enough for their employees to live on. As an aside, when I say employees, I don't mean the top executives, C. Douglas McMillon, the President and CEO, had a total compensation of $25.6 million last year and that is enough for anyone to live on. End aside. The average sales associate, however, got $8.86 per hour, or a salary of $17,841, according to Walmart. That is not enough to support a family, but it is low enough to qualify for Food Stamps in most cases. It seems that Walmart is only able to get people to work at that low pay because those same people can get government assistance (now including government subsidized health insurance). According to Americans for Tax Fairness, Walmart employees get about $6.2 billion annually in mostly federal taxpayer subsidies. If you are still looking for Reagan's, Cadillac driving welfare queen, look no further, it is the parricide, Walmart.