b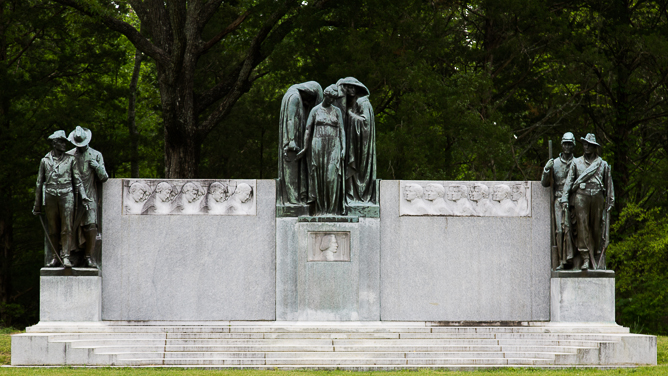 General Ulysses S. Grant first came to Washington 150 years ago, on March 8, 1864. It had been a long journey, starting, I suppose you could say, when Grant had resigned from the Army about ten years before under the cloud of being a drunkard. He was stationed at Fort Humboldt which, at that time, was near the end of the world. Grant had been drinking heavily and with his resignation, his Army career was pretty much in shambles.
Back home, he tried to make a living, but not very successfully. With his wife, Julia, he settled on property that had belonged to her family near St. Louis. Grant tried farming, calling the farm Hardscrabble. He was a failure. Among other things, he hired "free men of color" and was criticized by his white neighbors for overpaying them.  He tried selling firewood door to door. He barely eked out a living. When the Civil war started, in 1861, Grant was working, as a clerk, for his younger brother.
As an aside, at some point, Julia had been given a slave, William Jones, by her father (the whole idea of giving another human being away as a gift seems so bizarre to my naive, 2014, mind, Happy Birthday, dear daughter, here is a human being for you to own). I guess Mr. Jones became Ulysses Grant's by community property, but , however it happened, when Grant could no longer afford to provide for Jones, when he desperately needed the money, he freed William Jones rather than selling him. Grant signed the manumission papers in March of 1859. He was a Mensch. End aside.
In his book, The Generalship of Ulysses S. Grant, Major General J. F. C. Fuller tells what happened next. In the winter of 1861, a young merchant of Galena roused by the conditions of the day to a sense of patriotism began drilling his company of militiamen and, one morning, as it happened, he found himself in front of the leather store of Grant Brothers. A wrong word of command caused a confuse opening in the ranks when, hidden away behind the soldiers, was seen a little man seated on a packing box. Then it occurred to the young merchant that this was Captain Grant , late of the Regular Army. He asked him to take charge of his company, and handed him his sword. Grant buckled it on and stepped out in front of the men. "As he drew his blade from the scabbard and it flashed in the sunlight, his whole nature seemed transformed and to his fellow townsmen was revealed the fact that here was a man who understood the business of war".
During the Mexican War, Grant had distinguished himself. He was one of those rare individuals who did better – much better – under stress. He knew war was coming and he volunteered to go back into the Regular Army if he were given a field command. He was not only turned down, but, when he traveled to Major General George B. McClellan's Headquarters in Cincinnati, McClellan wouldn't even see him. When Napoleon was asked what characteristic was most desirable in a General, he answered Luck, and Grant was very lucky. He didn't know it at the time, but not being able to meet McClellan, was Grant's first lucky break.
Grant stayed in Galena, out of sight in the backwaters of the war, training volunteer Union recruits before they were formed into units. He became very good at it, and with the help of his Congressman, Grant was  put in charge of an unruly regiment, the 21st Illinois Volunteer Infantry, as a Colonel.  In August, backdated to May, he was promoted to Brigadier General, part of a series of promotions as troops were being called up.  It was the best break he could get and Colonel Grant knew it, telling his wife, Julia, the safety of the country, to some extent, and my reputation and that of our children greatly depends upon my acts.
At the end of the year, Brigadier General Grant was involved in what he thought would be a small skirmish. It was the first time he had led troops into battle and the responsibility terrified him. In his memoirs, he says
At the time of which I now write we had no transportation and the country about Salt River was sparsely settled, so that it took some days to collect teams and drivers enough to move the camp and garrison equipage of a regiment nearly a thousand strong, together with a week's supply of provision and some ammunition. While preparations for the move were going on I felt quite comfortable; but when we got on the road and found every house deserted I was anything but easy. In the twenty-five miles we had to march we did not see a person, old or young, male or female, except two horsemen who were on a road that crossed ours. As soon as they saw us they decamped as fast as their horses could carry them.
I kept my men in the ranks and forbade their entering any of the deserted houses or taking anything from them. We halted at night on the road and proceeded the next morning at an early hour. Harris had been encamped in a creek bottom for the sake of being near water. The hills on either side of the creek extend to a considerable height, possibly more than a hundred feet. As we approached the brow of the hill from which it was expected we could see Harris' camp, and possibly find his men ready formed to meet us, my heart kept getting higher and higher until it felt to me as though it was in my throat. I would have given anything then to have been back in Illinois, but I had not the moral courage to halt and consider what to do; I kept right on. When we reached a point from which the valley below was in full view I halted.
The place where Harris had been encamped a few days before was still there and the marks of a recent encampment were plainly visible, but the troops were gone. My heart resumed its place. It occurred to me at once that Harris had been as much afraid of me as I had been of him. This was a view of the question I had never taken before; but it was one I never forgot afterwards. From that event to the close of the war, I never experienced trepidation upon confronting an enemy, though I always felt more or less anxiety. I never forgot that he had as much reason to fear my forces as I had his. The lesson was valuable.
For Grant, everything was a lesson. The first time he lead troops into battle, the enemy had fled. In November 1861, leading 3,114 troops, he captured Fort Belmont. Fuller says that it was a amateur job and he lists the mistakes Grant made. The extraordinary thing, though, as Fuller points out, Grant recognized those mistakes and corrected them in the next battle.
Early in 1862, on February 11th through the 15th, Grant lead an Army of 24,531 in an attack of Fort Donelson, pinning the Confederate Army in the fort. During a lull in the fighting, Grant left the battle to meet with Naval Flag Officer Andrew Foote to coordinate a bombardment. Grant neglected to name a temporary commander and the Confederate forces almost escaped. He came back just in time to prevent a disaster. It was a mistake that Grant never made again.
On April 6 of the same year, at Pittsburgh Landing, a nondescript dock on the Tennessee River, Grant was attacked by Confederate General Sidney Johnson. The attack  was a complete surprise and Grant failed to have his troops – most of whom were raw recruits – dug in, nor had he sent out patrols to find the enemy. It was Sunday, a warm spring morning with the orchards in bloom and the forest floor carpeted with violets – many people remembered that birds were singing in the trees – and it was a bloodbath. The Confederate Army almost drove Grant's Army back into the Tennessee River and probably would have if Johnson hadn't been killed and his replacement failed to press his advantage.
When Grant was attacked, he had an Army of 48,894 men. Somewhere around 10,000 deserted, and that night, it turned colder with a heavy rain. Several of Grant's generals suggested a retreat. When Grant wouldn't even consider a retreat, they got Sherman to talk to him. As the Confederate soldiers slept in the abandoned Union camps and the exhausted Union soldiers huddled with their back to the Tennessee River, Sherman found Grant, hoping to convince him to retreat. He was sitting under an oak tree in the heavy rain, his hat pulled down, in the darkness, alone, smoking a cigar. Later, Sherman would say, some wise and sudden instinct not to mention retreat came over him.  Instead, he said, Well, Grant, we've had the devil's own day, haven't we? Grant took a puff on his cigar and serenely replied, Yes. Lick 'em tomorrow, though.
During the night, Grant consolidated his forces and was reinforced with troops that had not arrived in time for the battle of the 6th. He attacked at dawn with about 45,000 troops, before the Confederates could get ready and, after hard fighting all day, drove the Confederates from the field. Up until then, it was the bloodiest battle on the North American continent with about 24,000 men killed and wounded. The nation was shocked, on both sides, and Grant was almost fired (and probably would have been if Lincoln hadn't interceded, saying I need this man, he fights). With no sense of irony, the battle was named after a local church, Shiloh.
A year later, Grant directed the brilliant blitzkrieg that captured the Citadel of Vicksburg so that, as Lincoln said, The Father of Waters again goes unvexed to the sea. And then there was Chattanooga in late October and November. Union troops had been badly mauled at the Battle of Chickamauga in September and driven back into Chattanooga where they were pinned down, being starved to death. Grant was in New Orleans where he had a horse fall on his leg after it slipped on some trolly tracks. He could barely walk when he got a message to meet an official of the war Department in Louisville.
To back up a bit, General Ulysses S. Grant was an unprepossessing guy, he was short at 5'8″ and slight – he played Desdemona in a production of Othello put on by his barracks in St Louis – he often favored wearing a private's uniform with his rank pinned on the shoulder, and always seemed sort of rumpled. He was crazy in love with his wife, Julia, and saw her when ever he could; they would sit next to each other and hold hands.
On the way to Louisville, Grant was traveling with Julia and his youngest son, Jesse. He was accompanied by his Chief of Staff, John Rawlins, and his personal Field Surgeon, General Kittoe, probably because of his injured leg. What ever the reason, in Louisville, to everybody's surprise, Secretary of War Edwin Stanton got on the train. Stanton had never met Grant, but he immediately rushed over to General Kittoe, saying, Secretary Stanton, General Grant. You may not recognize me, but I would know the hero of Donaldson and Vicksburg anywhere. The embarrassed Kittoe kept nodding towards Grant as Stanton pumped his arm, but Stanton did not get the hint, until Grant stepped forward to introduce Kittoe as a member of his staff.  Stanton, embarrassed, apologized saying I'm sorry General Grant, having no photographs to recognize you by, I made a mistake. Grant disarmed the situation with It seems Mr. Secretary that many people are mistaken when they first meet me. They expect some mythological warrior and instead find a crumbled old soldier.
Stanton had come west to promote Grant. He was to command all the Armies in the West. Much later, after he had met Grant, Lincoln told William Stoddard  Well…I hardly know what to think of him, altogether. He's the quietest little fellow you ever saw. Why, he makes the least fuss of any man you ever knew. I believe two or three times he has been in this room a minute or so before I knew he was here. It's about so all around. The only evidence you have that he's in any place in that he makes things git! Where he is, things move! In a way that is what happened at Chattanooga; a new supply route was opened, the troops fed and provisioned, more troops brought in to cover the flanks, and the same infantry that had been so badly defeated at Chickamauga, charged up Missionary Ridge with a vengeance, to destroy General Braxton Bragg's Confederate Army of Tennessee.
But that was all 150 years ago last year and the year before that. Now, 150 years ago, Grant was being brought to Washington to become the commander of all military forces. George Washington's rank of Lieutenant General had being revived and it was going to be given to him. Again he took the train, again it was a regular train, and he had to travel for four days to get to to Washington. Except for Fred, his oldest son, Grant was alone.
When he checked into Willard's Hotel, he must have been especially travel-weary and unprepossessing. He looked just like a crumbled old soldier, probably out of a job – there were lots of Generals without jobs in Washington – and Willard's was the best hotel in town. The clerk told Grant that they only had a room in the back on the top floor (this was before elevators). Grant said fine – or something Grantian, I have no idea what – and signed in U.S. Grant & Son, Galena, Illinois. When the clerk turned the register around and saw the name, he suddenly remembered that there was a much better room available.
A little more than a month from now, 150 years ago, Lieutenant General Ulysses S. Grant went south to take over direct command of The Armies of the United States. Lincoln wrote him,  If there is anything wanting which is within my power to give, do not fail to let me know it. And now with a brave army, and a just cause, may God sustain you. Grant answered, The confidence you express for the future and satisfaction for the past in my military administration is acknowledged with pride. It shall be my earnest endeavor that you and the country shall not be disappointed….I have been astonished at the readiness with which everything asked for has been yielded, without even an explanation being asked. Should my success be less than I desire and expect, the least I can say is, the fault is not with you. 
In a little more than a year from now, 150 years ago, the American Civil War would be over.