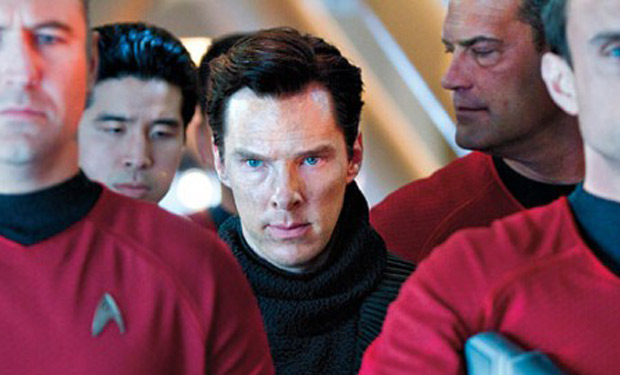 We saw Star Trek Into Darkness Sunday night. I thought it was a mess – a constantly engaging mess in which I was never bored – but a mess that never seemed to have a coherent plot arc. I enjoyed the first rebranding of the franchise in 2009, so I was a surprised that this seemed so generic. The movie starts with a set piece that has no relationship with what will become the major part of the movie which, I guess, has become standard fare for Adventure movies. The first time I noticed this was in James Bond movies but, as I think about it, the first Indiana Jones movie started that way.
For me, the set piece went on a little too long, but, on the plus side, the special effects were spectacular. Even on a huge screen, the Enterprise seemed real. After the credits, Benedict Cumberbatch – who I have a major man-crush on – shows up as a sort of Jason Borne gone bad. His blue eyes glow, but not as much as Captain Kirk's, and all I could think of was how much post production work was done on every frame of the digital film.
It was heartening that, in the future, only bad guys use drones and torture. It was also heartening that the Startreck family squabbling is still there so that this would not be mistaken for a Starwars movie which – I read – will be directed by the same J.J. Abrams. Maybe the problem is that it is the middle movie of a trilogy. Maybe the problem is that I am not really a Trekkie.
BTW, did I mention that the spectacular special effects were great?