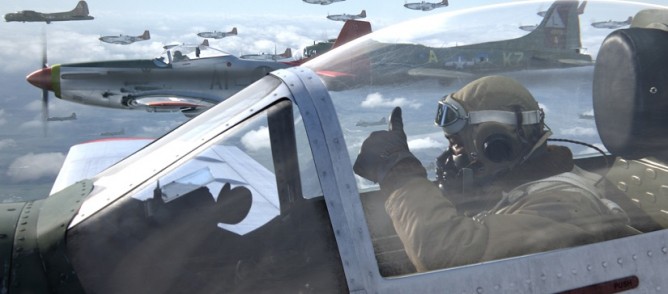 I saw Red Tails the other night and was particularly disappointed. I went expecting it to be not especially good but, like Peter Kuhlman, I love airplanes and once had a World War II airplane jones and I expected the air combat scenes to be at least as good as Star Wars I. They weren't and I am not sure why.  I think that part of it, but only part of it, was that a huge percentage of the movie was CG and – like the picture above – just did not seem real. CG is great when the subject is not real, but when the subject can be real, like a real P51 airplane, CG seems to breakdown.
Even the airport sets that probably were real just seemed too precious to be a real place . They came across as the kind of dioramas that they have at the National Air and Space Museum. They are interesting but they just don't look lived in. They have all the right parts – exactly the right parts – but they just don't transcend the collection of parts. I felt the same way about the Imperial Star Dreadnoughts in Star Wars, they just didn't feel real like the Nostromo in Alien.
Probably what bothered me the most was the hyping of the plot.  In the movie, the first time the Tuskegee Airmen go into aerial combat, we are to believe that they kick ass against a experienced German fighter group including blowing up their airfield. In their first dogfight!  The story of the Tuskegee Airmen is heroic and hyping the story somehow makes it seem less heroic, not more. From everything that I have read, this movie is a labor of love so I am sure George Lucas did not want to diminish the story, but he did.