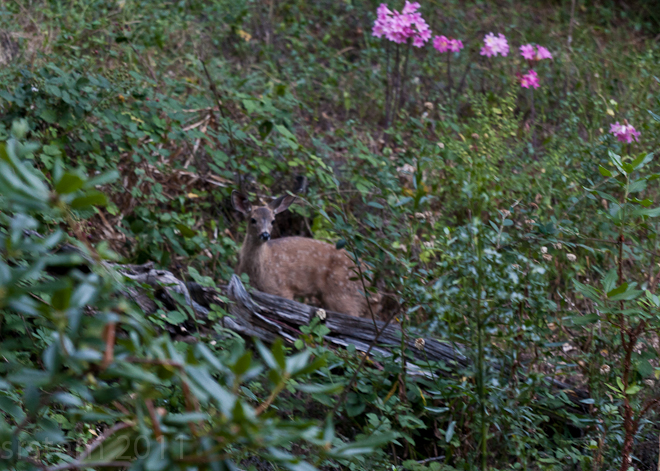 At the end of the day, last night – Friday – I had just poured myself a bourbon to mark the end of the week and was getting ready to go outside and celebrate the warm evening air – finally – when Michele said There is the baby deer. Our resident deer had two babies this spring and then one disappeared and the remaining one had a goiter on her – I'm going to go with "her" until I find out otherwise – neck. But, now, in the gloaming light, she seems to have lost the goiter. Good.
I snuck back in, got my camera, and threw the tele on. I got a couple of shots – the metadata says it was 7:53 – and the the baby and mother took off in different direction. The first time I saw a mommy and baby deer take off in different directions, I was worried that the baby would be abandoned but now I am convinced it is a survival strategy. Sitting there is the warm air, I watched four Steller's Jays – my favorite corvids – take off from the birdbath and fly to the buckeye by the house.
Then the baby deer came back – 8:09 according to the camera – the light faded past the redwoods, and Precious Mae came out to join me. In the dark, a few birds chirped, and down the hill at the Family Farm someone was playing jazz. Life is good and , for a few minutes, all is right with the world.