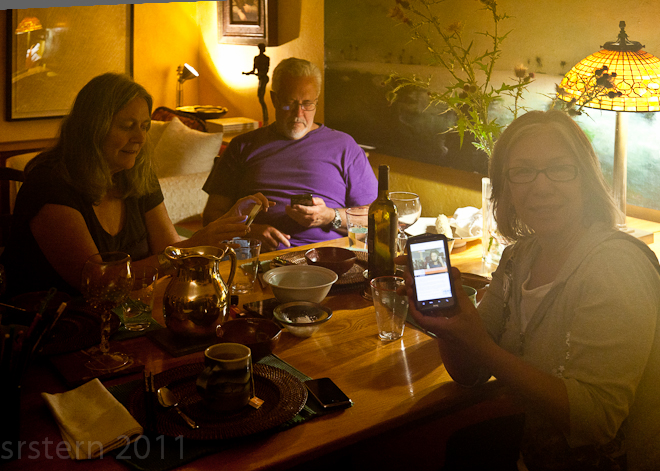 Our friends Peter Kuhlman and Ophelia Ramirez dropped by to hang out outside for a drink or two and for Peter's fourth birthday dinner last Sunday evening. They didn't actually drop by because they now live in Boise and dropping by is hard. We met Ophelia and Peter at Temenos in the early 90s but first knew we were kindred spirits when we bumped into them standing in line for a revival showing of The Wild Bunch, Sam Peckinpah's bloody, high-body-count eulogy to the mythologized Old West to quote IMDb. We do miss them.
Anyway, after dinner somebody said something which led to something and so on until we had a question and Michele, Peter, and Ophelia immediately checked their smart phones for the answer.  It could have been anything, How many cars did the original  Delahaye company make? What is gold selling for right now? What is the largest Karst formation, around Yangshou in China or Halong Bay in Vietnam? Was Doug Tompkins the founder of  North Face? Any fucking thing! The answers are right there, on your smart phone, just waiting for us to ask for it.
In this case, the question was about how the rebels are doing in Tripoli. Everybody went for their smart phones, complaining about the bad coverage by CNN. It turned out that all three of them had Al Jazeera apps. More proof of our kindred spiritness. I think that this picture is Ophelia showing me her app while Peter and Michele are still struggling or, and this is more likely, lost in the story.
In the background, behind Ophelia's head is a handful of thistles. Over the next couple of days, the thistles ripened and turned to seed. Michele thought that it was making a mess, but I kind of liked it. (The lamp, BTW, is a genuine Tiffany – signed, well, with a little stamped plaque – that my grandmother bought at a garage sale for $4.00.)