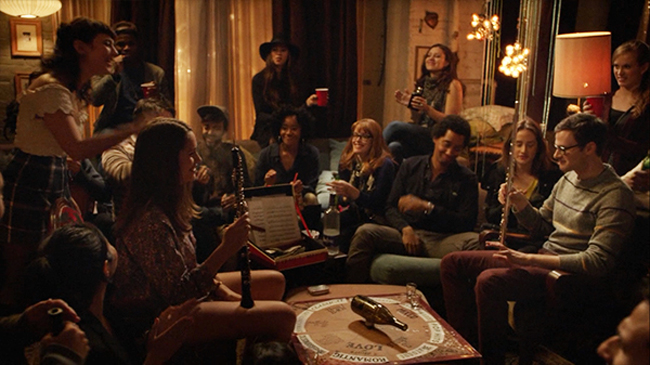 If Mozart in The Jungle wins any more awards someone will have to see it. Tweet at? from? The Golden Globes by Albert Brooks.
Over New Years, before THe Golden Globes, Richard Taylor and Tracy Grubbs, jointly,  recommended the Netflix Amazon series,  Mozart in the Jungle, so we put it on our list of TV to try. Then it won A Golden Globe for Best Musical and Gael Garcia Bernal won for best actor in a musical and we moved Mozart in the Jungle to the top of the list. Then we watched it, both seasons over about five days.
That is not as impressive as it sounds because each show is only a half hour (and probably less so it can fit on pay TV, later I guess). Mozart in the Jungle is based on the book Mozart in the Jungle: Sex, Drugs, and Classical Music by Blair Tindall and it is chock full of sex, drugs, and classical music. First, the music is great. That may be biased because I love everything about Classical Music except the name, but this is a TV show about a young oboist sort of in an orchestra in New York City and the soundtrack is full of greats. Not just Mozart, but Bizet, Rossini, Rimsky-Korsakov, Mahler, Berlioz, Mendelssohn, everybody you could possibly want.
Gael Garcia Bernal is delightful as a young, brilliant but impulsive, orchestra conductor and the female lead, the oboist, played by Lola Kirke, is enchanting. The program is charming in a magical realist sort of way. It would be perfect for a snowy or rainy night.