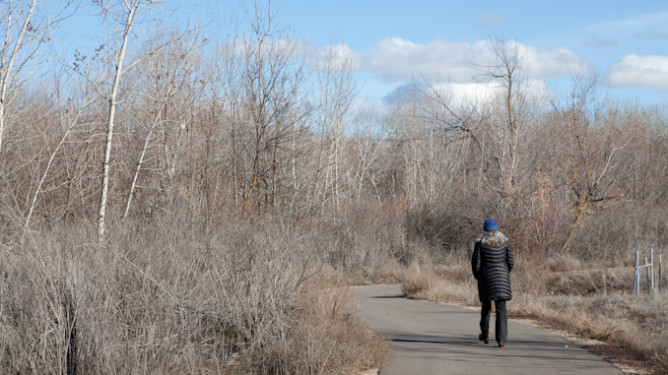 We are at Peter and Ophelia's in Boise Idaho – for a very long weekend – for Michele's birthday. When we arrived Wednesday, on the first commercial prop plane I have been on in – maybe – 49 years, it was snowing but not sticking.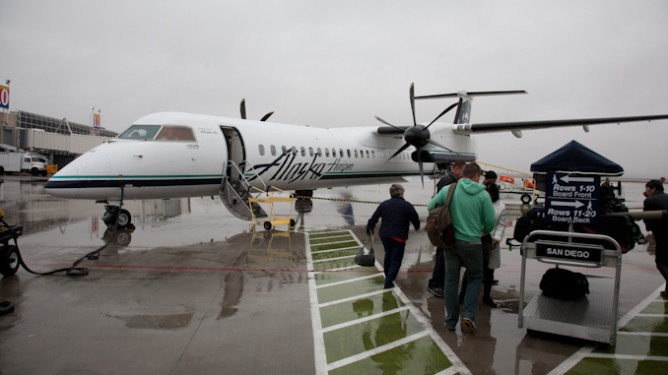 Yesterday, it was clear and warm – not warm for the Bay Area, but warm for here – so we took a walk near the Boise River. As we were getting ready to go for the walk, I thought maybe I should wear my gloves because I was sure it would be cold in the shade. What I hadn't counted on is that there wouldn't be much shade because the trees had all dropped their leaves.
One of the complaints that I read about the Americanization – for lack of a better word – of America is the homogenization of  our culture. Driving down the freeway, every offramp has the same fast food places and Starbucks. The Piggly Wiggly,  National Tea, Skaggs Cash Stores, Devan's, and their ilk, have been replaced with Whole Foods. We watch the same TV at night and everybody, everywhere, pretty much dresses the same, divided by class – or pay scale – more than region.
All that is true, but the differences are still there, just pick up the local paper. In the Idaho Statesman is an ad for the new Ford – one of the pioneering National brands – Idaho Center featuring Ford Idaho Horse Park, Ford Arena, and Ford Amphitheater; the ad features a picture of a guy on horseback shooting a balloon with a very bright muzzle flash. The last time we were here, on a Saturday afternoon, we went to the Idaho State Capitol building – pretty much in the middle of Boise – and just walked in; no guards, no metal detector, just an open door to a seemingly empty building (although the individual office doors were closed and, presumably, locked).
This morning, it is cold and frosty outside and I have already learned a lesson, never leave your shoes out overnight in Boise, in the winter.