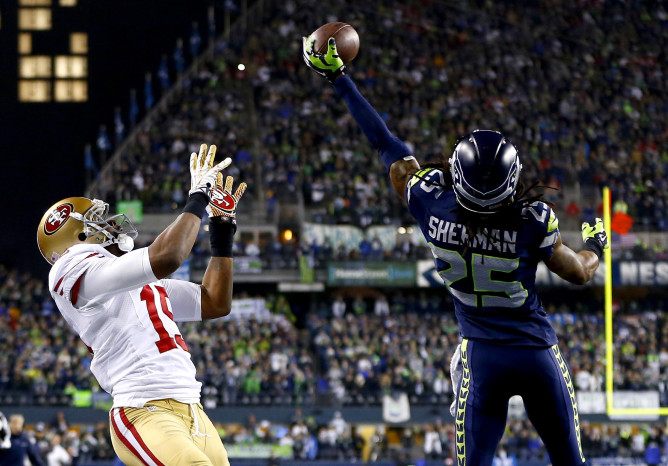 Richard Sherman  blocking a pass to 49ers' Michael Crabtree. (Photo by others)
When you're a public figure, there are rules. Here's one: A public personality can be black, talented, or arrogant, but he can't be any more than two of these traits at a times. After Richard Sherman's outburst, after the biggest game of his career – so far – after the biggest play of his career, the word 'thug' had cropped up 625 times on TV. From articles in- on? – Deadspin.
I don't know very much about Professional Football, I used to, when I was a big fan and followed it on a daily basis but, today, I would describe myself as a lapsed fan . I don't follow it all season and only start during the playoffs but, this year, that is enough to get me interested again.
It has become a much more complicated game, back in the days when I rabid, it was easier because the different leagues – after the AFL-NFL merger, different conferences –  had different styles of play. The AFL favored wide open play and the defenses often countered with a bump and run pass defense over a zone. I usually knew who to key off of.
But now everybody has evolved – and continues to evolve – and evolution favors the generalists. As an aside, the elephant and the panda do what they do extraordinarily well while the coyote does lots of things pretty well. The elephant and the panda are endangered and coyotes have spread to all 50 states. End aside. Today, nobody runs off of tackle as well as Lombardi's Packers did but everybody can run off tackle pretty well, run a Bill Walsh type, short pass, crossing pattern pretty well, and go deep, occasionally, pretty well and, for somebody not paying attention until a month ago, telling who is doing it best is hard to tell.
Fortunately, these are good times to be unknowledgeable, the play by play and analysis on TV – for every game – make it easy for everyman to follow, even if you are not sure where the nickleback should be playing or who he is keying off. I used to be very dismissive of magazines like People or Us because they talked about people rather than ideas. However, as football styles have become more universal, the people who are embodying those styles become the easiest way into what is going on. So, like everybody else that doesn't know the details, I am now following the people.
Following the people , takes me down the road of pitting Denver's offence, led by Peyton Manning, against Seattle's defence, symbolized by Richard Sherman or, maybe, the cerebral Broncos symbolized by Peyton Manning, against Seattle's emotional defence led by Richard Sherman. I almost always go with the cerebral guys over the emotional guys which is why I liked the cerebral Bill Bradley over the more populist Al Gore. As an aside, that is why I think that Obama's being black helped him in the primaries. He picked up almost all of the black vote which would normally go with the populist candidate plus the cerebral voters, like me. The combination put him over the more populist Hillary. End side.
I started rooting for the AFL – then its AFC descendant – team in the Super Bowl because , if it wasn't the Raiders, it was a team that had beaten the Raiders in the playoffs and, if they won, I could interpret as proof that the Raiders were, at least, number two and probably would have been number one if the refs hadn't made all those wrong calls; then it became a habit. So both my habit of going with the AFC and my leaning towards the cerebral should lead me to root for Denver, but I can't.
During the last two weeks, I have become very fond of Richard Sherman and through him, Seattle. First off, Peyton Manning is from Louisiana and played for the University of Tennessee, while Richard Sherman is from Compton and played at Stanford; I always like to go with the locals. Second, under all the emotion, Sherman is an intellectual – he graduated with a 3.9 GPA – and is a student of the game. He says that he has only mediocre NFL physical tools but makes up for it with meticulous attention to detail.  Lastly, during the last twenty years, or so, the NFL has done everything they can to hinder the defence and help the offence, making the offence the underdog and it is always nice to go with the underdog.
Hopefully, this will end up being one of those games that go to the very end. Before any Super Bowl, all the signs point to it being a classic, great, game; the two best offenses in football going at it, or the two best defenses, or – in this case – the best offence against the best defense. Maybe this year will actually be one of those great games, we will know Sunday night. Go Seahawks!