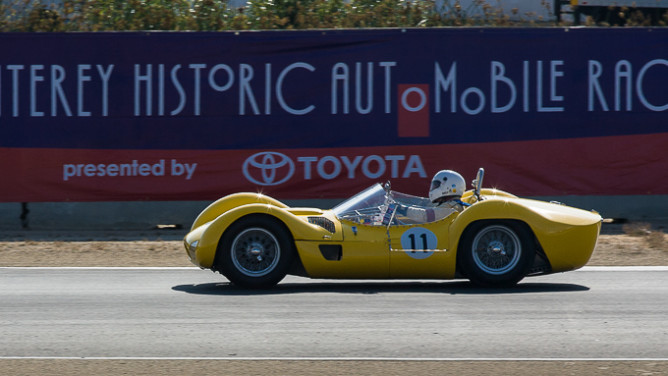 I have a whole slug of pictures of the 2014 Rolex Monterey Motorsports Reunion – 488 to be embarrassingly precise  –  enough so that I feel obligated to come up with a way to use some of them. To say something or show something about the day I haven't said five or six times already. Something that doesn't bore even me. That got me pondering as to why Malcolm and I go back every couple three years, after all the cars are pretty much the same year after year. Malcolm keeps saying that it is like going to a museum and it is, but a museum that we have been to many times before.
It must be similar to someone going to a concert, expecting their favorite group to sing their favorite songs. This mythical someone is going for the familiar with, maybe, one or two new songs added in. These races are the same. There are all the old favorites and, every year, there are a couple of cars that neither one of us had ever seen in real life. The old familiars, my favorites, would be the late 50s sports-racing cars that I lusted over as a high-hormone teenager when I was old enough to go to races on my own.
I want to think that these cars really are the most beautiful cars ever made. Their lines flowed so smoothly and they looked so aerodynamic. That was before aerodynamics became a science, so looking good counted alot. It was also a time when the fiction that these were regular cars anybody could drive was still practiced – much like the Olympics were pretending everybody was an amateur – so they have headlights, doors, a windshield, and two seats. I first took Michele to these races in the early nineties partially because I wanted to introduce her to two old friends in particular, the Ferrari 250 Testa Rossa and the Maserati Tipo 61 Birdcage. Now I think I may have over sold them, driving down to the races, and I may have given Michele the impression that the Ferrari and Maserati were real street cars not pretend street cars because Michele's first reaction was something along the line of Are you kidding me? You think that is a great look car? It doesn't even look like you could comfortably drive it.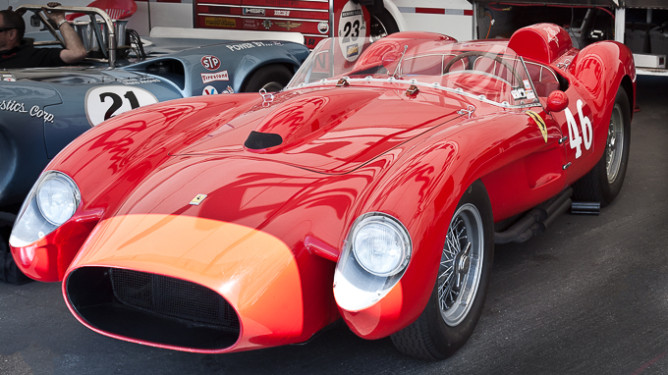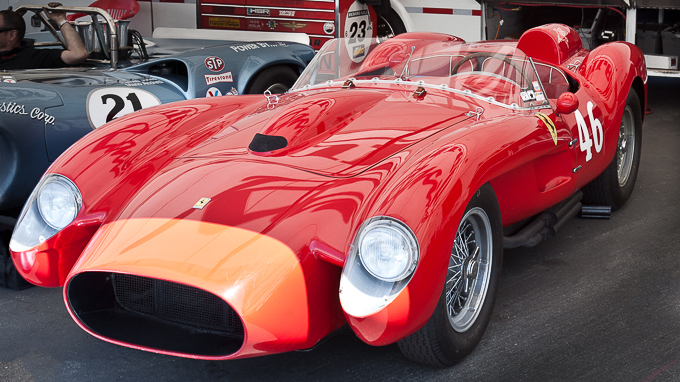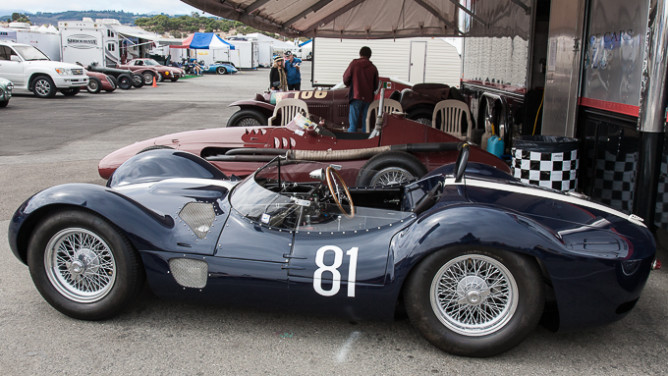 Now I realize that these sports-racing cars are probably an acquired taste. That attitude doesn't dampen my adoration, however. Maybe it is really about the time, the late 50s, my late teens, when everything was possible. Maybe late 50s sports-racing cars actually are more beautiful than newer racecars, more sensual. Probably both.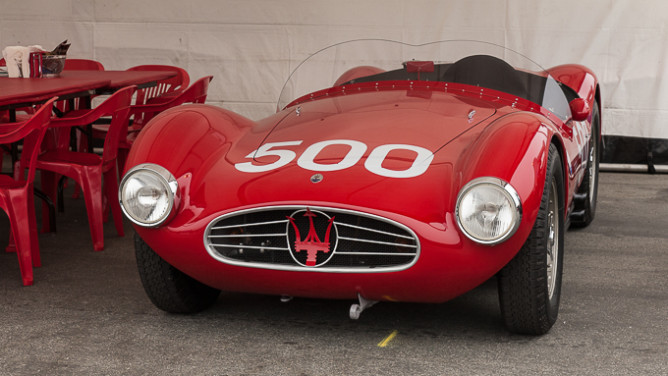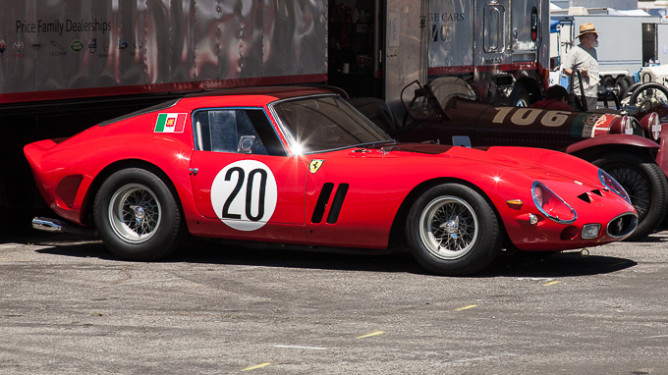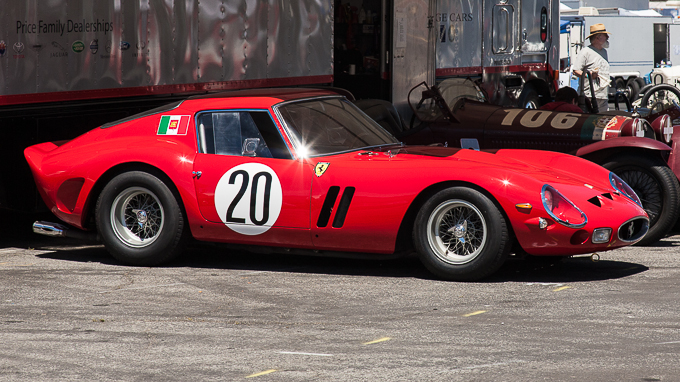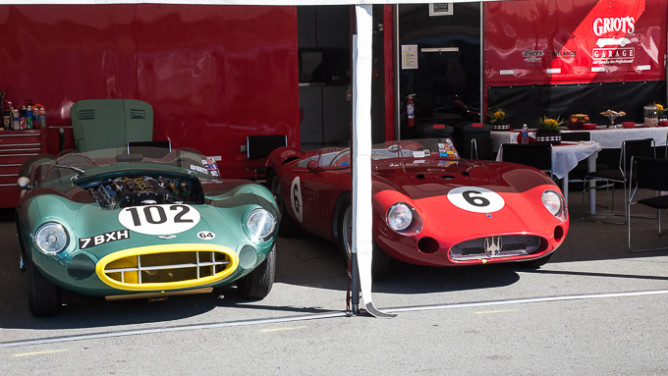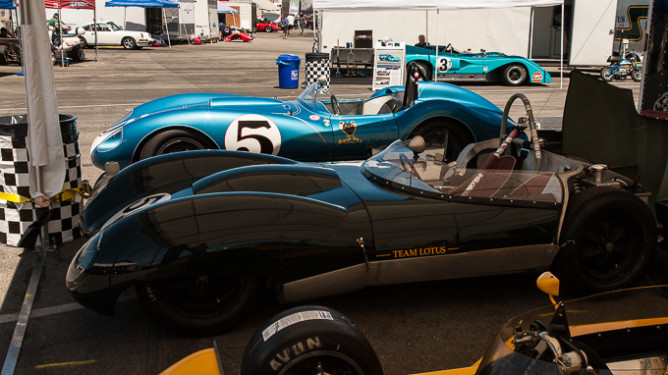 In the late 50s, and probably even now, Southern California was the epicenter of American cardom and I had just moved down there to go to college. I used the opportunity to go my first big time race, the Los Angeles Times Grand Prix. It was a National Championship Race, at Riverside Raceway, on October 12, 1958 and it drew the crème de la crème. The Aston Martin Team would be there with their top driver, Roy Salvadori; Jean Behra would be there, driving a Porsche factory 718 RSK; Jo Bonnier from Sweden would be driving a factory Ferrari; and lots of famous Americans would be there. Phil Hill, the first American to win a Formula One Driver's Championship would be there in a Ferrari Team car along with Carroll Shelby, later of Cobra fame, driving a Maserati, and famous Indy drivers like Bobby Unser, Ak Miller, Roger Ward, and A.J. Foyt. I had been to some local races at Vacaville and Stockton and, even, Laguna Seca, but Riverside was in a different league (so to speak).
Southern California was also where hotrods were invented and some hotrodders turned to making real road racing cars. There were lots of local hotrod guys at Southern California races and the 1958 Riverside races would not be an exception. One car that I didn't show Michele when we went to the Monterey Historics was the Mark 1 Scarab, because they are as rare as unicorns. The first time I saw a Scarab was that day at Riverside.
The Scarab was the love child of Lance Reventlow, on paper, the quintessential playboy ( his mother, Barbara Hutton, was one of the richest women in the world and his father was a Danish Count, Kurt von Haugwitz-Hardenberg-Reventlow, Lance was beautiful, rich, famous, and married Jill St. John). But he was very serious, especially about racing. Reventlow spent a year racing in Europe and then came back to Southern California to build his own race car. He hired Troutman and Barnes, local hotrodders par excellence, to design and build the new car.
I remember it was hot, in the 90s, and by the end of the day I remember being sweaty and grungy and tired but my strongest memory – even though I had come to Riverside to see the Europeans – is of Chuck Daigh driving that Scarab away from the European factory teams and everybody else. The car was stunning, even more beautiful than the Europeans, and clearly an American hotrod with its Chevy engine's booming V8 sound. As rare as it is, as American as it is, it is – for me – the quintessential 50s Sports-racing Car.