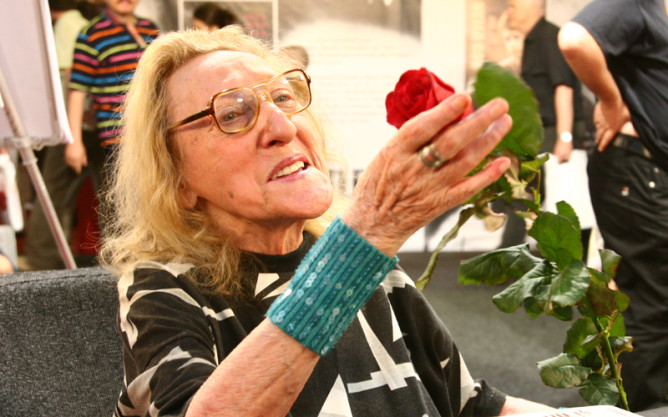 I just read that Nina Cassian died. Until I read her full-page obit in The Economist, I had no idea who she was – or even that she existed – but, after reading a couple of samples, I am loving her poetry. She was Jewish Romanian (the Jewish part is cultural not religious and, for that matter – the Romanian part is technically, I guess – only until she was granted asylum in the US in 1985 after a friend of her's was beaten to death because of one of her poems).
Her poetry reflects that kind of Eastern European, Jewish, humor that has so informed the last 30 years of American humor (think Jerry Seinfeld or Andrei Codrescu if you listen to NPR). Typical of Cassian's humor, and the O'Henry type twists she seems to favor, is Please Give This Seat to an Elderly or Disabled Person, a poem displayed in New York City subways by the Poetry in Motion program.
I stood during the entire journey
nobody offered me a seat
although I was at least a hundred years older than anyone else on board,
although the signs of at least three major afflictions
were visible on me:
Pride, Loneliness, and Art.
What drew my attention to her is a poem she wrote before her exile. It is a poem that I can definitely relate to. While it reflects on a meeting with the Romanian dictator, Ceausescu, it sums up what I think we all feel after a political argument that has gone nowhere.
With rational syllables
I try to clear up the occult mind
and promiscuous violence.
My linguistic protest has no power
The enemy is illiterate.
The world is a richer place because of Nina Cassian and our country, in particular, is a richer place because of Eastern European immigrants. Growing up, I was taught that the center of  Europe and by extension, the center of history was somewhere between England and France.  OK, Spain and Germany were players part of the time and it all started in Italy, but Eastern Europe was half way down the civilization ladder to Czarist Russia with its serfs. Lately I have began to think that I was taught the wrong European view. Eastern Europe was a huge influence on what we call Western civilization. I have been reading Tony Judt and reading about Oppenheimer and all the Eastern European scientists that have made our new – sometimes very scary – world.
We worship England and France, but – over the last sixty or seventy years – Eastern Europe may have had the biggest influence.