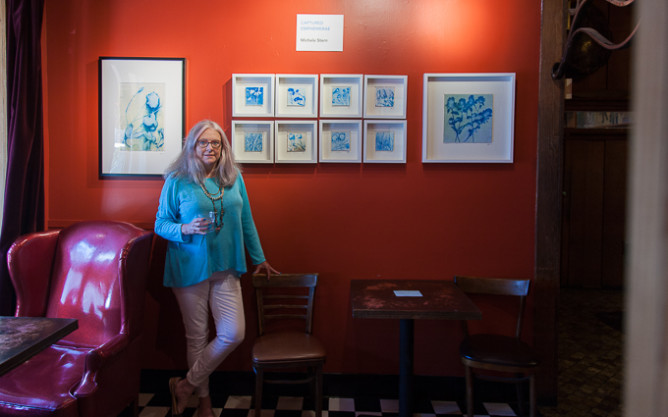 Michele is showing her pictures at Sweeties. They are beautiful but I am not sure what to call them, let me explain.
About a year ago – maybe a year and a half, maybe eight months ago – Michele got a Sunprint kit for Granddaughter Charlotte. If you know Michele well, you will know how hard it would be for her to not get a Sunprint Kit for herself. It just hit all her hot buttons. Anyway she did and she started playing with it right way (when I say playing, I mean playing in the deeper sense, as in playing the piano).
The process is simple: place something on a piece of bluish, sensitized, paper and put it in the sun, then develop it in water. What happens is the bluish paper fades in the sun leaving only the shadows blue. In the water, the shadows turn white and the exposed paper turns blue, reversing the exposed image.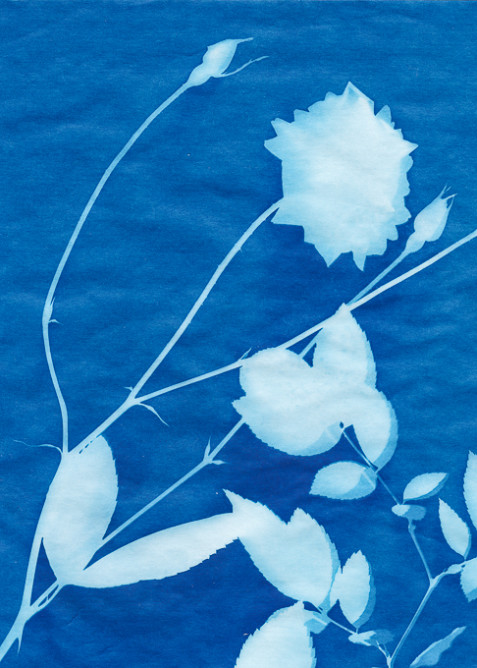 It didn't take long for Michele to get interested in the mid-reversal.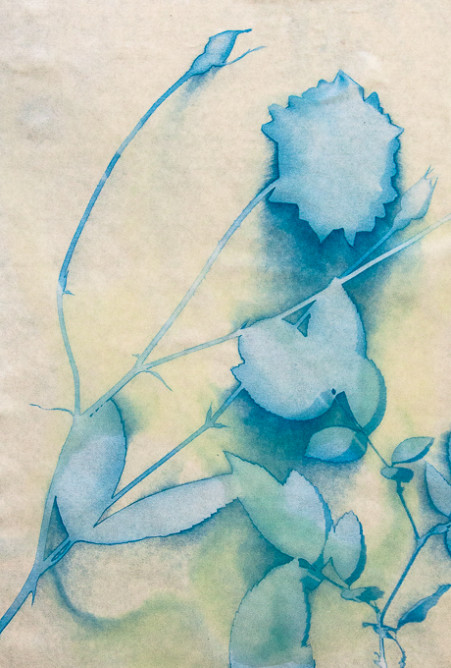 She first took the paper out of the water and tried scanning the dripping wet paper, trying to control the paper with paper towels and rags. The she tried photographing it with her iPad, and – finally – using a camera on a tripod. After about a year, the mid-process scans and photographs were hidden away in the computer and the finished – but not as interesting – Sunprints graced every available horizontal surface.
Then Michele started printing the mid-process images – eventually on Epson Hot Press  Bright, 100% cotton fiber, acid-free, lignin-free, paper – and they were beautiful. Framed, with hand torn edges, they make a striking show.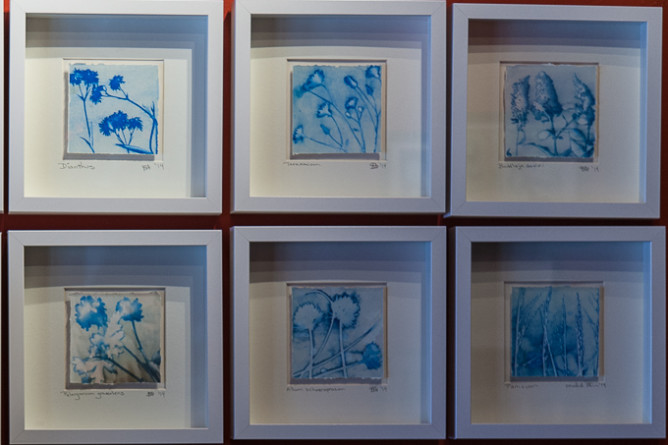 Michele's artist statement says, I am not big on change, even though as the iChing claims, change is the only thing we can be certain of, so it is in my nature to try to hold on to memories and bits of beauty. One of the things I love most is my garden, if you can call it that, since it is really just a tamed bit of woods in Portola Valley. I've noticed that every day the garden changes, just a little; something new has bloomed, something else has withered away.
Thinking we might soon be moving from our home, I started using sunprint paper as a way to record the flowers in my garden. As I did this I became fascinated with transitory images that emerged as the water hit the paper. It is a brief moment when dark and light comingle as they exchange places. These giclée prints freeze that moment during the processing of impermanent images of impermanent blossoms that grace our impermanent residence on this ever-changing planet.
Reading that statement and looking at my pictures of Michele's opening at Sweeties, below, reminds me that we are both trying to do the same thing, freeze that moment.