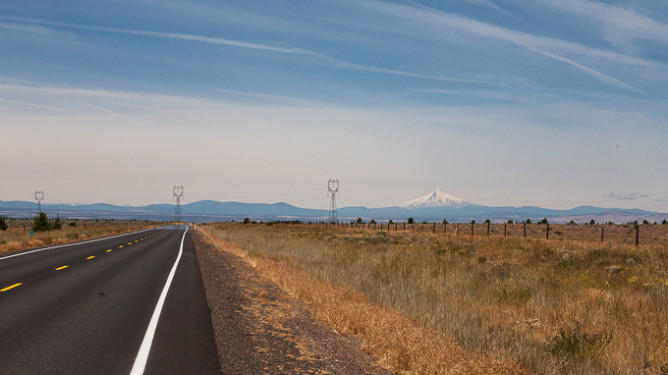 While Michele slept in – in a comfy bed in a motel – I went out to get the car washed. The motel was a family operation in Prineville and, when I asked for the location of a car wash, the only carwash they knew of was a Do-It-Yourself carwash. Prineville is a town of about 10,000 people and, after driving around Eastern Oregon, that looked big enough – to me – for a carwash so I decided to go looking. Prineville is home to a new Apple data Center, a Facebook Data Center, and a Google facility; but it is not home to a carwash. There are five carwashes near where we live, but this is one of the richest areas on the planet and Prineville, like all rural towns today, even those with new Data Centers, is poor. Too poor to have a carwash.
But I didn't know that when I started on my carwash quest. To get to the motel, we had driven all the way through town, so I now drove back towards the center. At the main intersection, I turned right to check out the side road, at the Fairgrounds – figuring that was the far edge – I did a U-turn and tried the other side of town where somebody suggested I go back to the main drag, turn right and try the Standard Station. The Standard Station was on the other side of the road so I drove past it and then did another U-turn. If you are keeping track, you would know that I am now going back into town from almost the same place I had started, but I thought I was going the other way. I tried the Standard Station with no luck and abandoned my quest, deciding to go back to the Motel. I continued back through town past the familiar landmarks I thought I had passed this morning but had really passed last night – the picturesque Courthouse with a fountain, past the Les Schwab Tire Center, and past the Essence Yoga Studio and Wellness Center – on my way back to the motel. The motel wasn't there!
I thought I was going in the right direction because I recognized the Courthouse , Les Schwab, et al, so I went back into town and tried again. I was on the wrong end of town as you have probably figured out and I kept going back into town, turn around, and then, I would drive away from the motel. I did this three or four times, each time getting more dazed and confused because I was so convinced that I was on the right side of town. In my befuddlement, I could only come up with two theories, Aliens had abducted the Motel, or I was completely in the wrong place; they seemed equally unlikely. How could anybody get lost in a town of 10,000? Especially somebody with an excellent sense of direction, like me.
In Lila: An Inquiry Into Morals, Robert Pirsig writes about bringing a boat into a strange marina, in a strange river town, in the dark. He has the wrong marina or the wrong town, I don't remember which, but the harbor lights didn't match the charts and he kept moving the real lights around in his mind to make them fit his imagined reality. He was in the wrong place, but it seemed like the right place because he was mentally moving the data around. In other words,  Believing is seeing, not the other way around. My repeated passes through the wrong end of town, looking for a Motel that wasn't there, is a classic case. After about four wrong passes, I was getting panicky. How could I get lost in a town of less than 10,000 people? All I could think of was an episode on The Amazing Race, in which an old, retired, couple, lost, not because they couldn't handle the Race physically, but because they kept getting confused. Luckily, Prineville was a big enough burg to have cell phone coverage and I finally broke down and called Michele who calmed me down and got me back to the Motel, still rattled.
Finally, we started out for Portland, crossing the last of the high desert in the rainshadow of Oregon's famous volcanoes. The first town we got to was Madras and we decided to stop for a Chinese lunch at the Ding Ho Family Restaurant (which specializes in Chinese and American food).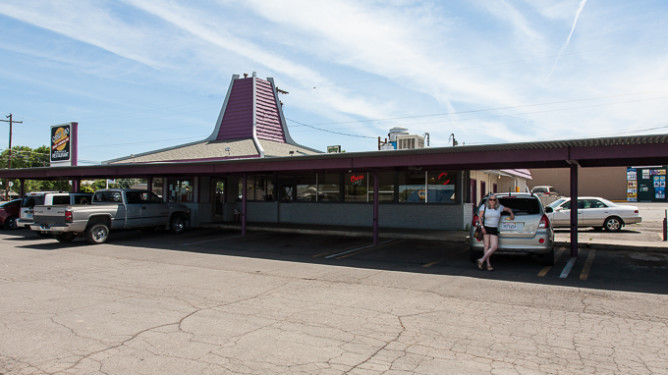 I have no idea when it started or who started it, but Michele and I have a tradition of having Chinese food on every trip we take and we thought this might be our last – and first – chance. Our strategy is to order Kung Pao Chicken to set a baseline and then a local or house specialty, in this case, Barbecued Pork Chow Don. The Kung Pao was not very interesting, but the Chow Don was very good. As an aside, a couple of years ago, I read an article on How to order food in a restaurant that has served me well. The basic theory is to not order the roast chicken or other standard dishes because they are only on the menu by demand. Other people's demands, so they will cook it in a desultory fashion. Always order what looks like the place's speciality because that will be a work of love and it will be cooked with real care. You're welcome. End aside.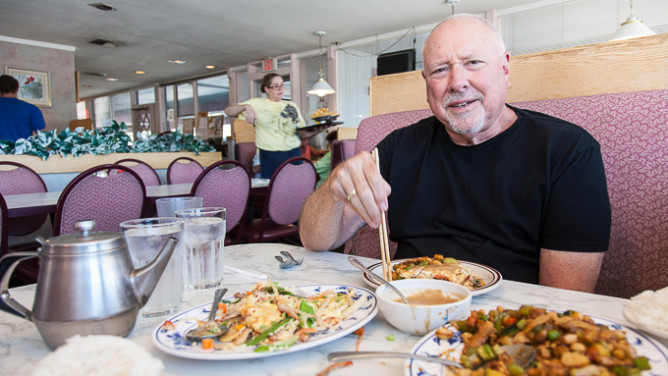 Then it was on to Portland for real. The road between Madras and Portland is straightish, first going across high desert, then over the shoulder of Mt. Hood, and – finally – down into Portland. Mt Hood is part of an arc of volcanos that run from Southern British Columbia through Washington and Oregon into Northern California and – from the east – it dominates the horizon. Once we entered the trees, however, we would only see it peeking through the trees in short flashes.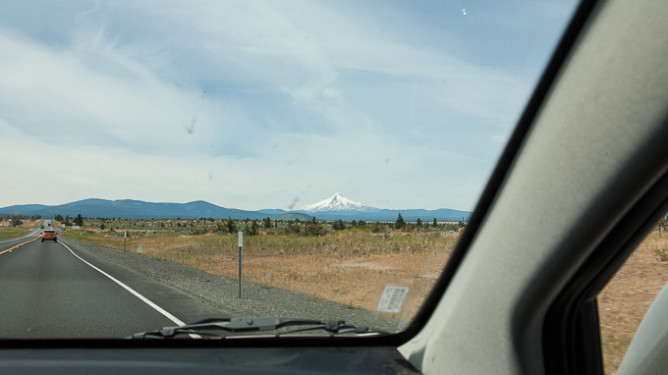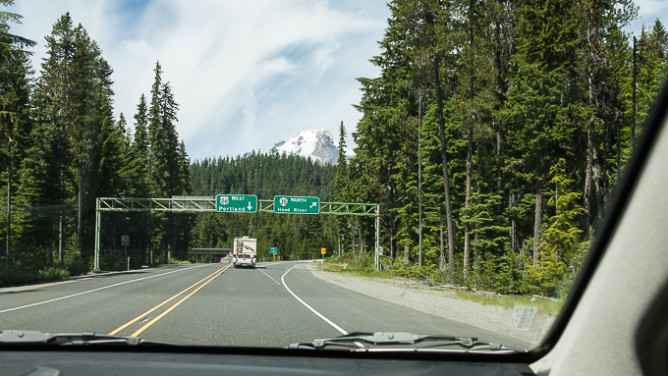 At some point, it became wall to wall trees, cutting off all the view lines. I remarked to Michele How can anybody think this is beautiful? About ten seconds later, I was able to pull over at a little turn out. As we had been driving through the walls of trees, would could see bright, sunlit trees hiding behind the darker trees nearer the road, and I want to see if I could get a picture across the road.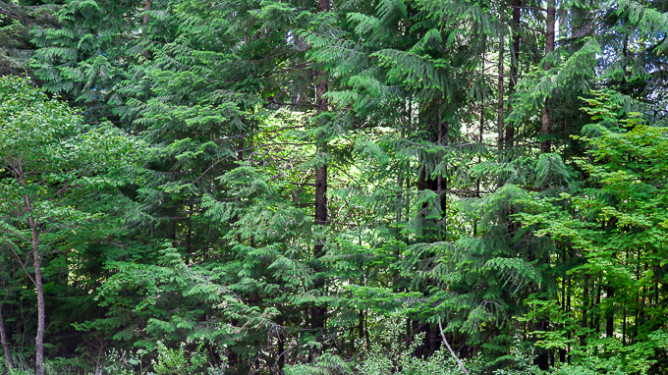 Looking the other way, through a clearing on our side of the road, we saw this lovely pond with ferns, some sort of big leaf plant – adapted to growing in the shade – and wild roses. Michele just looked at me and laughed.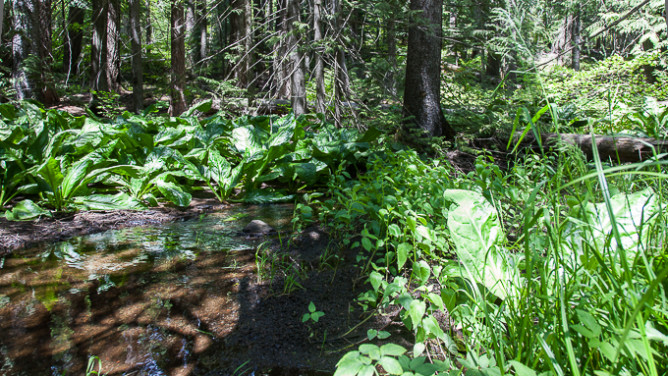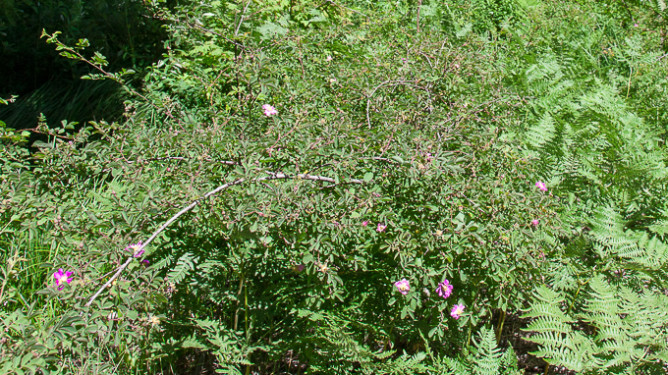 As a child, Michele used to go to Timberline Lodge with her Gramma and, since we were driving right by, she wanted to check it out. The lodge was built during the Depression by the WPA – Works Progress Administration – out of local materials. Looking at it, I was reminded of a time when we thought we could tame this continent and, even, Nature herself. Of course we couldn't but many of the attempts were stunning, especially those in National Parks.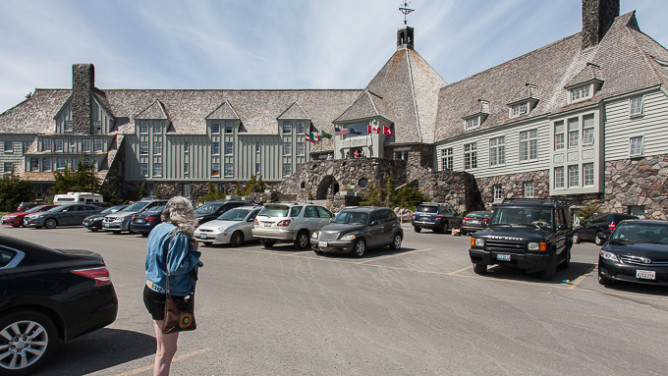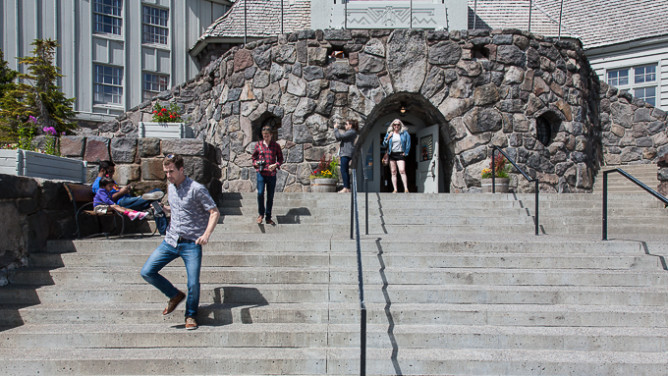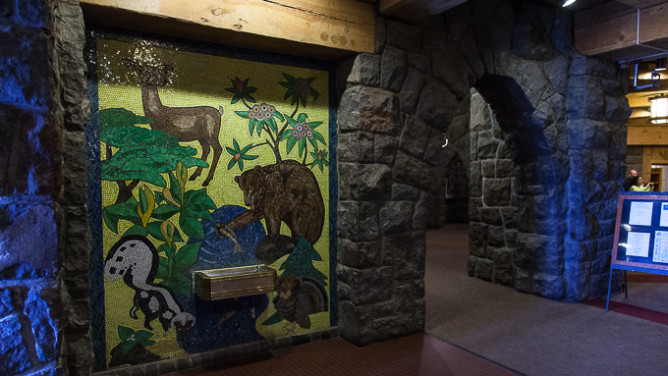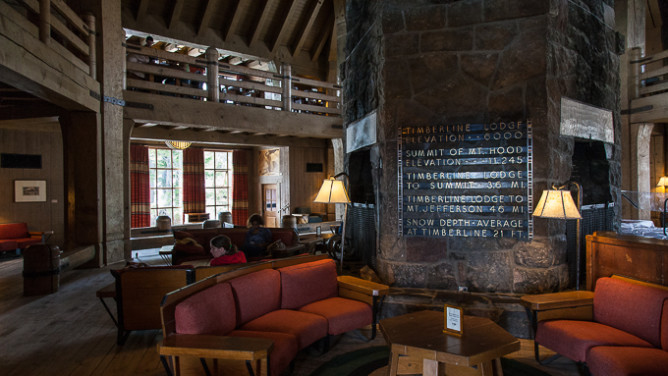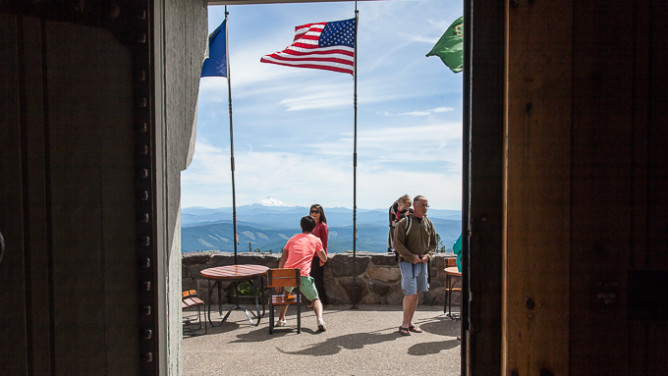 At this point, we had about 65 miles to go to meet the Block Family in Portland. We had about two hours to do it, so it seemed like a slam dunk. The only thing we had to do was change but neither of us figured that would be a problem, but – of course – it was. First we were on Freeways with no place to hide, then a seemingly endless suburban road lined with strip malls and fast food restaurants. Finally we found a Business Park with a parking lot where we could park and we hunkered down behind the car to change.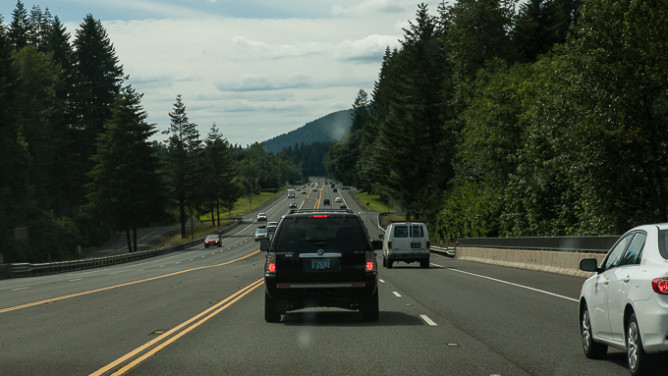 Then, we were ready to go. Gabe had suggested Bistro Petit Oiseau as a place to meet for dinner and it was perfect (one of the many nice things about having Gabe as a son-in-law). We were back in civilization.