Portola Valley celebrated its 50th Anniversary last weekend. That's 50 years as an incorporated Town – in California, there is no legal difference between a Town and a City but Towns do seem to be smaller and often use the County Sheriff for their Police – not 50 years of being inhabited. The area had been inhabited by the Ohlones for only – probably and approximately – 600 years although there have been signs of human habitation around the Bay for about 4,000 years. What ever that exact timeline, by the time California became a State on September 9, 1850 – although we Californians didn't find out about that for 38 days because news had to come by ship, around Cape Horn  – people were already cutting down the Redwoods for San Francisco housing. By the turn of the Century, most of the Redwoods were gone and Portola Valley became a farming area mixed with a few big estates.
As an aside, one of the major estates was owned by the inventor of San Francisco's cable cars, Andrew Hallidie. He built an aerial tramway, now gone, that went from Portola Road up about a thousand feet to Skyline. He also built the best swimming pool I have ever seen, it is probably about five or six acres and has a small steam train that goes around it. About twenty years ago, or so, Michele and I were walking through some second-growth Redwoods, on an abandoned logging road, when we chanced upon the pool in an open area. It was full of water and clean but looked abandoned. The next Fourth Of July, on a similar walk, we decided to go by the pool only to find it all decked out for the Fourth, complete with small sailboats and lots of bunting. We felt like trespassers and started to back out when we were spotted, told to stay on the roads, and then ignored. End aside.
By the 60s, the residents voted to incorporate in order to have local control over development. The goals were to preserve the beauty of the land through low-density housing and to limit services to those necessary for local residents. They thought they would keep the government small and cheap by having lots of volunteers and Portola Valley still has that tradition and, apparently, enough money has been saved to host a free dinner for the residents of the Town.
Michele wanted to go and I tagged along.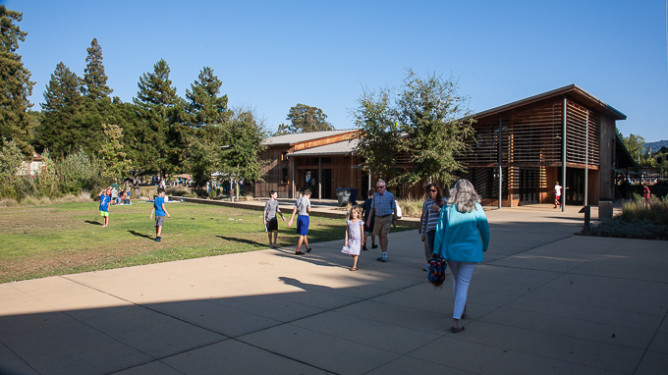 When I first moved into Portola Valley, it was a different place. That was 1981 and the whole world was a different place. It would be two more years before the Macintosh would be introduced, AOL was still called Control Video Corporation,  and Silicon Valley was an inside joke rather than one of the richest places in the world.  Portola Valley was already a low density suburb but the houses – trending towards Sunset Magazine Ranch-house  – were modest by today's standards. I was far from being the only forty something in town but we were among the youngest citizens. Most of our neighbors were older and, as they got even older and moved out, they have been replaced by young families from Silicon Valley with kids.
I knew that intellectually, still it was a surprise to go to a public gathering and see so many young kids.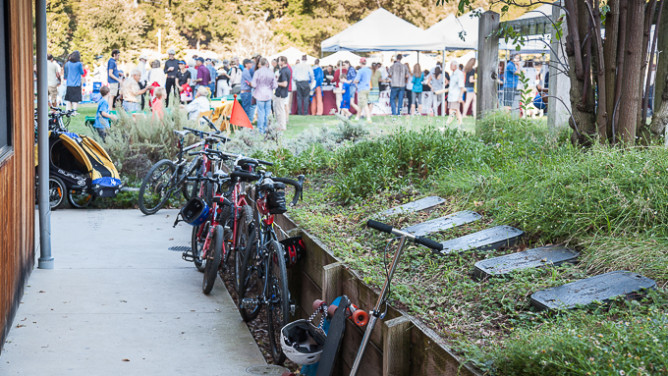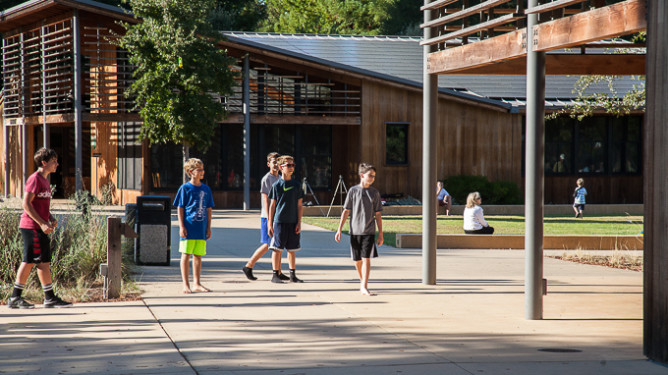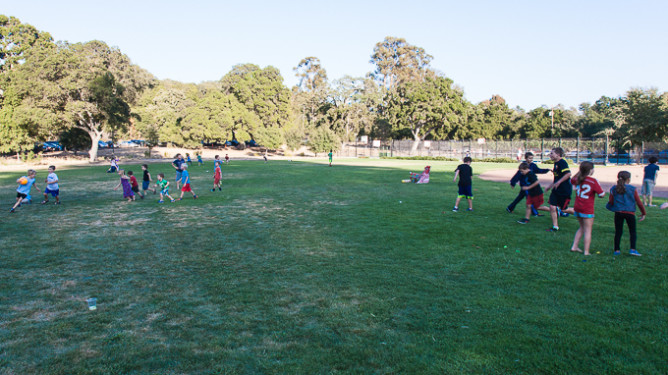 The Birthday Party was also full of very nice adults, but Portola Valley has always had nice adults. .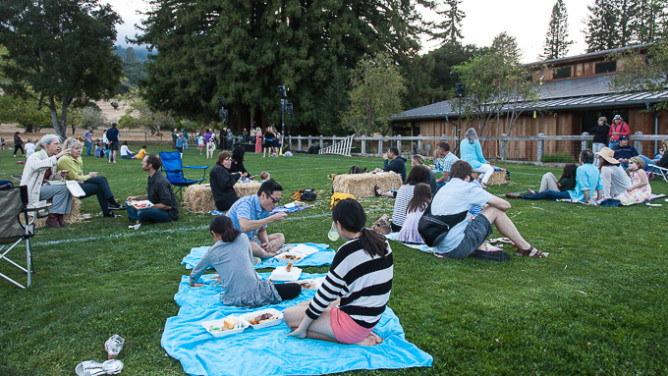 Referring to the San Andreas Fault – which is about a hundred feet from the hay bales  above – Michele said something along the lines of These are the people who want to live on the edge. It's true that they are more on the edge than the people who are living in Menlo Park or Palo Alto, but it is a deceptive edge, nobody is growing their own veggies and we are 3.5 miles from the freeway. What is different is that the center of the world has change from where ever it was to Silicon Valley and this edge is now the edge of one of the most vital places on earth and one of the richest.
The new, very nice, adults are very smart, very rich, and very good looking – even their dogs are good looking – with above average children. They also are people who want their own way. The Town has a Yahoo! Group – PVForum – and an amazingly big part of it is about airplane noise from the planes landing at SFO 30 miles away, or somebody driving too fast in their BMW.
Still, this is one of the world's sweet spots. Happy Fiftieth, Portola Valley.