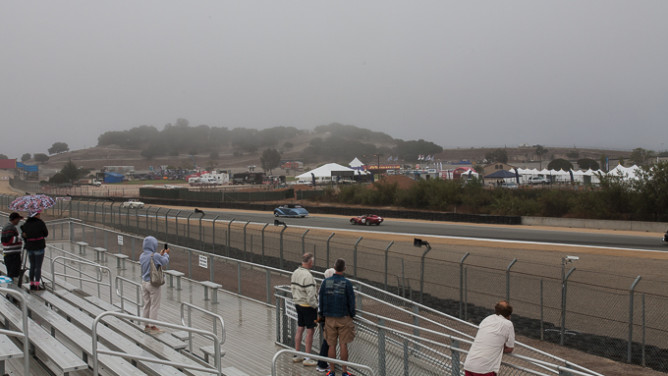 Thursday, Malcolm Pearson and I went down to Laguna Seca to watch some old cars drive around in a fog heavy enough to be called drizzle. I can't imagine doing anything more fun!
It was all part of the Cargasm that, according to Sports Car Digest, is now known as Monterey Classic Car Week, Pebble Beach Automotive Week, Concours Week, Holy Car Week or just Car Heaven. Car Heaven started out innocently enough, in 1950, when owners of what were then called Sports Cars, wanted a place to race those cars just like in Europe. The Sports Car Club of America put on several races, including the Del Monte Trophy which was run on part of the private Seventeen Mile Drive. The Pebble Beach Concours d'Elegance was put on to compliment the nearby race. In 1956, Ernie McAfee was killed while racing a Ferrari in the feature race, making it obvious that racing through a forest on narrow roads was too dangerous, and the race was cancelled after 1956, but the Concours lived on, thriving.
In 1974, Steve Earle organized the Monterey Historic Automobile Races to show off his and his friend's old sports and racing cars. In a sort of turnaround is fair play and, I suspect, hoping for synergy, they chose the same weekend as the Concours. They got synergy in spades, first an auto related Art Show and then a get together of Italian Cars; over the years, some car auctions were added, a get together for German Cars, another car show called  Carmel-by-the-Sea Concours on the Avenue. Sometime in the last thirty or so years, The Quail, A Motorsports Gathering, a very high-end car show started and became so exclusive that the $450 tickets are controlled by lottery. Now there is something happening every day of the week. Usually something very expensive.
This is the kind of Automotive Event that every car company wants to be part of:  it is where you can sign up for the Aston Martin experience – a week of luxury for you with your Aston Martin – for only $18,000 per person, where – on the same Thursday that Malcolm and I were at the racetrack – a 1962 Ferrari 250 GTO sold for $38,115,000 at the Bonhams' Monterey Auction, a place so important that Toyota repainted and reupholstered their FT1 concept car in order to tone it up for display.
Still, there are ways to mitigate the expense, the Concours on Sunday costs $300 a ticket but most of the cars take part in the Pebble Beach Tour d'Elegance, which is on public streets, visible to anyone, and the Monterey Historic Automobile Races – now called the Rolex Monterey Motorsports Reunion – has a sparsely attended practice day on Thursday that is cheaper than the usual Friday Practice. Malcolm and I chose Thursday and we got two bonuses.
The first was not a surprise, the Pebble Beach Tour d'Elegance now takes a lap around the racetrack before heading out on the city streets, the second is that almost nobody goes to the Thursday Practice. Standing in the grandstands because the seats were too wet to sit on – and why don't they call them grandseats? if you aren't supposed to stand? – The Tour passed by in no discernible order.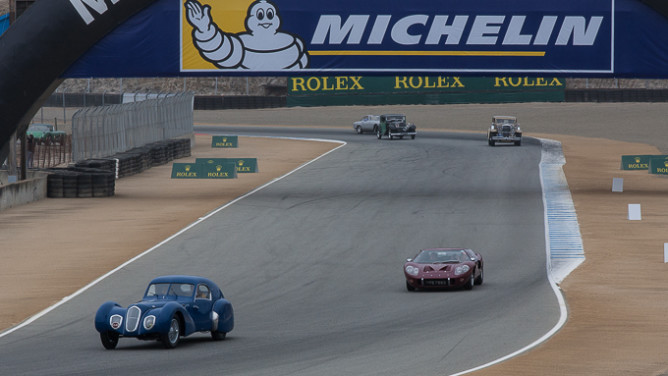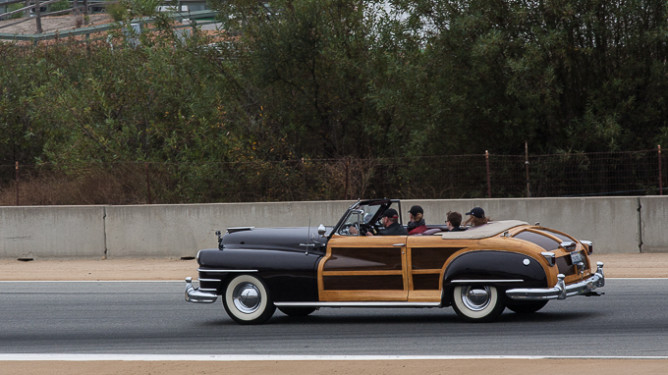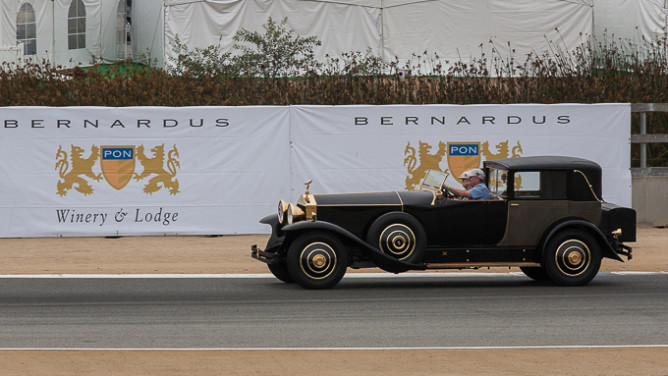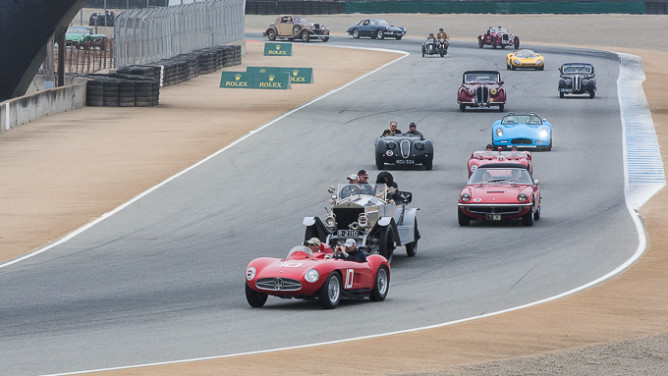 It was like going back to the beginning of the Historics, when we could park close to the track, the stands were almost empty, and we could leisurely walk through the paddock talking to car owners and their mechanics. OK, the mechanic part is new, in the olden days, most cars were owned by people who did their own work, now it is a much bigger deal, even on Thursday. Unexpectedly – although, I guess it shouldn't have been – the everyday street cars of some of the owners were absurdly spectacular. Absurd as a Ferrari, but not the kind of everyday Ferrari that anybody with a two or three million dollars yearly income could buy, no – this one had a special body by Zagato – or a McLaren P1 which is not to be confused with the standard, pedestrian, McLaren you or I might own, or two – count them, two! – 1955 Bentley S1 Continental, Mulliner Fastback Saloons.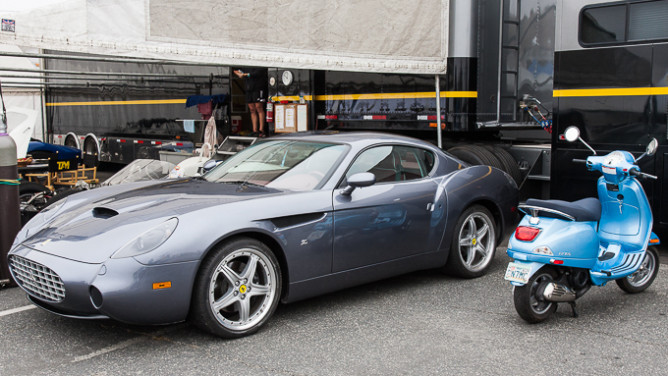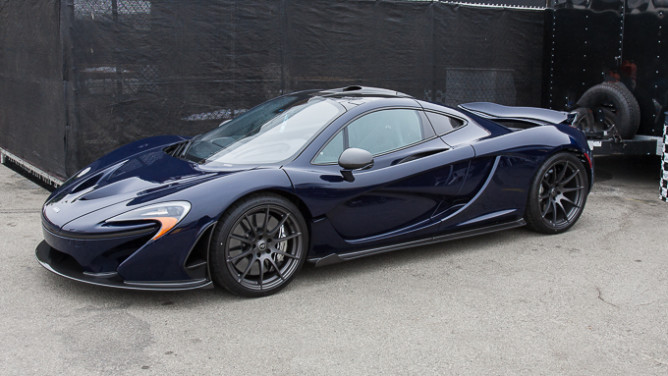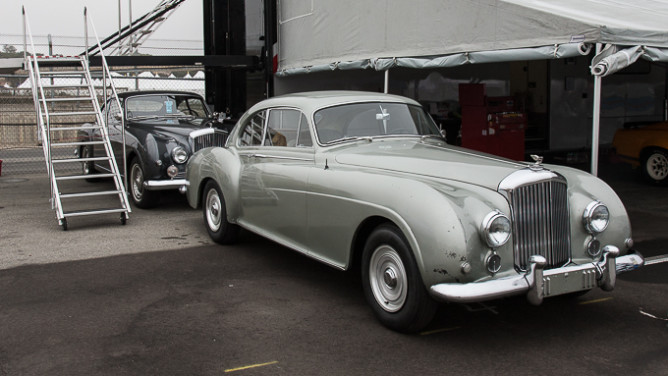 As we wandered around, I mentioned to Malcolm that I was having a hard time coming up with a theme on which to blog about this. Malcolm said I don't know, but don't make it about the money. He is right, in this case, it really isn't about the money. Michele and I are going to Squaw Valley for the weekend, but after that, a bit – maybe a bigger bit than some people might want –  on several of the special race cars at the Rolex Monterey Motorsports Reunion.