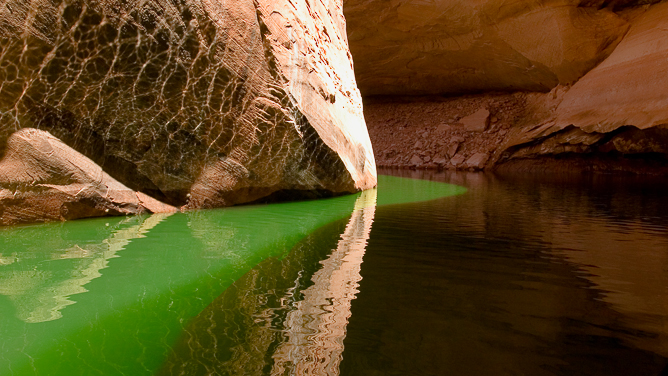 Cathedral in the Desert 2005, exposed by low water level in Lake Powell (really a reservoir). © srstern
On January 17th, Governor Jerry Brown finally declared a drought emergency in the state. He also asked all citizens to cut back at least 20% of their water use. In typical  Jerry Brown fashion, he had lots of charts and photographs showing us how bad it is and it is very serious. Last year was the driest year that California has had since we started keeping records in 1895. The Department of Water Resources said that Gasquet Ranger Station in Del Norte County has only 43% of normal and Sacramento is even worse with 5.74 inches of rain instead of the typical 18 inches.
This is probably not news to anybody who lives here and has gone outside this year. I have never seen it this dry and I have lived here since 1940 and paid attention since about 1956, when I started backpacking. The scary thing is that we don't really have enough water for our lifestyle even if there were no drought. The good news is that the drought, which is aggravating the problem, may actually make us think about the underlying problem.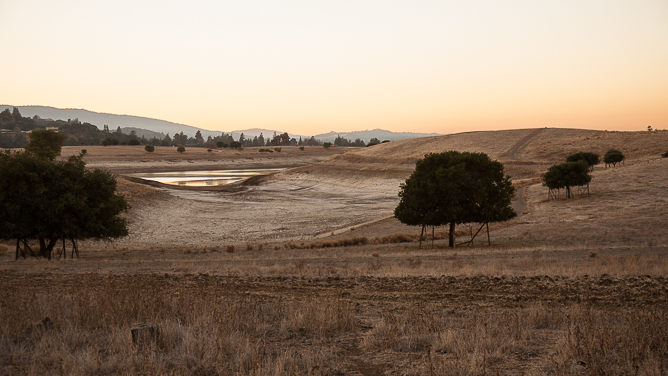 Felt Lake, irrigation water for the Stanford University Campus. © srstern 
That is not something we – we meaning, probably, all Homo sapiens, maybe all mammals – are good at doing; looking at subtle, underlying, problems and correcting them before they become big emergencies. Jerry Brown was the first politician that I remember who talked about national limits, saying The country is rich, but not so rich as we have been led to believe. The choice to do one thing may preclude another. In short, we are entering an era of limits. He got laughed off the stage as Governor Moonbeam. Jimmy Carter was the first president to really face an energy crisis, complete with gas lines. He asked everybody to turn their heat down to save energy, and he was belittled for it, losing to Reagan's It's morning again in America campaign.
As an aside, Carter had several firsts as a president; he was the first president born in a hospital, he was the first president to wear jeans in the White House, he was the only president – so far – to have lived in subsidized public housing, and he was the only President to have been interviewed by Playboy. End aside. My friend Ed Cooney is in love with Jimmy Carter, Ed is an amateur presidential historian and smart enough to know that, in many ways, Jimmy Carter was not an especially effective president but enough in love to want to overlook these Presidential flaws. However, I think that he is actually in love with Carter because of Carter's political flaws.
What hurt Carter as a president, is partially what made him admirable. Carter graduated with a Bachelor of Science degree from Annapolis and later did graduate work in atomic reactor technology and nuclear physics; he was a rational man more than a political man. He knew we weren't going to solve our energy and resource problems by ignoring them, and we haven't.
I am not sure if I have become more or less cynical over the years. I used to think that we would know when we really have a water problem when they stop watering the golf courses, now I am not so sure. Now I think that water flows towards money more than downhill and we can be in a very serious drought with very green golf courses.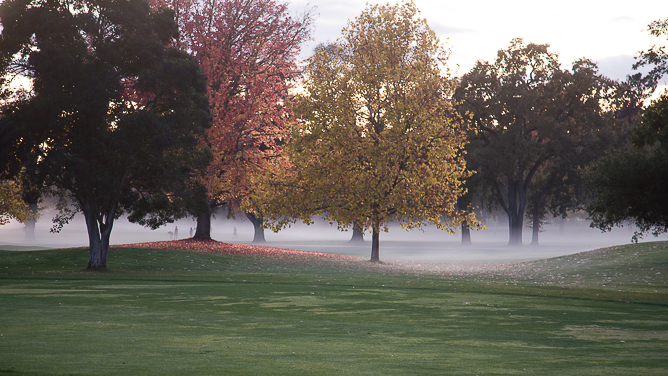 Silverado Golf Course, evening mist. © srstern