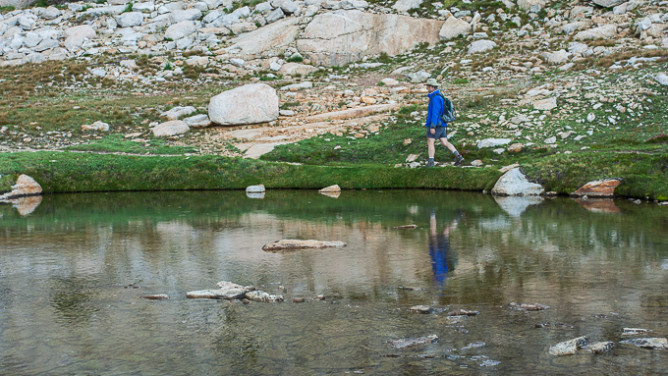 (I want to start this by saying that this trip was Richard's idea and he spent about three-quarters of it waiting for me to catch up. It was the longest I have walked since my foot gave out about six months ago and Richard's patience approached angelic levels. Thank you, Richard. You are a Mensch, my friend.)
A funny thing happened on our trip to Yosemite to take a walk in Tuolumne Meadows, we ended up at Saddlebag Lake (mostly near Saddlebag Lake, actually). Saddlebag Lake is one of my guilty pleasures. You can drive up, park your car, walk a hundred and fifty feet, take a boat across the Lake, get out, walk another 150 feet, and you are in The High Country. Somehow, it seems a little too easy, a little cheap and it is; there is no suffering involved. Just Pleasure.
Any trip to The Sierras from The Bay Area, involves going through The Great Central Valley and, to me, they are always linked. In the late 60's, when I was going to the Sierras a lot, I had an un-airconditioned 1966 Corvair convertible and The Valley was always Hotter than a son of a bitch. We would drive across it on Friday nights, stopping in small Valley towns, along Highway 99 before it was a freeway, to get a Giant Orange Juice – from a building that was round and orange! – on our way to The High Sierras. When we got there, we already looked like we had been backpacking for two days, now Richard and I ride in comfort looking at Outside Temperature to see how hot it is.
This year, it was hotter and drier than usual, and it is only July!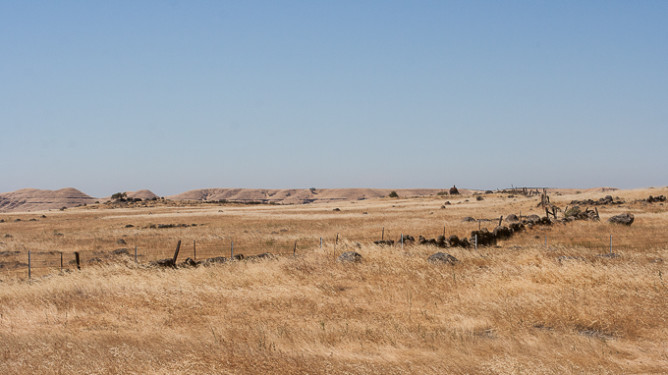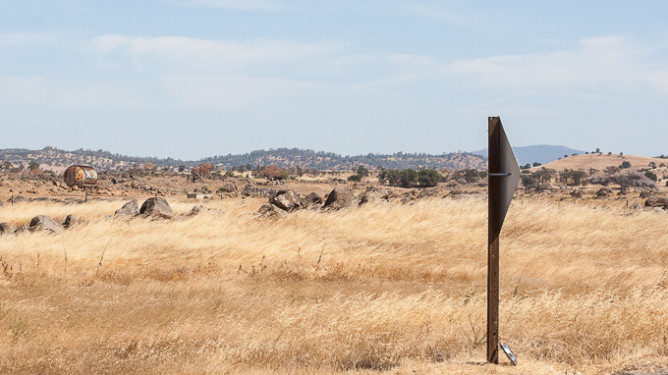 Don Pedro Reservoir is way down (although as a useless-reservoir-and-the-boating-it-encourages critic, that doesn't dismay me).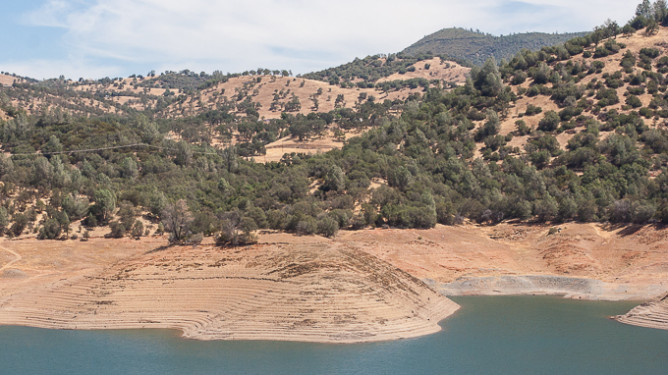 We drove by the cremains of last year's Rim Fire and it was not as desolate as Smokey the Bear would have us think it would be. Now there is dry grass between the trees, proof of the new grass and new life in the fire-caused clearings.
Like anybody and everybody else, I cringe when I read or hear about wildfires or forest fires and I live in an wild-place/civilization interface so I certainly don't want this area to go up in flames, all that aside, however, the ecosystem needs these fires. It is our ecosystem too – now – even if we were once interlopers, and it has evolved with these fires. In their wake, there is always new life.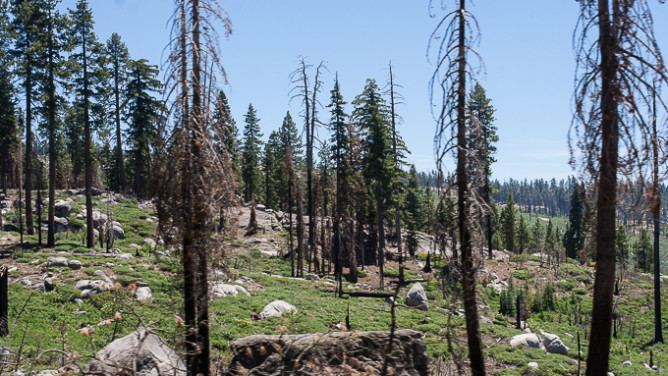 The weather forecast had been for thunderstorms during the day and a 50% chance of heavy showers that night so Richard and I decided to camp out in a motel, in Lee Vining. That complicated our trip because we had to check in before 4:00 PM which meant we would have to drive through Tuolumne Meadows on the way to Lee Vining and, then, drive back into Yosemite. We decided, instead to spend a couple of hours wandering around the Lee Vining River Valley, off of the Saddlebag Lake Road.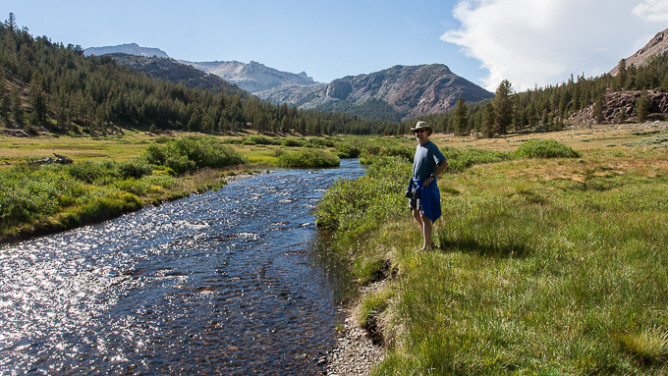 We were walking at about 9,600 feet and it was late spring with wildflowers blooming (including wild onions).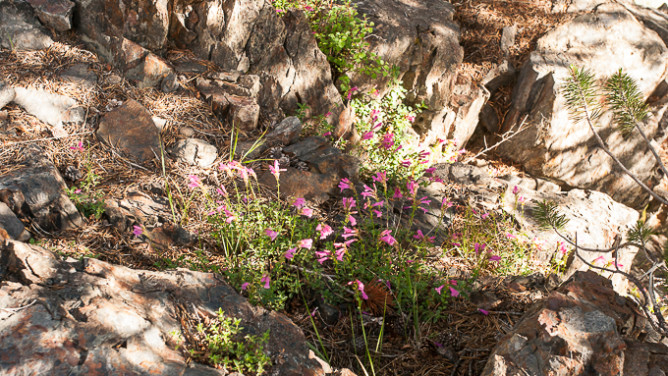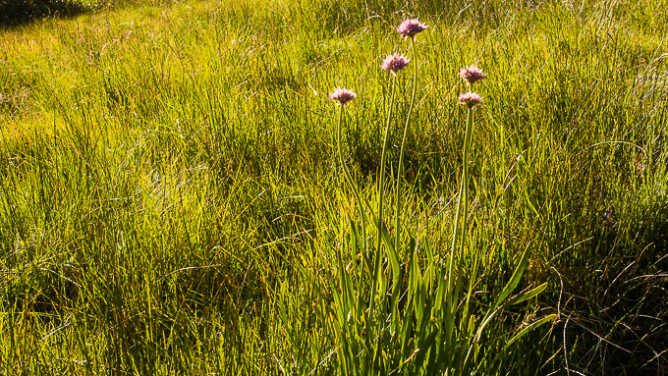 We ended the day by dropping back down to Mono Lake where we watched the sunset from the Dining Terrace of the Whoa Nellie Deli.
The next morning,  as we were  driving up Tioga Pass, Richard suggested that we go to the Saddlebag Lake area rather than Tuolumne. He had never been there – I can understand why, it is not a place the cognoscenti go which is why I feel slightly guilty – but, I think, he was a little surprised by the highness  of our walk the day before. So we drove up,  parked our car, walked a hundred and fifty feet, and got on a boat. It was spring in the High Sierras on the other side of the lake.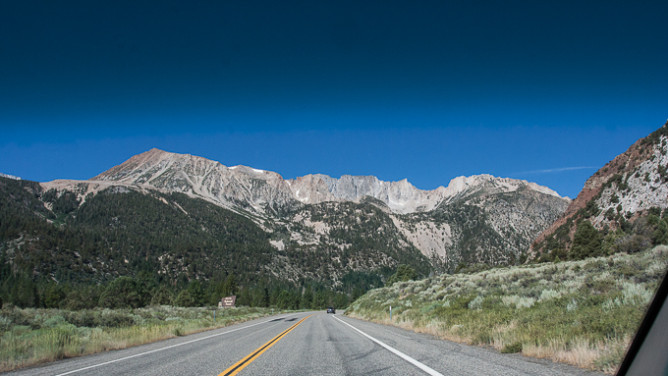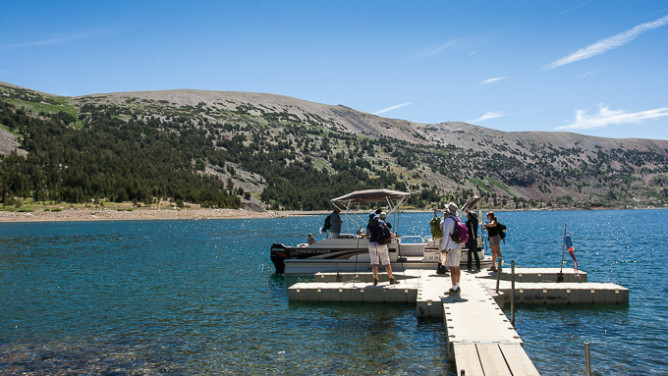 About 145 to 66 million years ago, the Farallon Plate dove under the North American Plate, heating and pushing magma up under an eastern California that wasn't there yet.  That magma lifted, twisted, and metamorphosed the rock – a combination of volcanic flows, volcanic ash, and sedimentary rock, called Country Rock because it was there before the magma- that it pushed through. About twenty million years ago, this whole area started lifting again and, as it lifted, it started wearing down by being exposed to weather, a process that is still going on.  The core of that lifting mass is the Sierra Nevada, forming what John Muir called the The Range of Light. About 2.5 million years ago to about 10,000 years ago, glaciers carved huge valleys into the bright granite. About a week ago, we got off the boat at Saddlebag, on a Saturday morning. We were standing on Country Rock: the rock that was here before the Sierras.
We are standing next to Saddlebag Lake, in a garden of yellow flowers – Mimulus guttatus, I think – in chips of shales, but just to the east of it is the contact zone where the twisted, distorted, Country Rock hits the Sierra granite and, beyond that, the bright, white Sierra Nevada massif itself.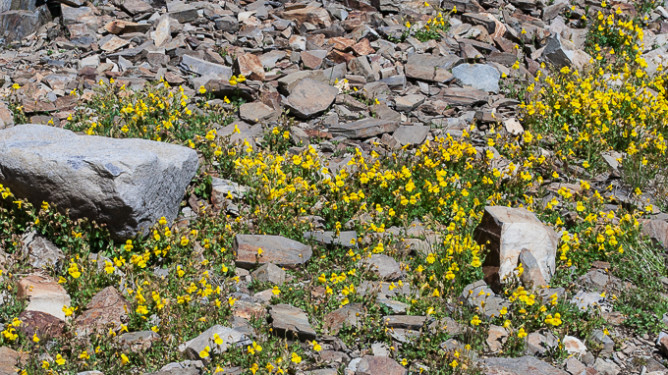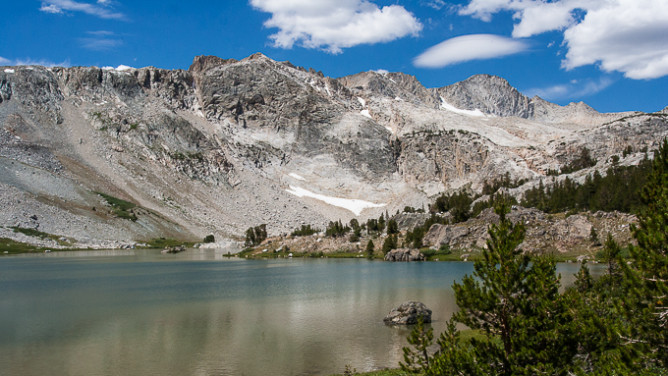 What I most like about this area is that it seems like a collection of Zen Gardens. We are at 10,000 + feet, one of the harshest environments on earth and everything is so delicate, so refined, elegant.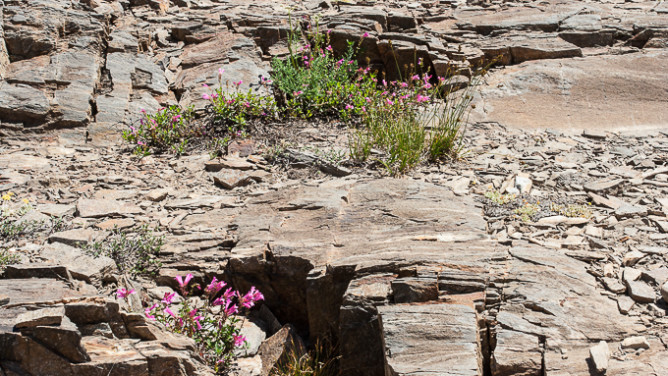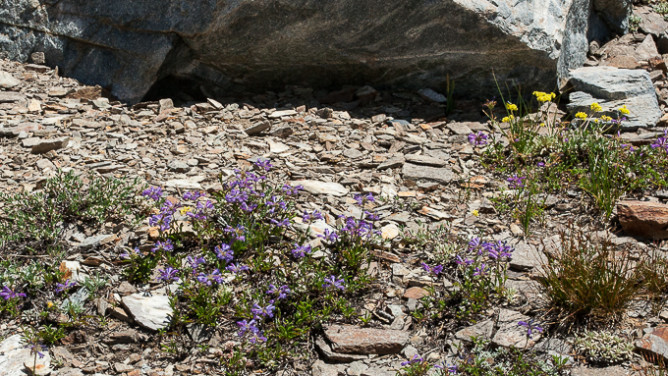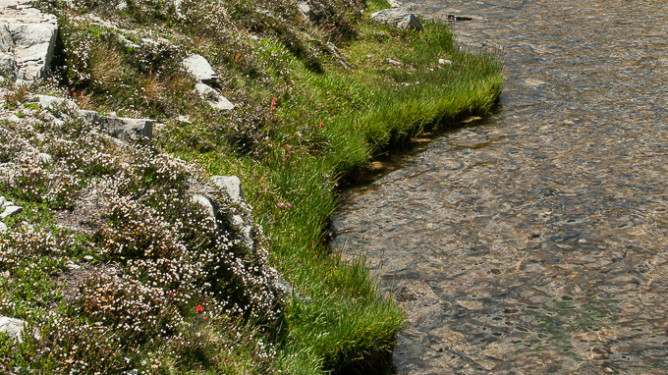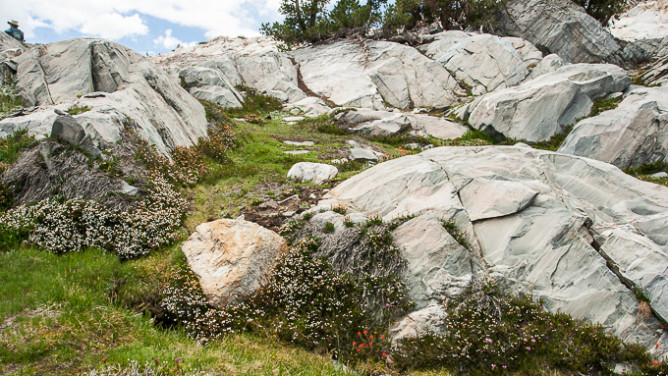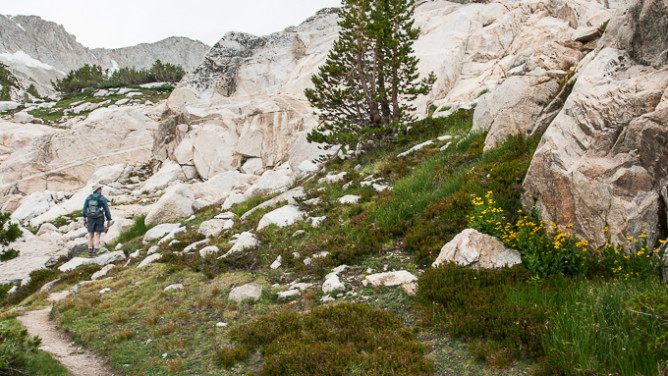 We are walking up into a cirque below Mt. Conness and, as we get higher, storm clouds are coalescing into thunderheads.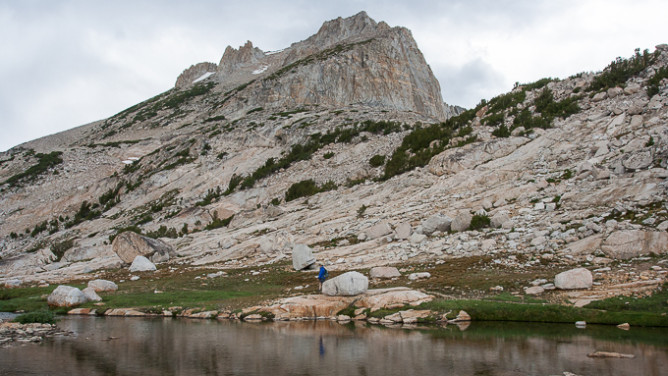 High on the mountain, to our left and way above us is the last vestiges of the Conness Glacier, mostly covered in scree. For the first time in all the years that I have been coming here, I realize – with mixed emotions – I will probably outlive it.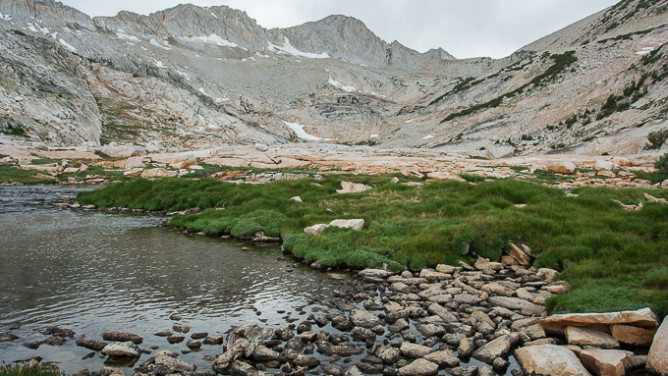 It starts to rain and the glacial polish on the wet granite shines in the fading light as we turn around and head back to the boat landing.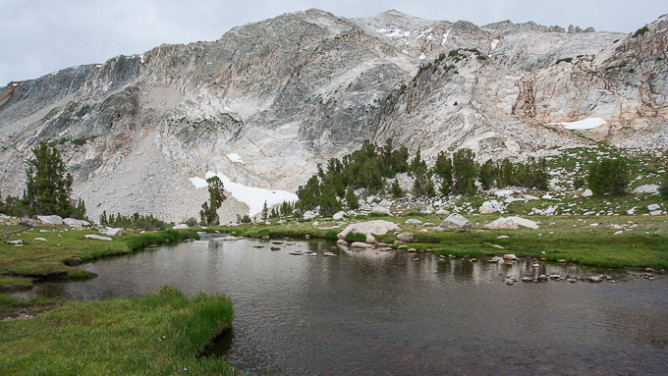 An hour or so later, driving through Yosemite on 120, it starts to rain and Richard says the thermometer reads 56°. About and hour and a half after that, going through the valley, it says 90°. We are almost home, in time for me to watch qualifying for the German grand Prix.