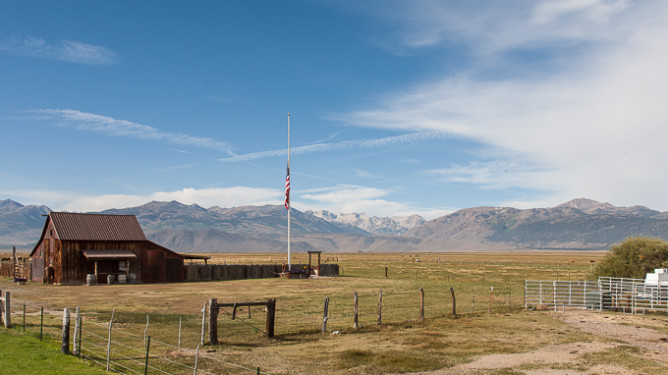 This year, The Cousins get together was at Michele and Claudia's family cabin at Squaw Valley. That was great because it gave Claudia a chance to show off some of her world and Fred to show off Lake Tahoe. I have been looking forward to it, not only because I was able to attend, but it also gave me a chance to show the Europeans a part of North America I figured they wouldn't otherwise see. It turned out that the trip was different than I expected.
One of the things that I didn't expect was how much the Europeans knew about the United States and California. I picked Cousin Marion, from southwestern France, at the airport. While we were driving up to Tahoe, she mentioned that she had photographed our governor, Jerry Brown, when he was in Africa with Linda Ronstadt. I was shocked that she knew he was our governor again. A Cousin from Germany was an Americophile and he has seen more of the United States than I have. Cousin Fred wanted to show the other cousins Lake Tahoe but almost everybody had already seen it. But nobody had been to Gerlach or Mono Lake which was where I wanted to take them.
We all arrived on Thursday and on Friday we went up Donner Pass, had lunch, and visited the Emigrant Trail Museum in Donner Memorial State Park. Then most of the group opted for a nap. The German, Americophile, Christian – it is a long story and not mine to tell – remembered seeing Lake Tahoe on a bus trip when he was an exchange student in highschool. He very much wanted to see it again, so several of us, deducing that it was from the Mt. Rose highway decided to find the view point. After lots of false views, we finally found it.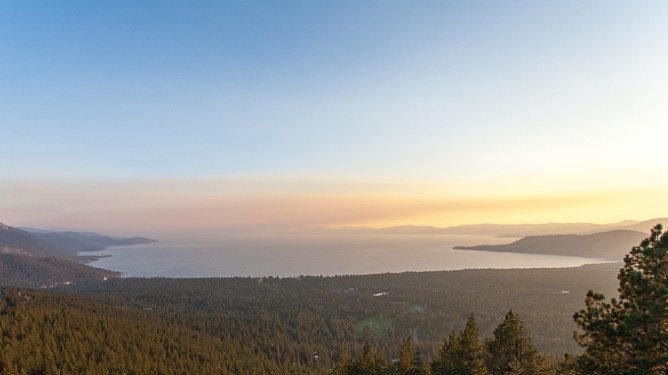 I have looked across Tahoe hundreds of times and this time the air was as opaque as I have ever seen it. I don't remember ever not being able to see across the lake (Tahoe is at 6000 feet, so typically it has brilliantly clear views across the lake like that from a year ago).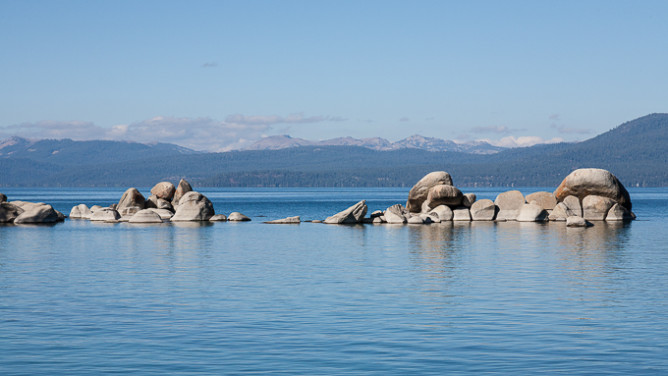 This year, the lake was socked-in by the Rim Fire near Yosemite (although Donner had been clear earlier). Saturday was the day when most of the family would be in town and we celebrated with a boat trip. The haze and smoke was even worse than Friday but everybody had a good time and I got some smoky pictures.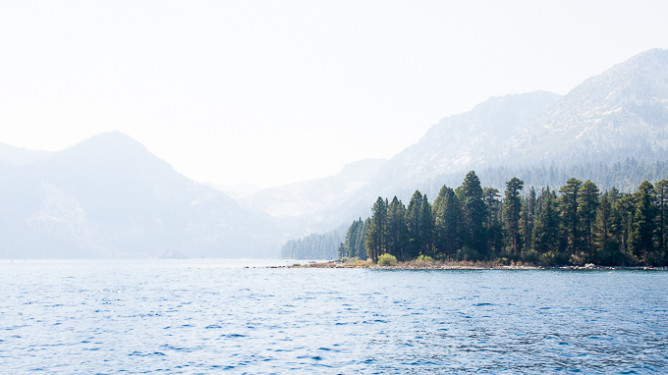 The next day we went to Sugar Pine Point State Park where a couple of us toured the Isaias Hellman mansion and several others took the opportunity to go swimming.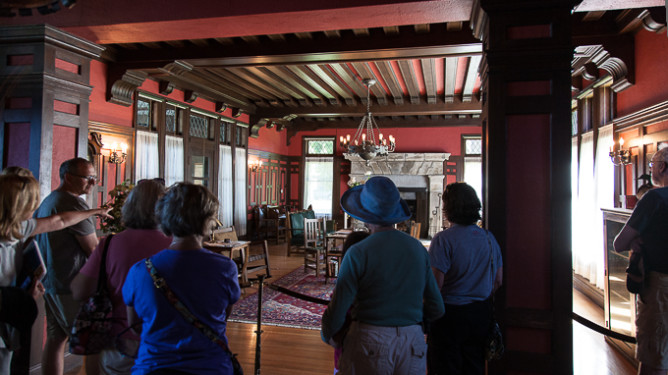 The water was reputed to be much warmer than usual, I wouldn't know.
Monday was the day I had been looking forward to because I got to take the group to Mike Moore's place at Wall Spring in the Smoke Creek Desert. My plan was to go via a rout Mike had touted, Truckee to Sierraville, Doyle, and then Sand Pass into the Smoke Creek. At our first stop, Sierraville – now looking at the trip through new eyes because I was with a group of ferriners – the first thing I noticed was all the American flags. I find all these flags a little strange – OK, more than a little – in that this is Red California. This is the kind of place that votes Republican and wants the Federal Government – the government that these flags represent – out of their lives. (In the bay Area, where we don't see many flags, outside of public buildings, we want the Federal Government in our lives.)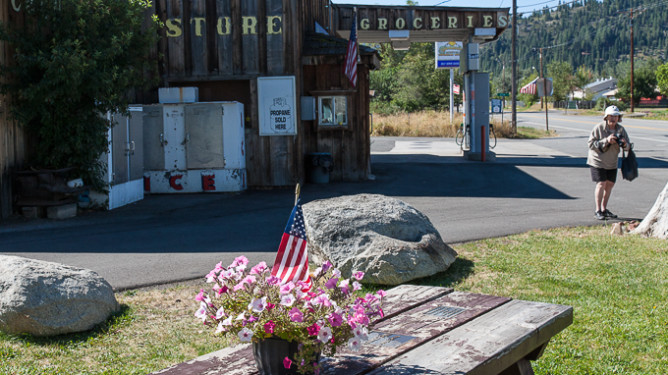 Driving around the Sierra Valley is always a nice prelude to the desert to come and, to me at least, is quintessentially American West.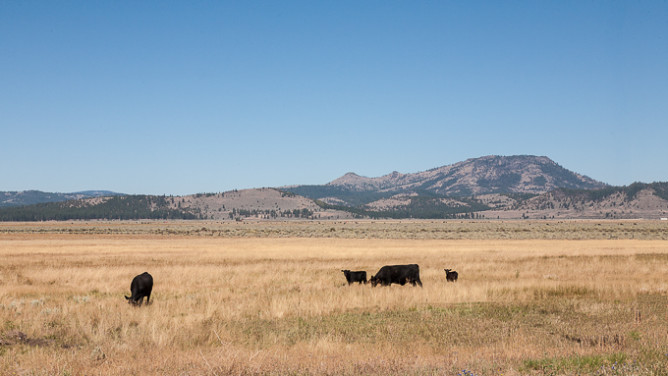 Leaving Doyle, California, where everybody wanted to make one last bathroom stop, we cross a small stream and finally enter the Nevada desert (and it is only a couple of hundred miles east of where we live). Entering Nevada is typically marked by a big billboard and, usually a casino, but here the border is just marked by a small sign back to back with an entering California sign for people going the other way. Usually I am driving about 60 or 70 miles per hour down these roads because I am trying to get somewhere and, of course, I am late. Driving at anything over 50 takes concentration on a gravel road, so I only get the general layout of the land but miss many of the details I am seeing now that we are driving much slower. We even saw a couple of real cowboys and burros – probably abandoned by miners years ago – which pleased everyone including me.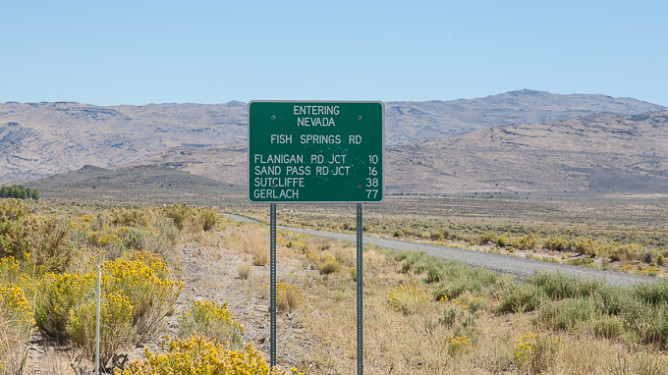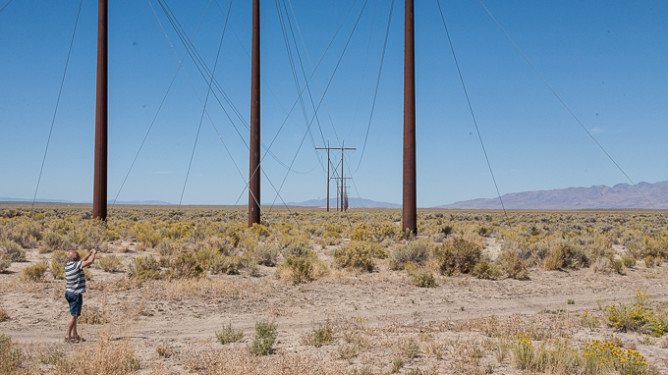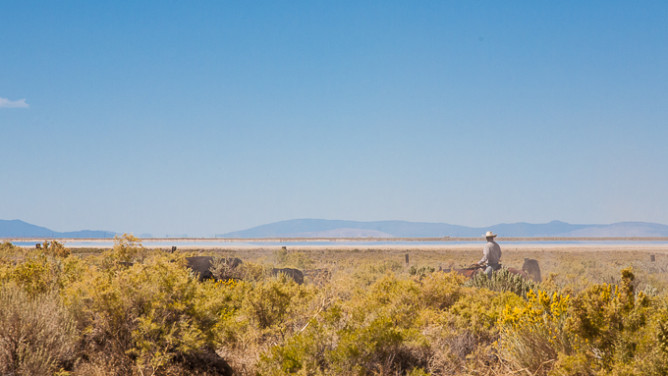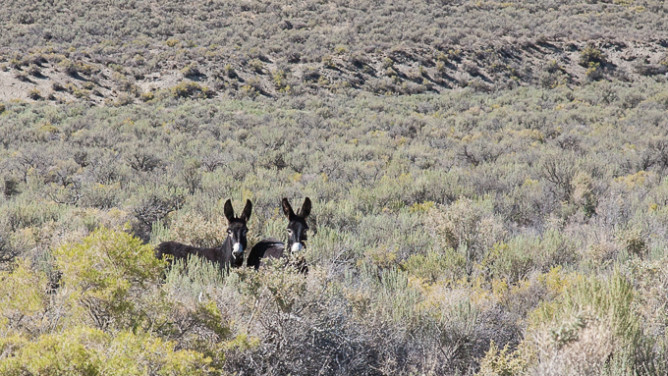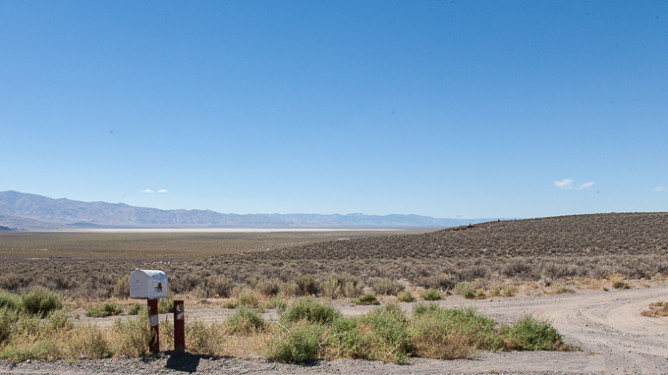 We finally got to Sand Pass and looked down on the Smoke Creek Desert. The spaces are immense.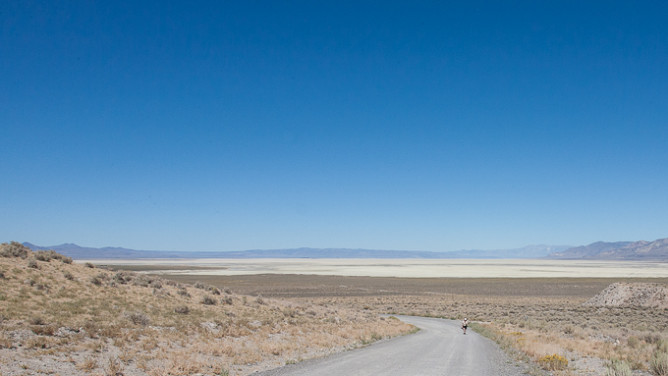 After running along the Smoke Creek Desert for 30 or 40 miles, we get to Wall Spring. It is an intimate oasis and a great place to have lunch.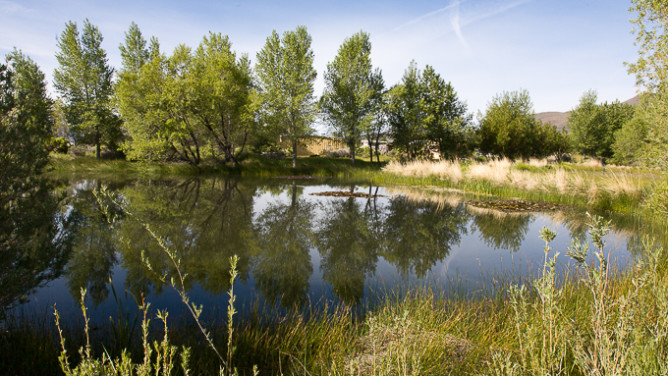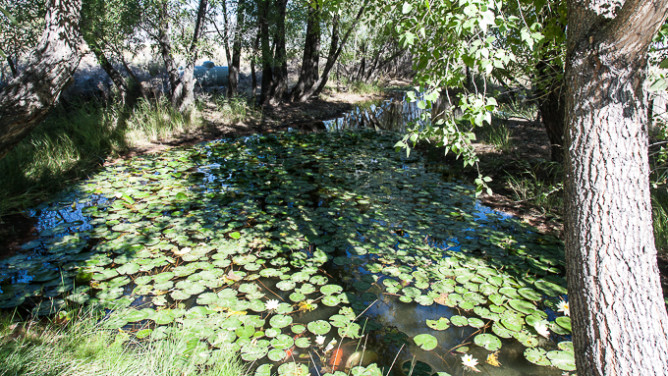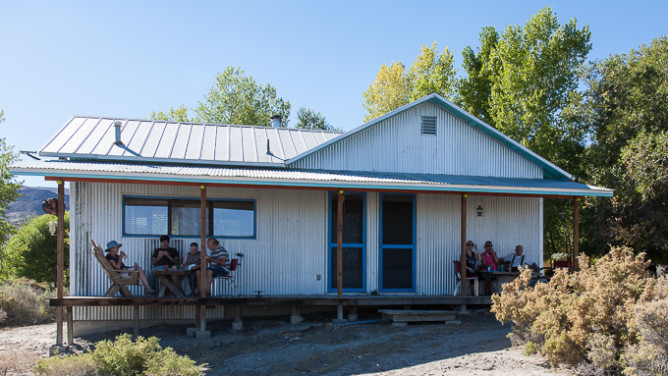 As the shadows get long, we reluctantly pack up and drive past the Black Rock Playa, then south through the Lake Winnemucca basin. The lake is dry because much of the Truckee River, which used to flow into both it and Pyramid Lake, has been diverted by various irrigation projects. Now all that remains are old beaches and tufa towers that may have the oldest petroglyphs in North America.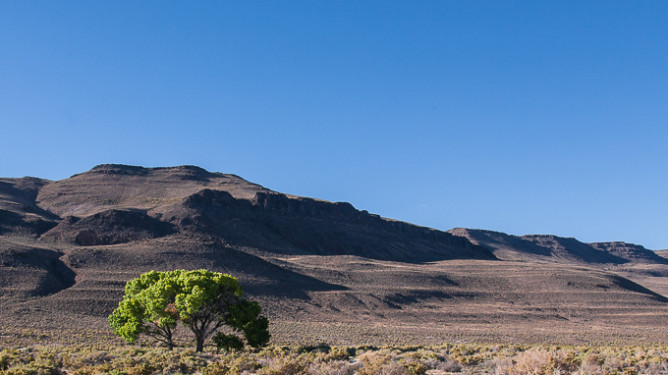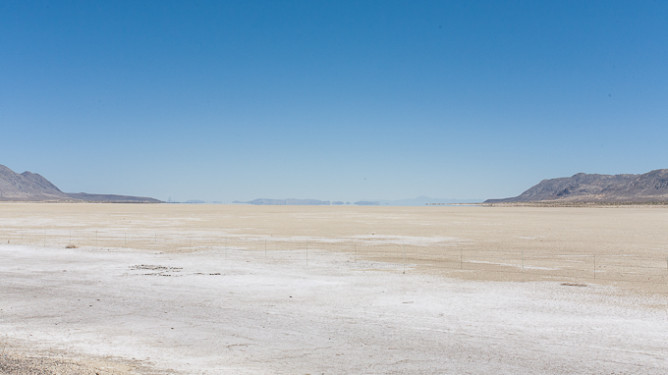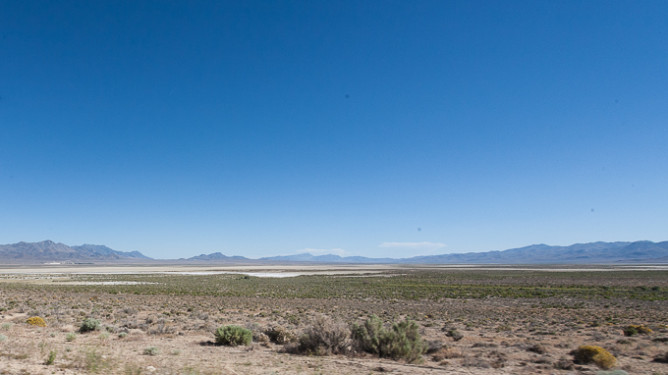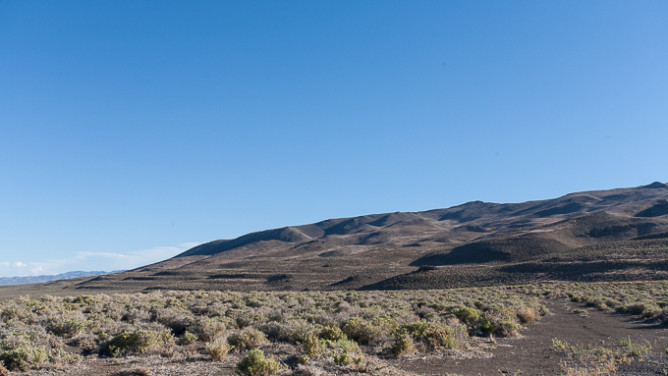 We end our trip at a rest stop overlooking Pyramid Lake as the day ended.