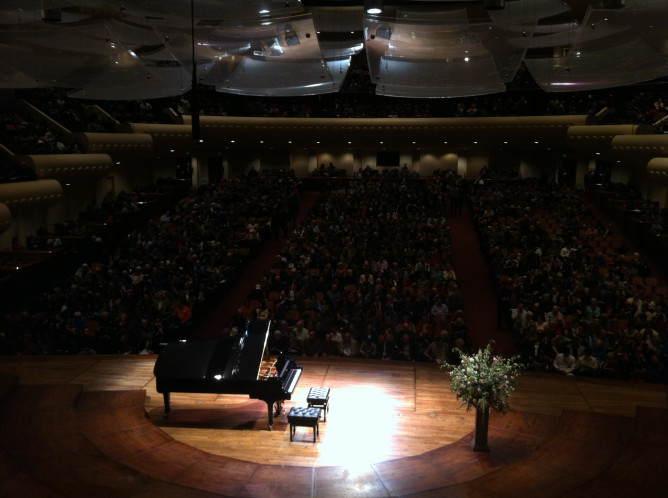 (iPhone photo by Michele)
For the  final part – presumably – of Michele's 2013 Birthday Extravaganza, we went to see Anne-Sophie Mutter at the, Skidmore, Owings & Merrill designed, Louise M. Davies Symphony Hall in San Francisco.
Before the performance, we went to a new – for us – Thai Restaurant,  Lers Ros. It was a little bit of a shock with tastes and textures that were new to both of us (atleast with Thai food). I think the restaurant is the Thai equivalent of the introduction of new Hunan Chinese food into our cultural cuisinescape about 50! years ago. Up until last night, every Thai restaurant we have been to – even in Hong Kong – have been pretty much the same. Some were better than others, but all were rifts on an established theme. The food here is hotter and had more pickled veggies than we are used to in Thai food. It was more interesting than the satisfying comfort of the familiar and we want to go back.
Anne-Sophie Mutter is a German violinist we both love from her – our? – CD's and she was accompanied by the pianist, Lambert Orkis. But, for Michele and me, Mutter was the reason we were there and she didn't disappoint. We sat in the $15 seats behind and above the stage and, I think, they were better than most of the seats in the house (except that they are benches and they did get harder over time). We had a great time – Anne-Sophie Mutter was great, Lambert Orkis was a more than pleasant surprise, and the Skidmore, Owings & Merrill building just gets better with age –   and, because we do stuff like this so infrequently, it felt very celebratory.