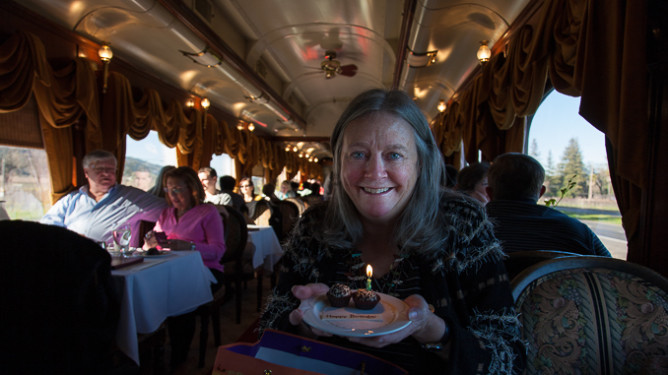 Michele's birthday, this year, turned into a season that – sort of – bled into Super Sunday (not so super here on the left coast, however). On the day after Michele's actual birthday, we went on the Napa WineTrain with Michele's sister, Claudia, her stepdad, Jim, and her Mom. Like any train ride that doesn't actually go anywhere, it is more of an  amusement park activity than a ride. In this case, the train runs the mid-Napa Valley from the City of Napa to somewhere near St. Helena at about 15 miles per hour. And then returns at 15 miles per hour. Inside, we tasted wine on the way out and had a very nice lunch on the way back.
From the time we arrive at the departure station, done in a sort of old-timey brothel  station temporary-building-decorated-for-New Years style, every effort is made to make sure we are having a memorable experience.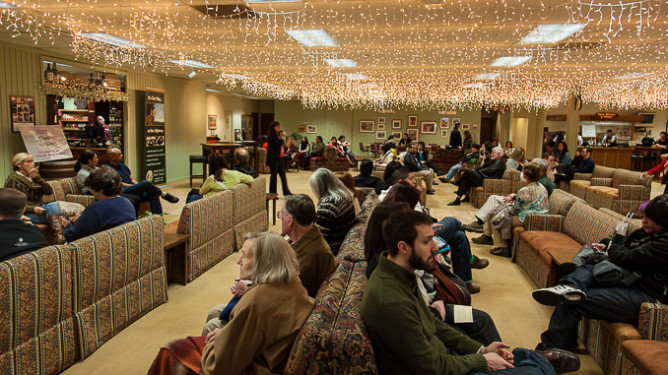 And, by and large, they succeed.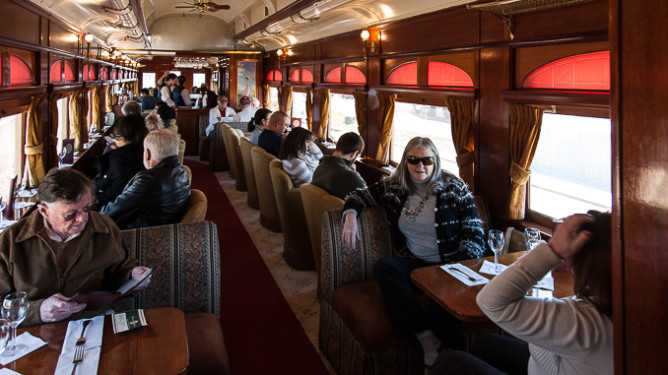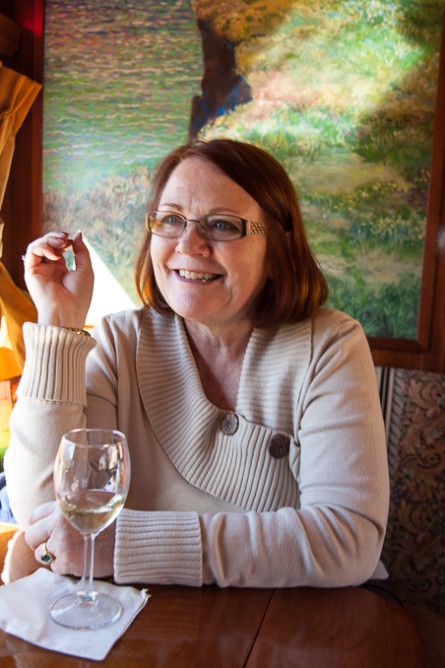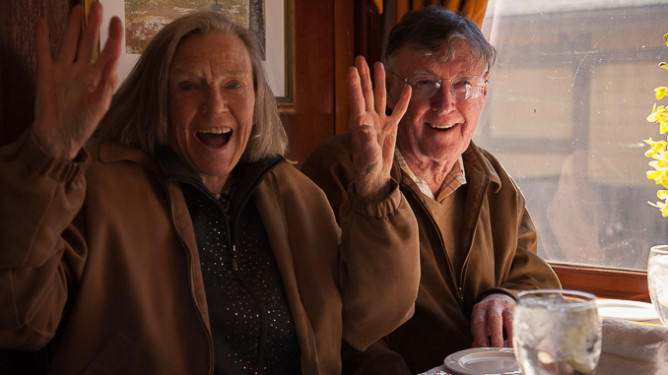 The train goes up the center of the valley and it is a nice way to get a general lay of the land.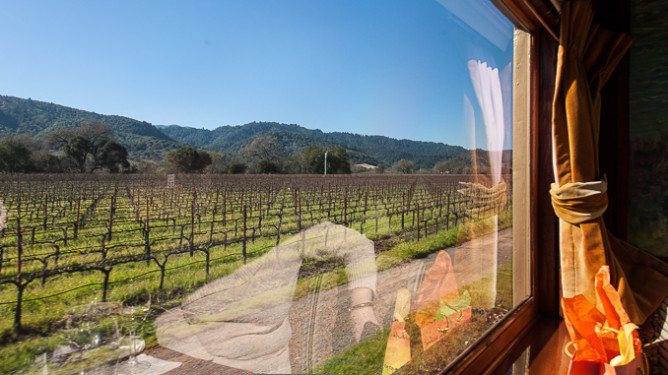 For me it was a way to stake out some buildings that I would like to come back and photograph. The Opus One Winery, for example, which seems to be half buried in an artificial hill and the original Mondavi Winery building designed by Cliff May in 1966 (Cliff May is the designer credited with designing the California Ranch House). For all of us, it was a chance to watch the valley pass by.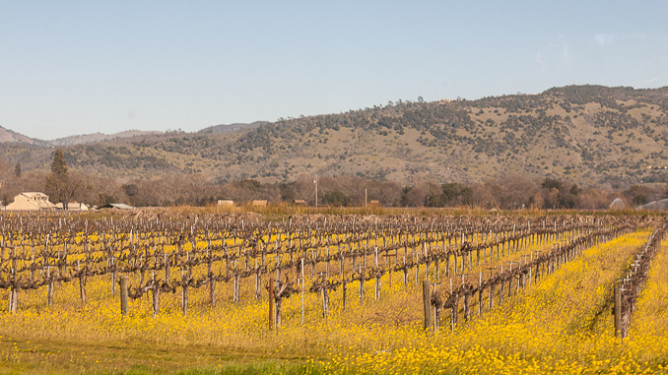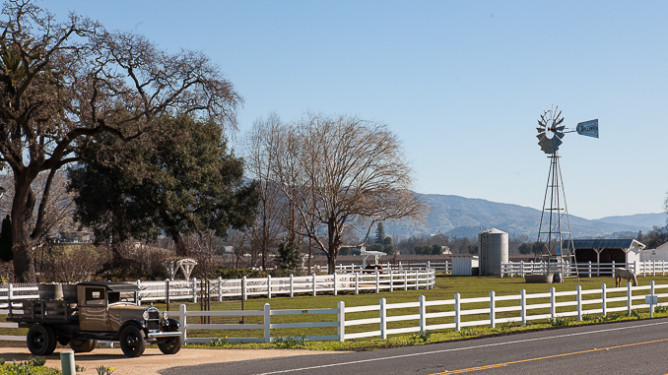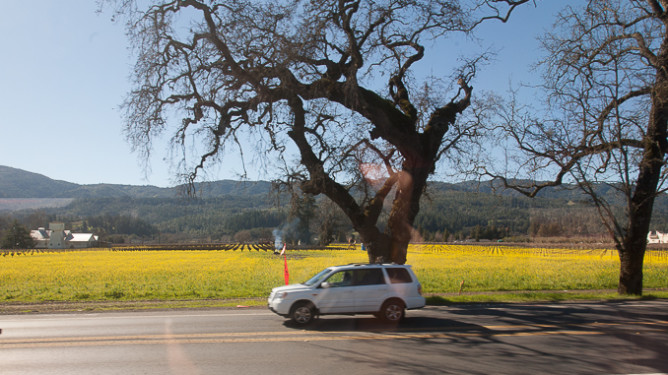 This being Napa – the same Napa that is becoming as much about food as wine – we finished the Napa part of the day at the nearby Fatted Calf. The Fatted Calf is an ordinary looking suburban butcher shop – well, maybe not ordinary any more because most butcher shops are in supermarkets and, then, only ordinary looking from the outside – that sells way upscale, organic, pasture raised, meat.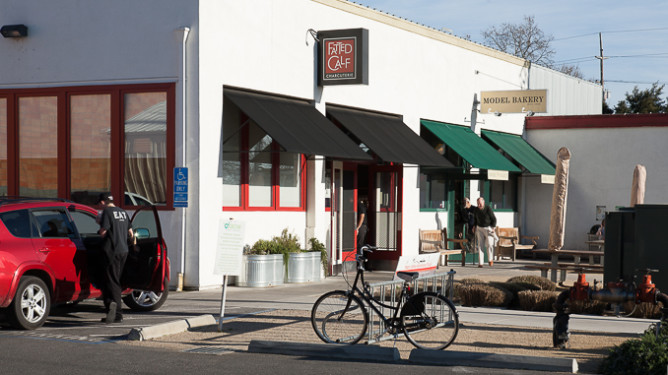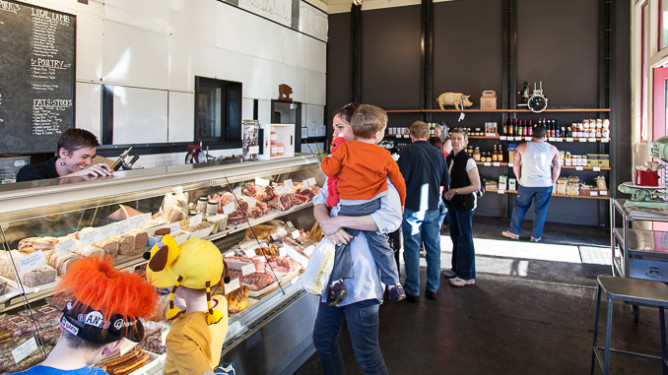 The cost is very high, but Michele sort of works around that by getting stew meat or pork scraps for stir fry. In this case she bought a marinaded pork shoulder for phase III of her birthday season. Then it was home, watching the sunset as we headed south.