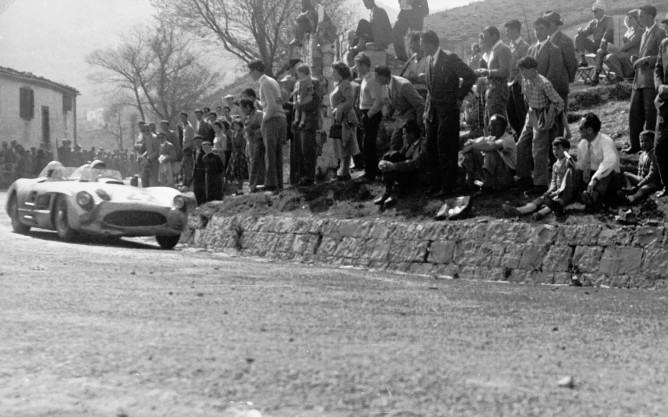 If you grew up in California in the 50s and were obsessed with cars, at some point you raced on the street. In my case, it was right after I got my license and I got caught about three weeks later and lost my license for the next 60 days. Our idea of racing on public roads was pretty much limited to drag racing, And, for the most part, only the first five hundred feet from a stop light.  But in Europe, they were hardcore; they had real, official, racing on the street.
OK, they called it roadracing, but it was the same thing. I am not sure when they started roadracing – probably less than one week after the car was invented – but it pretty much ended by the end of 1950s. By then, racing on public roads had become truly insane with the all-out-racecars hitting speeds more commonly associated with airplanes. Probably the craziest of all these races was the Mille Miglia – meaning a thousand miles and pronounced mille mille as a sort of pun – that started at Brescia near the Alps, ran south to Rome, and then north back to Brescia. All of this on second rate Italian roads with an estimated 5,000,000 Italians watching. Usually watching from very close.
The record for the Mille Milga was set by Sterling Moss in a Mercedes Benz at an average speed of 97.96 miles per hour (on narrow, rough, windy, Italian roads). The car was called a 300SLR and was supposed to resemble the standard Mercedes Benz 300SL sports car, however, in reality, the car was a full blown, hand built, race car. Several years ago, Mercedes built 75 updated versions of this car – only about ten originals were built – to sell to very rich people at about a million dollars each (very rich people who, apparently, don't need a windshield).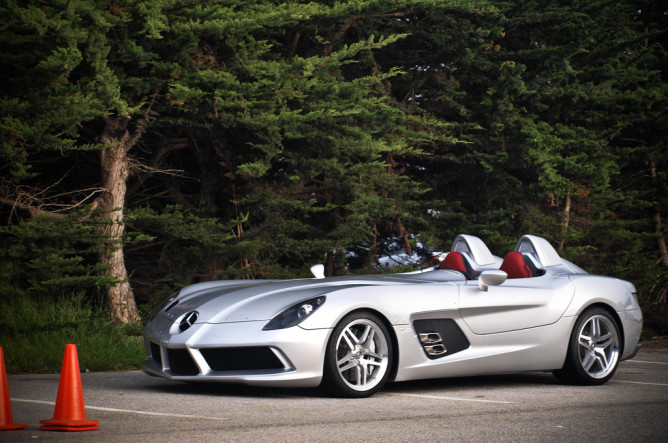 But the point of all this is that Jimmy at Peak-Design – I think, it is Peak-Design, I know it is via Deviant Art – thought Wow it would be awesome with a normal hardtop and some black rims. He then resigned it on his computer. I'm impressed and would buy it in a minute, if it were real and I had several hundred million dollars.