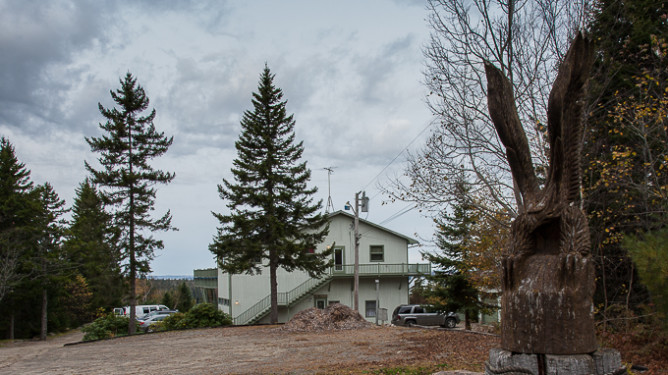 Our plan – my plan, really – for our last day, was to get up early, wander around the Schoodic Peninsula down to Acadia National Park, have a late breakfast, and drive south to Boston. But, at dawn, the light was flat, the air outside was cold, and our bed was warm. We got a late start.
However, the late start did allow us to have a nice breakfast at the Bluff House Inn – included in the price – and we got a couple of pointers from Libby the Inn Keeper. Driving down to Winter Harbor; the sky was heavy and grey, the trees on the narrow road silent in the gloom.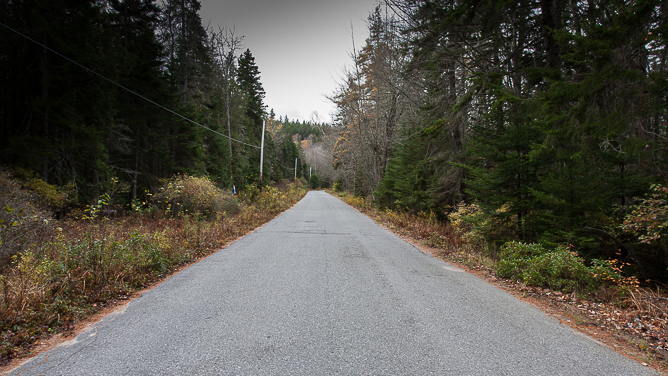 When we we first got to the water at Winter Harbor, the air was cold, with no wind,  and the sea calm. The no wind, calm sea, was somewhat of a surprise; at home, the sea is never calm and my idea of the North Atlantic is  based on the books The Cruel Sea and The Good Shepherd in which the weather is nasty and the waves high and relentless. Then I remember that the Viking longboats were – mostly – oar driven which would indicate that the wind was often calm.
What ever the reason, the sea was glassy, reflecting a sky that was still grey, but becoming more lively, and I kept thinking what spectacular sunrise pictures I could have gotten if there had been a sunrise. I didn't Google it, but there must be a million of them on the internet.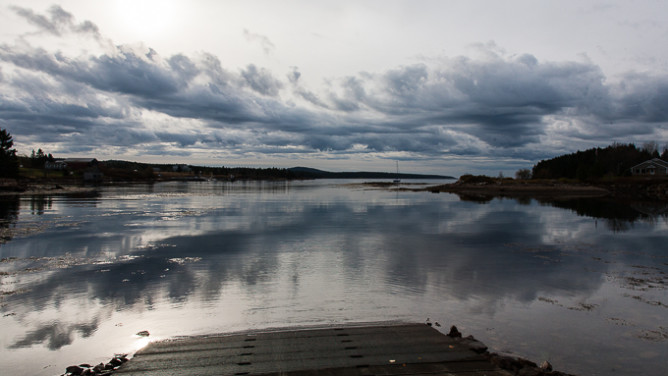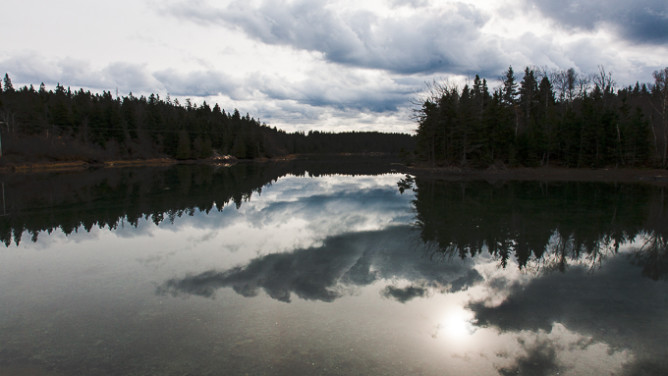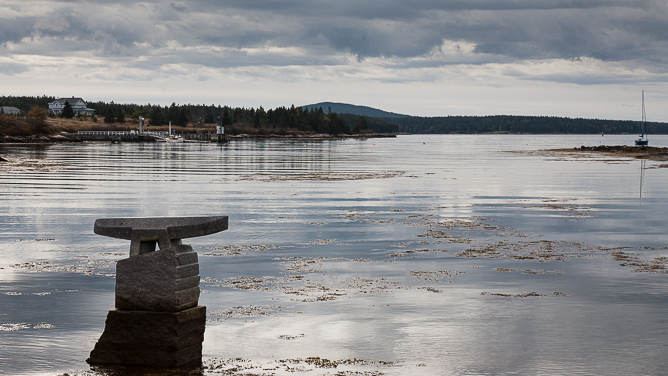 Near the boat ramp, was a granite sculpture, typical of the kind we have seen in various places over the last couple of days. I have no idea what the deal is – whether there is a state program or just a series of unrelated pieces of art using granite – but they are always a nice addition.
The light was flat, but the coastline was still stunning – dramatic, magnificent, sensational, choose your own superlative –  and reminded me more of a Sierra lakeshore than the North Atlantic coastline of my imagination. 
The popular misconception is that National Parks are put where the landscape is at its most spectacular. But, in most cases, that is not true; National parks are put in the left over areas and the spectacularness is a byproduct. And the spectacularness is a byproduct may be wrong, also; spectacularness is probably the product of any wild landscape. I suspect that Manhattan Island would be pretty spectacular if it were completely wild today.This is not to diminish Acadia and this coastline, it is jaw droppingly beautiful – rugged and, on a day like today, strangely soft – but it is only here because it was left over. Driving here, there were hundreds of places, coves, rivers, estuaries that would have been just as stunning if they were still natural. All that said, this coastline is here and we were very happy for it.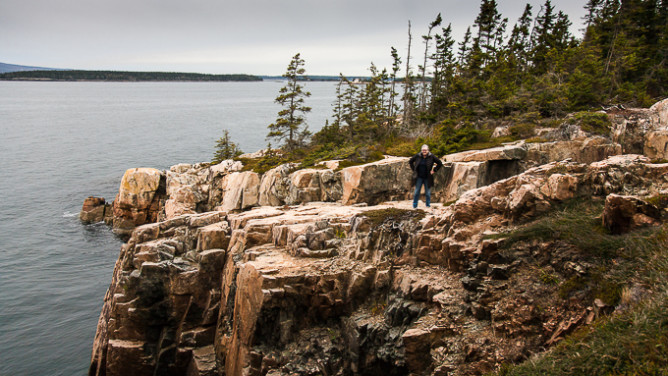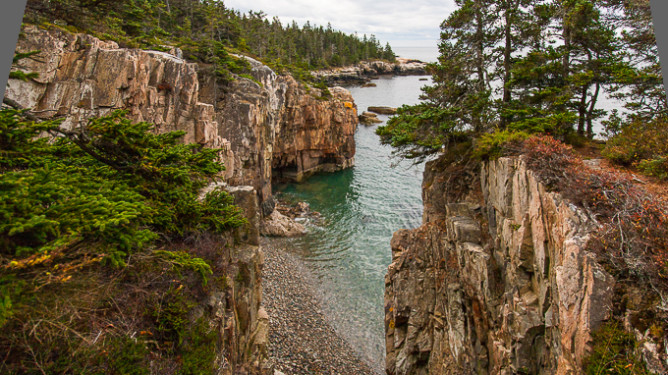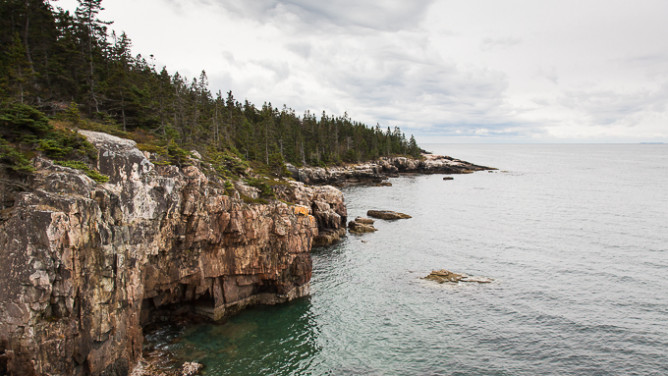 At one point, we were on a desolated spit of rock, listening to wavelets lapping the shore, hearing the offshore voices of lobsterman pulling up their traps, when a busload of kids arrived. It was amazing how the energy changed; from quiet at the end of the continent to the cacophony of the classroom. The tinkle of young voices filled the silence and the bright colors of their clothes enlivened the landscape.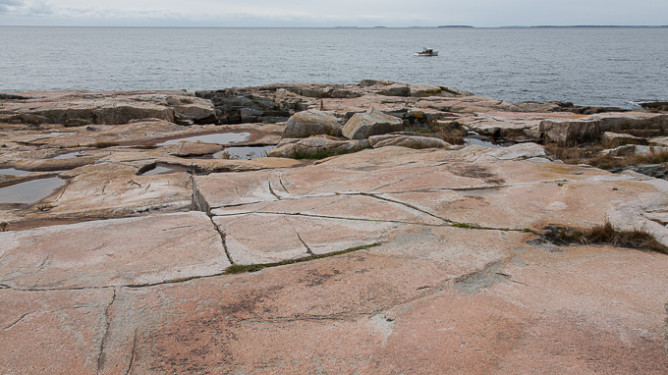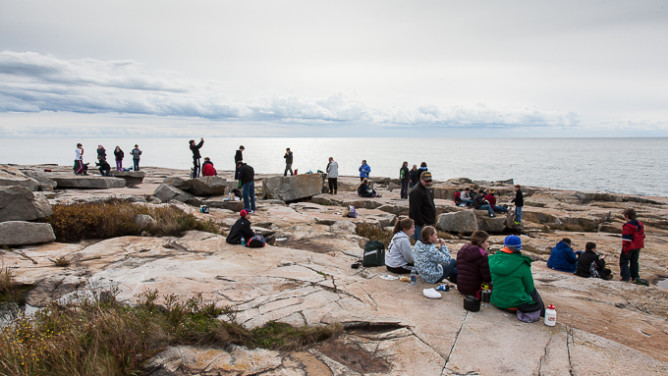 We moved on to the next stop and, once again, we were alone in this rocky landscape.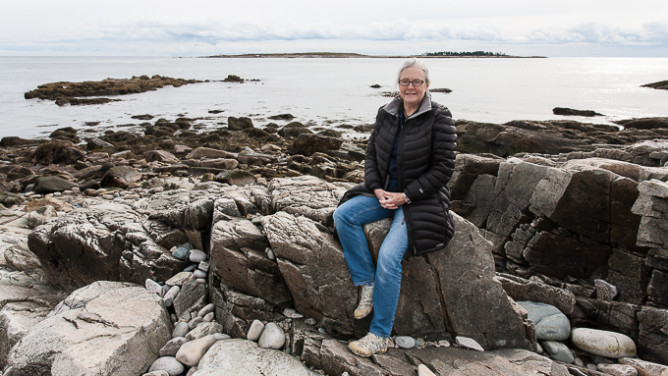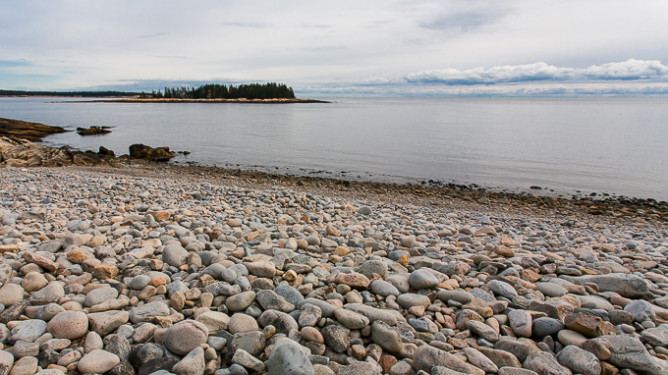 To a Californian, what is surprising about the Acadia tip of the Schoodic Peninsula is how densely it is populated, how every habitable cove is inhabited (and has been for – probably – almost 200 years). We were completely alone – looking with lust at the round, shore rocks, protected by the sign that said Don't take rocks – then we drove around a corner and were at at Wonsqueak Harbor where the Bennett Twine House, on  +/-  1 acres and 460′ of shoreline, is for sale for only $450,000.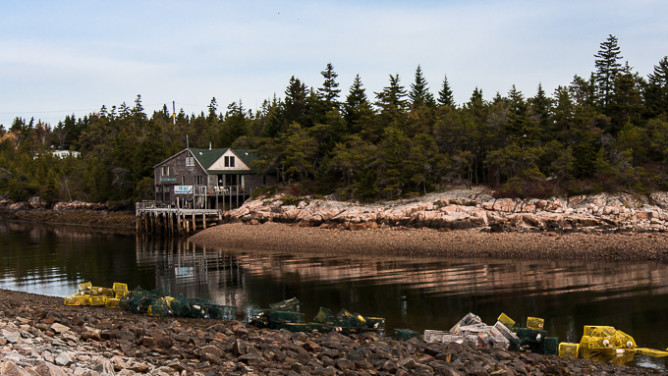 Every cove, every inlet, in this part of Maine seems to have a working harbor. On the short drive from the Bennett Twine House to Corea, we drove through Birch Harbor and Prospect Harbor. They are not as quaint as our destination, Corea, so we passed them by (thinking that, in California, they would have been the most picturesque place within a hundred miles). I think that it is another misconception of Coastal Maine that there are working harbors and tourist – summer home – harbors, South Bristol and Corea, both reputed to be fishing villages where people really fish – lobster? -have lots of summer houses and every harbor village we drove through, supposedly non-working villages, had working lobster boats moored in their harbors. However, just like South Bristol, Corea is movie-set quaint.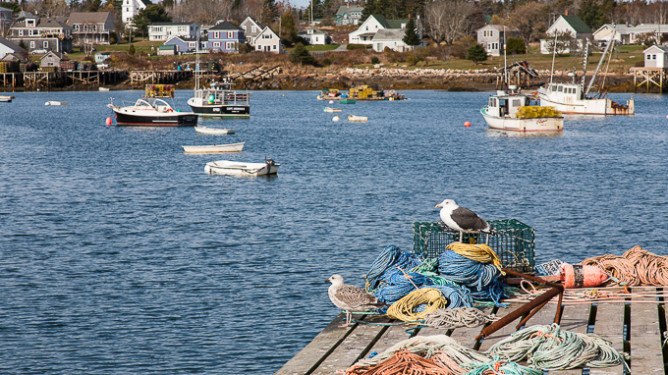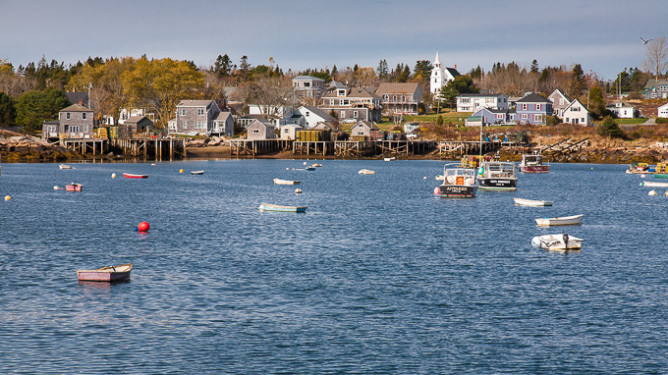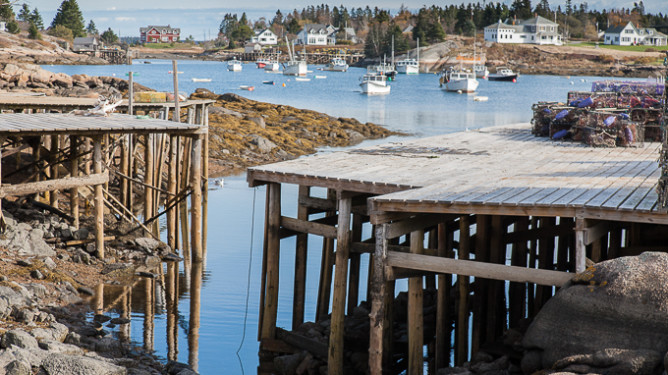 We wandered into a big storage shed full of lobster bait from Canada. Looking at all that bait for this little harbor convinced me that these guys are feeding the lobsters, they are farming them. Maybe not officially, maybe not technically, but just as much as cowboys in the west are farming cattle on rangeland. I bet there are more lobsters in the nearby Gouldsboro Bay today than there were 200 years ago (Michele says that the lobstermen told her that there used to be more lobsters, but that still seems like a huge amount of bait for this small place).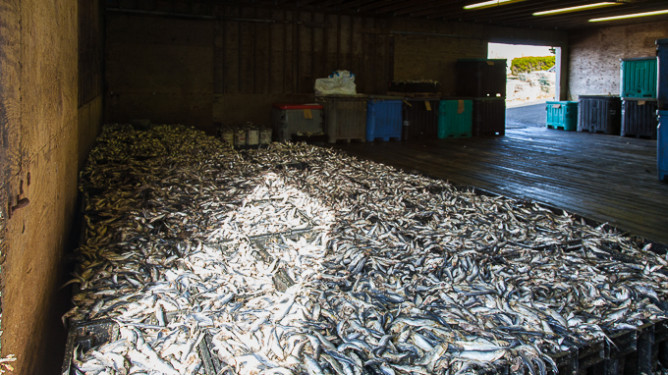 We were four or five hours – maybe five or six by the way we would probably go  – north of Boston and hadn't had lunch, so it was time to start back. First north – North?? – to Highway 1 and then southwest to Boston. I drove and Michele started looking for a place to have lunch. We stopped just past the bridge over Sullivan Straights for Michele to use the viewpoint restroom – which was locked so she resorted to the behind a tree method – and I took what I thought might be my last inlet-with-trees-in-color shot of the trip.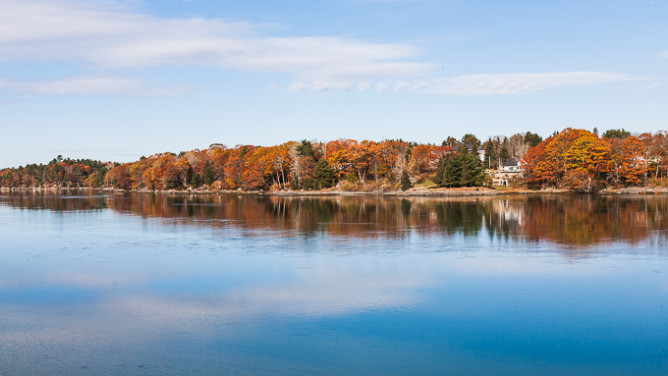 We passed by Chester Pike's Galley and I pulled in. Michele said No, keep going there is a restaurant that looks good on the Hancock Peninsula, I figured it would be nearby last night's disappearing Hancock. As we got close, Google showed it to be in the middle of a forest which did not look promising, but we noodled around and found it right next to the No Frills Oil Co., Inc.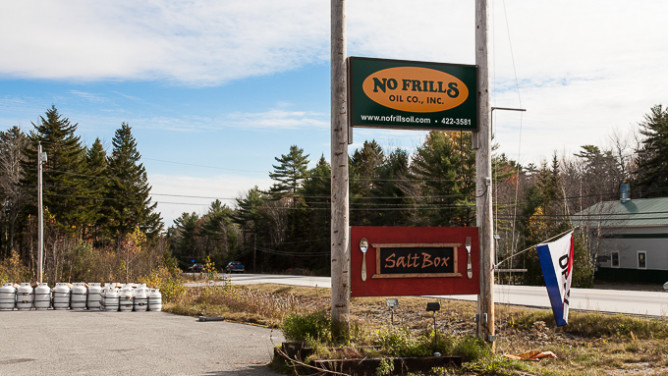 The Salt Box – a name that must carry some irony as it was in one of the few non-saltbox buildings in Maine –  turned out to be the best restaurant we found on our trip. I had The Local which was huge hunks of lobster stuffed into a housemade roll, it was the best lobster roll of my life (so far, I plan to keep looking). Michele had a housemade elk sausage with a glass of red wine and was thrilled.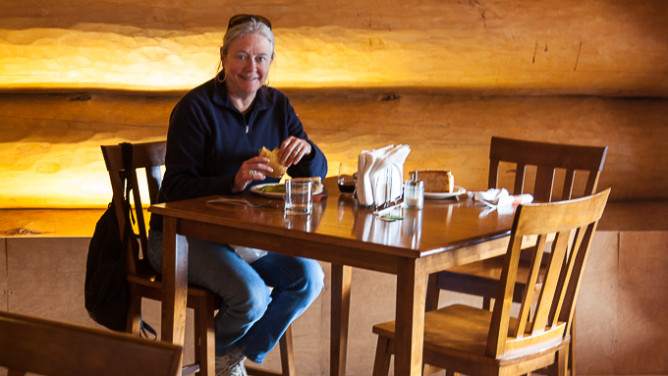 We spent a few minutes of valuable travel time talking to the chef co-owner about how he got to the Hancock Peninsula, food, Himalayan Crystal Salt, and Juju.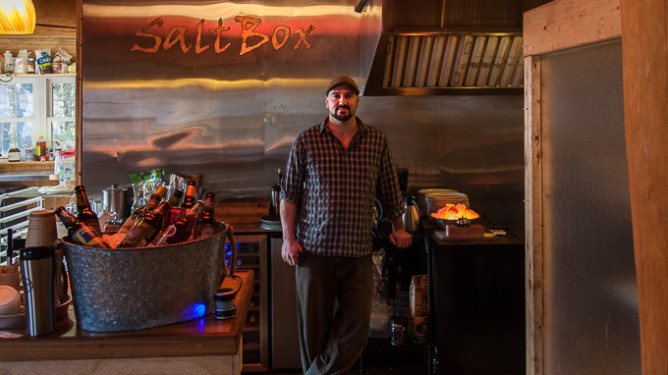 I was getting anxious and we got back on the trial deciding to go cross country – so to speak – rather than through Bangor and down the freeway.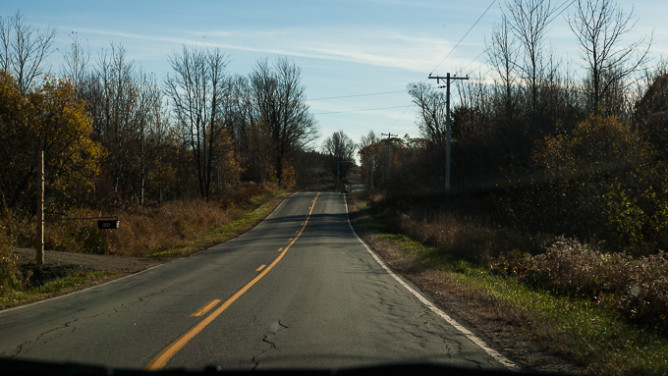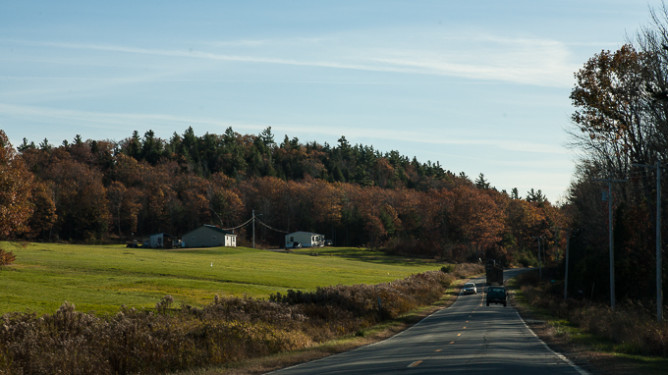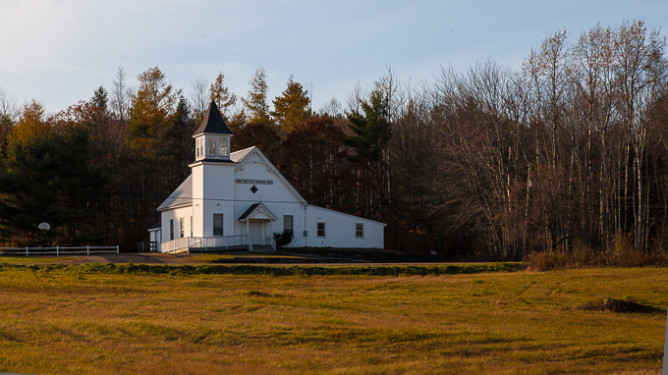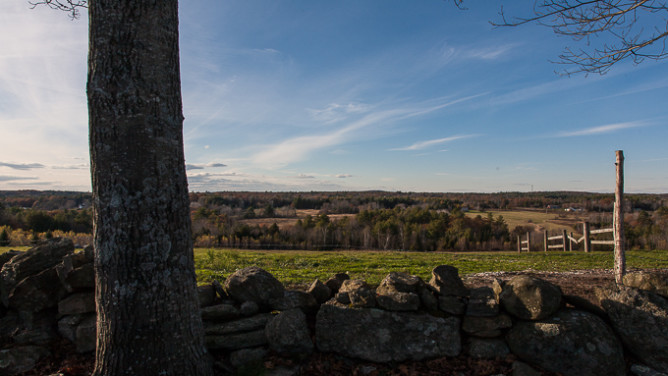 When we finally did get to the freeway, it was getting dark and Maine started to feel like any other part of America.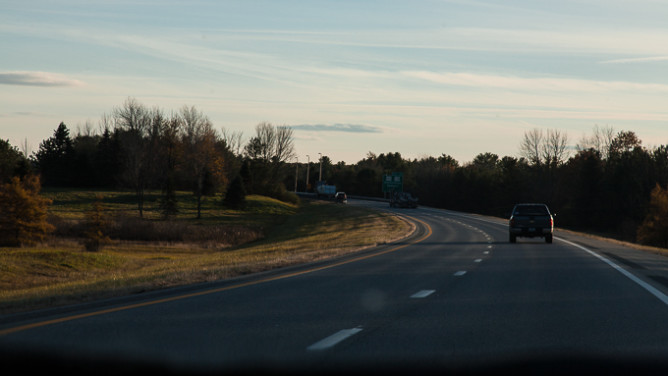 Michele pitched Let's stop at Eventide, the oyster restaurant that Warren suggested in Portland. We can get oysters and a glass of champagne to celebrate our twentieth. The little bit of Portland that we drove through was utterly different than everyplace else we saw in Maine. It was urban and gritty, busy. It seems that artists and foodies are moving in bringing change and excitement. Eventide was typical of the New Portland and was the perfect place to take a break. The centerpiece of the restaurant is a concrete counter embedded with a big hunk of granite, on the granite is a pile of ice with various oysters. Michele was giddy. We – I should say Michele, here, as I was just a bystander – settled on four each of three different kinds of oysters from the Damariscotta River Estuary. They were firm shell, large, light in texture, and high salinity and, yet, each one was different, the champagne was dry, we had a side order of tasty housemade kimchi and we were very happy.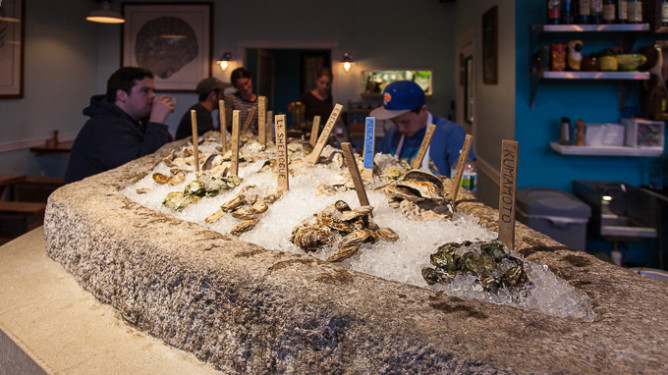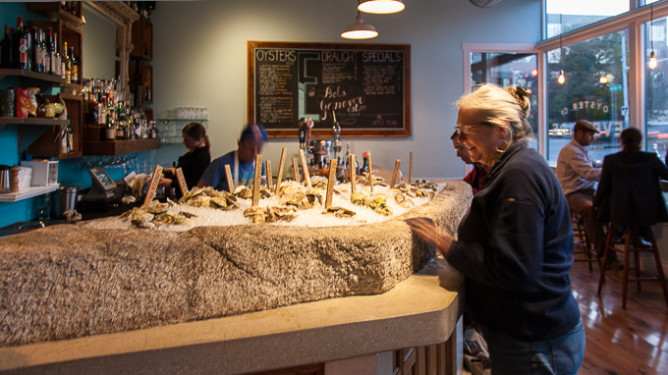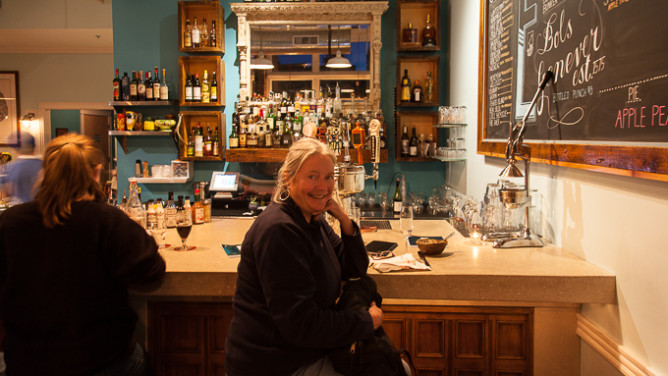 Michele and I finally did make it to Boston, in the dark, and went straight to East Ocean City, for our official Chinese meal that we have to have on every trip. Part of our reasoning – justification? – in going to a Chinese restaurant on a trip is that it takes us out of the culture. In a Muslim country, like Morocco, we can have pork, in India, beef. During the all pervasive Ramadan in Indonesia, we could eat lunch – in broad daylight – guilt free. In Boston, the local Ramadan was the World Series and we expected the restaurant wouldn't be too full because of game six.
It was empty, except for four or five waiters who were watching the game on one of the place's three TVs (one of the other TVs seemed to be hardwired to a How-great-is-the-Chinese-Military channel with lots of movies of Chinese war exercises). Later a Chinese couple came in and he watched the game while she watched her iPhone. Over our appetizer of Barbecued Spareribs, we watched Boston score three runs in the third inning. We had Lobster with Vermicelli Hotpot and Buddha's Delight Vegetables while Boston scored three more runs in the fourth inning.
Another reason that it is so much fun to go to a Chinese restaurant on a trip is that, in different places, the Chinese food is different in ways that is a caricature of that place's regular food. In Vicksburg, Mississippi – my choice for worst ever Chinese – it was deep fat fried, in Guatemala – Michele's choice for worst – everything was cut into teeny-tiny little tasteless pieces.
By the seventh inning stretch, an older American couple came in, sitting so as to not see the TV, the Chinese couple left and so did we. The next morning, we flew back to California, hungry for more of Maine.
Thoughts on coming back to California