Gina Matesic, Courtney Gonzales, JR Grubbs, Michele, and I met at Michele's family cabin late Thursday night so we would be ready to go to death Valley early the next day. The forecast had been for snow showers but Thursday night/Friday morning never got down to freezing and Friday was mostly clear (both the sky and the roads). It was a great weather to start a trip. We got coffee to go in Tahoe City and started around the lake full of big smiles.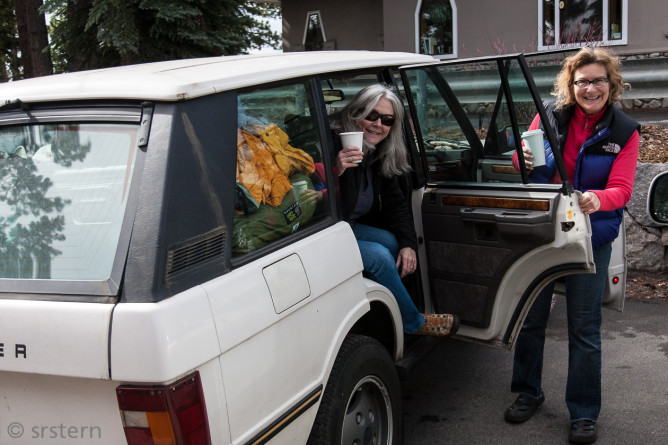 Then a funny thing happened; the heater core blew. We had just started out, admiring the color of lake Tahoe when a cloud of steam explode from the heater, fogging the windshield and sending green iridescent coolant running all over the floor. My first reaction was that the trip was off but everybody else's reaction was How can we work around this problem and get going? 
Courtney – I think – found a nearby garage with an excellent reputation  and we called AAA for a short tow. By the time we got to the garage, we had talked about the problem and I was convinced that the heater core was probably the problem and the easiest, cheapest, fix was to bypass it. (The night before had been about 36°F and I love that the receptionist at the garage told me, Now that it is warm, you really don't need a heater. I agreed because we were going to the desert but 36°F is heater temperature to me; people in the mountains are tougher, I guess.) As it was almost time for lunch and we followed the mechanic's recommendation to have a nice lunch at a local Thai diner.
Eurotech – the garage (at 848 Tanager St, Incline Village) – thought they could have us back on the road by 2:00 PM. Before we even got back from lunch, we saw them test driving the repaired car. They even replaced a burned out tail-lamp that I had mentioned. From the disaster of a failed trip to back on the road in less than three hours with a cost about $125.00 was an amazing turn around. I highly recommend Eurotech.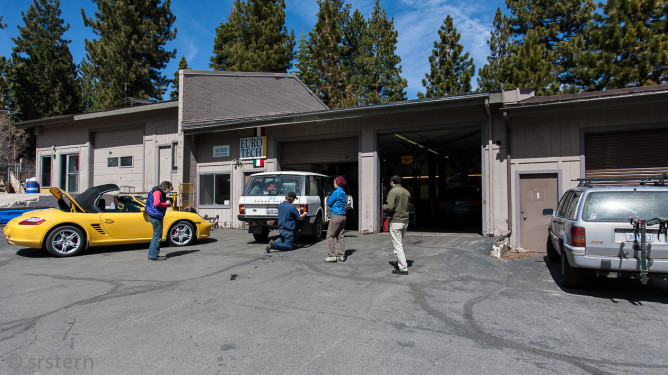 We were on our way, late, but not terminally late and anxious to get to the desert. Tahoe still looked magnificent – with a thin line of fog giving it mystery as we drove down the east side, and over Spooner Summit into Nevada and the Carson Valley.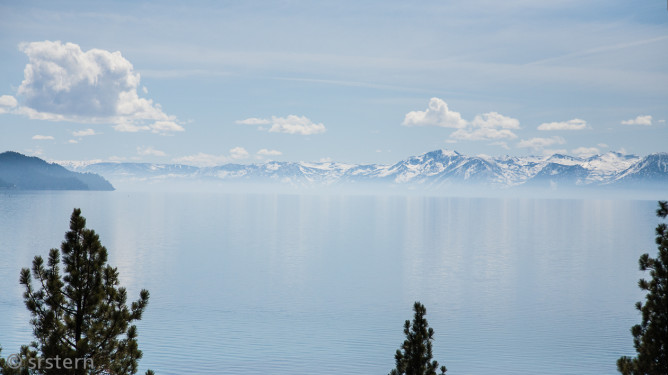 Then disaster! The radiator intake line blew, sending coolant all over the engine and clouds of steam out from under the hood. We were again stranded, this time in Nevada at Bodine's Casino. Sitting in Bodine's parking lot with steam coming out from under the hood, we found out that our biggest water container was leaking, lots of stuff was damp, and we would need to stop at some time and get some more water.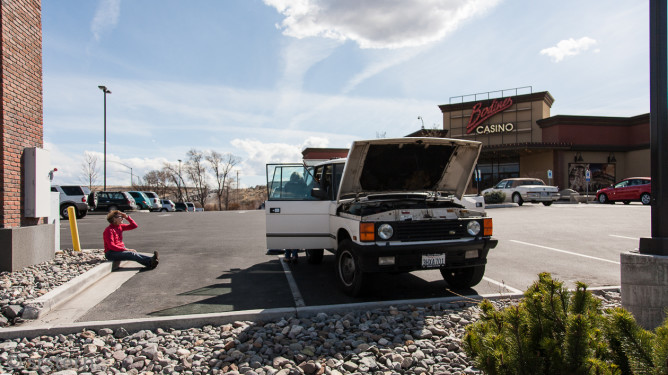 Two connected problems are often a sign that something more basic is wrong and my interpretation was that the hoses were old and failing at about the same time. Those of you who know cars, might be thinking of something more serious but I was still in denial. I had just spent almost $1,000 having Sunset Garage check out the Rover for the trip because I was worried about the belts and hoses being old and brittle and they assured me that they had checked everything and the truck was good to go.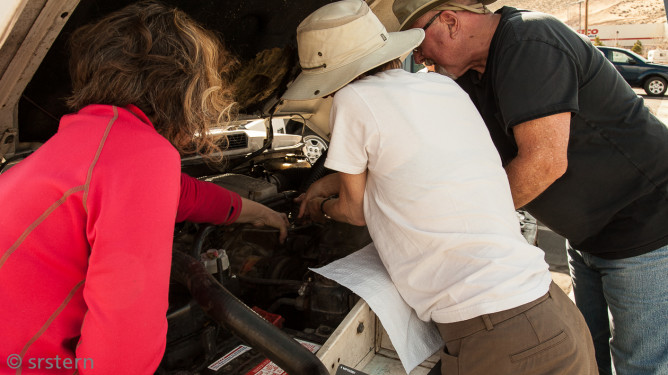 But, what the hell, an upper radiator hose is probably the easiest thing to fix under the hood and JR and Courtney drove a couple of miles to the nearest car parts store and got a flexible hose. We were back on our way in less than two hours and less than twenty bucks. We must have driven atleast five miles before another hose broke. Shit! Unbelievable!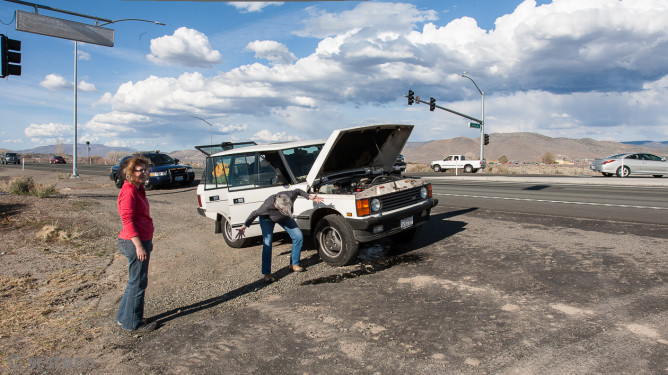 I was ready to throw in the towel at this point but JR lead a revolt to solve the problem once and for all by renting another SUV and having my poor truck towed back to Euroteck. These guys really wanted to get to the desert and were willing to move heaven and earth to make it happen. They went back into Carson City to Hertz to get another SUV while Gina, Michele, and I waited for AAA.
While we were waiting, Galen – a perfect stranger in the best way – drove up in his semi-tricked out Land Rover and told us about a mechanic who specialized in 4×4 vehicles used off road, named Hollars Automotive And 4 Wheel Drive, that was only ten miles down the road in an old gas station. By this time, AAA was starting to say that they could not get a truck there to tow us back to Euroteck until the next day and would I please wait by the side of the road – or come back tomorrow – until they got there.
It seemed a no-brainer, we had the Range Rover towed to Hollars, climbed into the two SUV's – using the term very loosely, on one of them – and started driving, in the dark now, south.1  When we got to Bishop, everything but a Pizza Parlor was closed – and their pizza oven was shut down – so we ate pasta there and drove on to the Eureka Valley to find a place to camp. We woke up the next morning in a different world. In my case, in a different world with a deflated airmattress.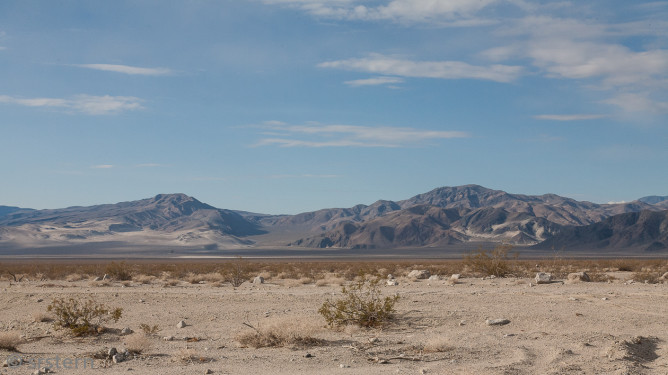 1. This makes it sound much easier than it was, not easier really – because it was easy – but less stress free than it really was. I was going into shock, my faithful truck was self  destructing, money was being spent that I hadn't counted on spending and didn't want to spend, and it was getting later and later.
Next: Eureka valley here