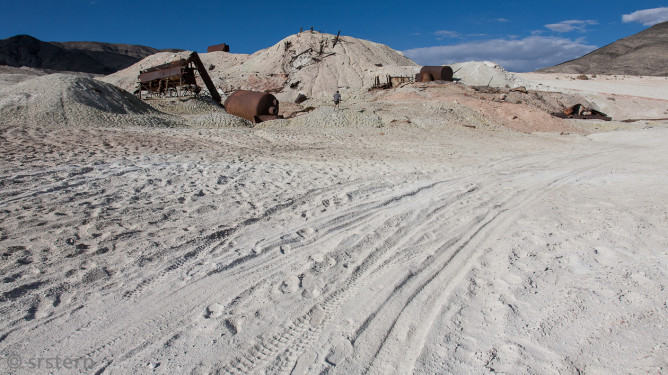 Driving out of Eureka Valley, we listened to a selection of music picked out by Courtney. As we drove past canyons just begging to be explored on a future trip, the music added the perfect enhancement.
Between Eureka Valley and the north end of Death Valley Wash, just before the road summit over the Last chance Range, is The Crater Mine. I have no idea when it was last actually mined but recently enough so that the boundaries of Death Valley National park were drawn around it and distant enough so that I have never driven by when it was active. The Crater Mine area has been mined for sulfur, gypsum, and sinter; all deposited by hot springs that may have been great before the mine tore everything up.
To me, The Crater Mine is to be avoided; it is a place where healthy rock is turned into ugly, deep, powder. I have probably stopped there when I first drove this road, but I don't remember doing so. But every time  I have passed the mine, I was driving. When Iver Iverson first introduced me to Death Valley, it was in my BMW Bavaria, then a GMC 4×4 pickup truck to get further off road, then a Jeep Cherokee, and – finally – a Range Rover. But this time, Courtney was driving (in a very nice Dodge pseudo SUV).
When we got to the mine, it was getting late and I said something like Oh, it's a shitty old mine, it's getting dark and we are running late, just keep going. Courtney turned to me and smiled, then turned into the mine area and turned off the engine. She was driving, not me. She was in control of where we went and when we stopped. It was no longer my responsibility to make sure we got to camp before dark, it was her responsibility. I was no longer in control; I was no longer the tour guide. What a relief. What a liberation! I was just one of a group of people who were wandering around the desert together, not because we wanted to be together – although we did – but because we wanted to be in the desert. Because we wanted to be here (maybe not all of us here at this mine, but here in this desert).
Both Gina and Courtney, being engineers were – in my humble opinion – inordinately interested in the mine and, at some point, I gave Gina my camera to take some shots. The following pictures are hers.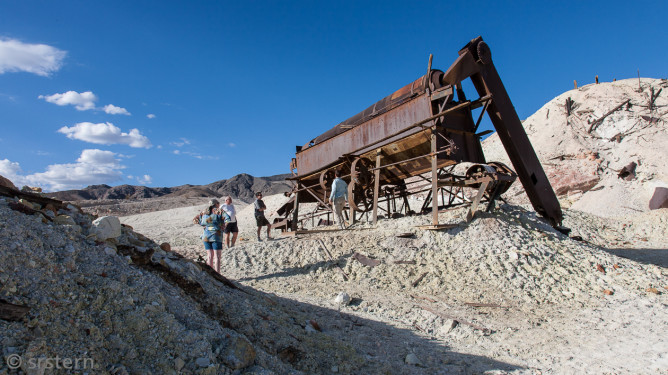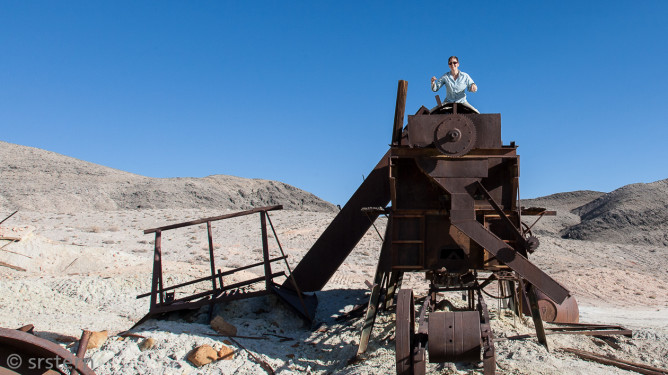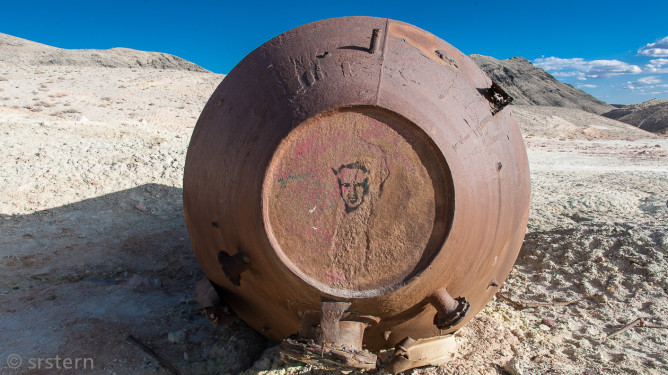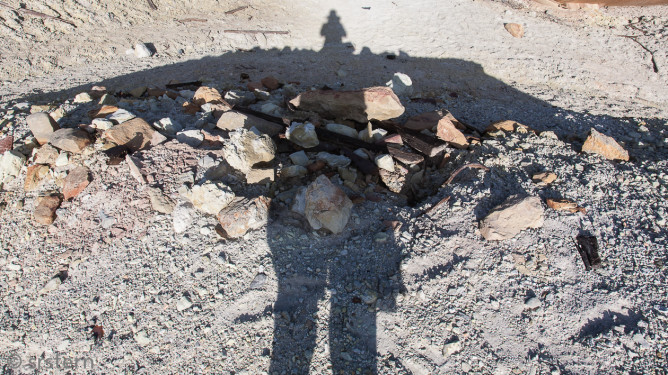 Then, in the fading light, it was on to upper Death Valley Wash to find a campsite. For dinner we had hors d'oeuvres with cocktails and wine; a salad of baby lettuces; Indian garlic rice – cooked in a pouch; and barbecued, marinated, cod. We finished the day sitting and standing around a campfire in the Weber barbecue, talking about past camping trips and how much fun we were having.
Part One: Here
Part Two: Here
Next: Above Ubehebe here