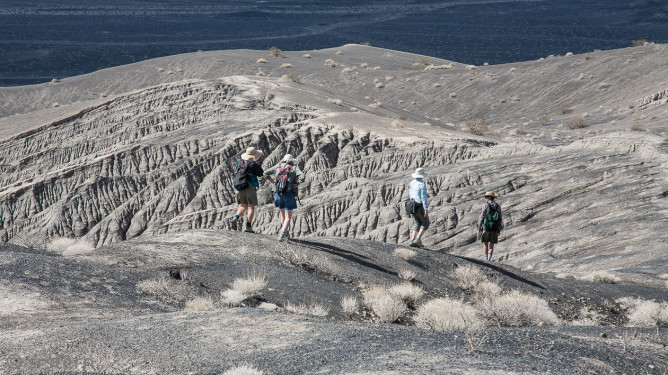 My favorite time of day is late afternoon (oh! and maybe early morning when the world is coming alive). Especially when hiking. It is  that time on an all day hike when the hike part of the hike is over, and we are wandering home (or back to camp). Usually in the afternoon shade, the air still warm, and almost always going down hill. In the Sierras, it would often be across a soft meadow, in the desert, it might be down a fan or a ridge. Here it is back to Ubehebe Crater, on the far side from the crowds, with a backdrop that is immense.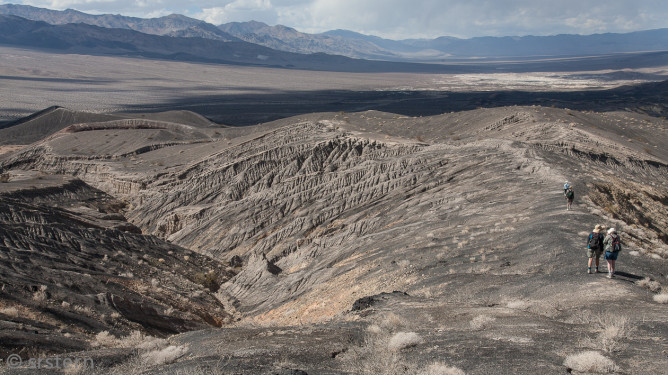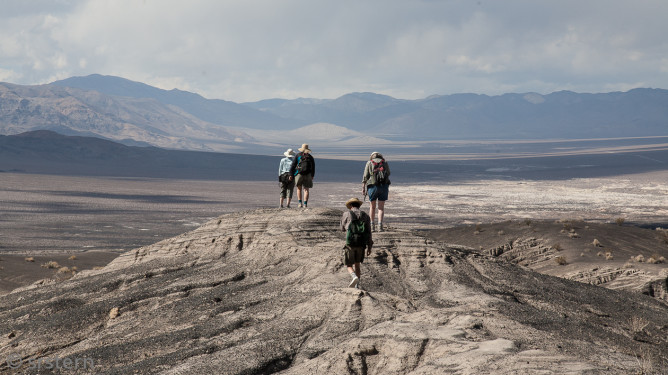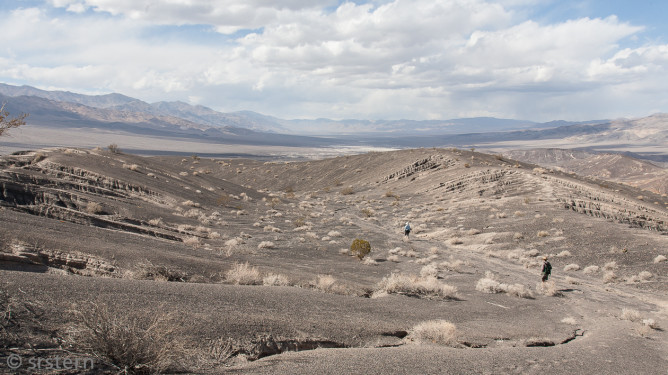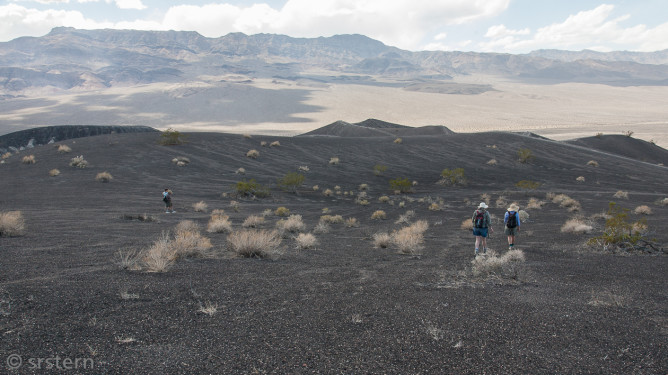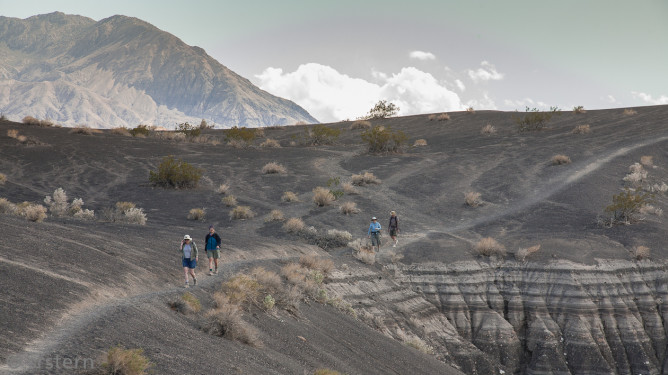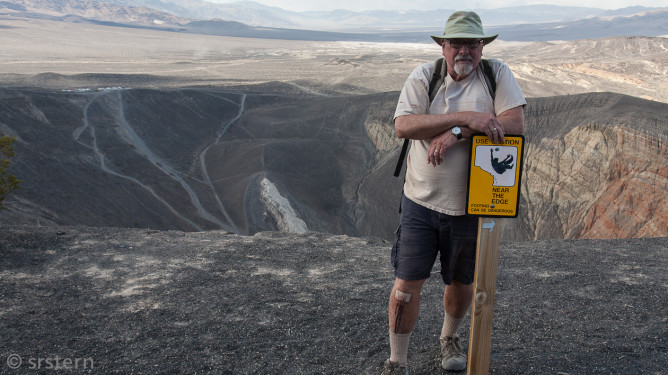 As the day was winding down, it was still very windy with rain squalls moving through the hills at the north end of Death Valley wash. Our plan had been to drive back to out previous camp site and camp there another night but, when we got there, it was still pretty windy. Michele led a movement to drive around until we found a dry wash where we could camp out of the wind. The first couple that we investigated were at low points in the road and I was concerned that we  would get too much dust if a car came by.
At one surreal point, we were in a gully when a – seemingly – unending group of Rovers drove by.  Driving even at moderate speed on a dirt road produces alot of dust, and, typically, drivers will spread out so as not to be driving in somebody else's dust cloud. In this case, three or four Rovers – both Land and Range – would go by , quickly and grouped together driving in a mutual dust cloud with their windows rolled up and, presumably, their air conditioners on – then a space; the dust would settle, and then another group. Thinking of my poor Range Rover all alone in Minden – all alone, cold – it was very strange.
Finally, we found a suitable gully and moved in.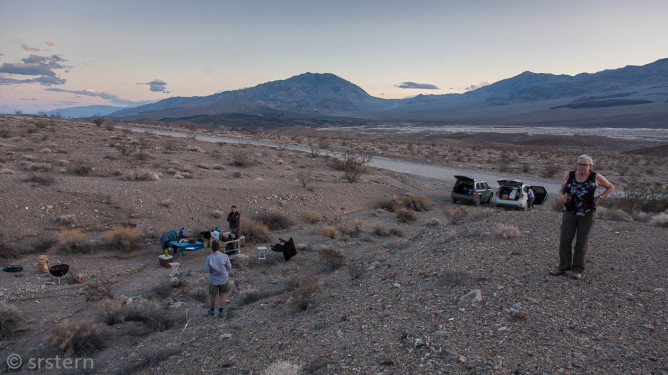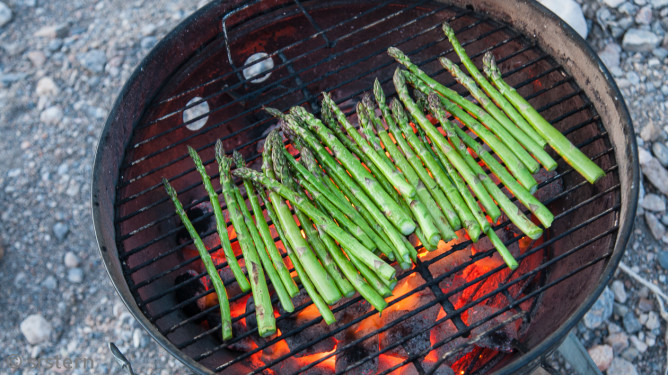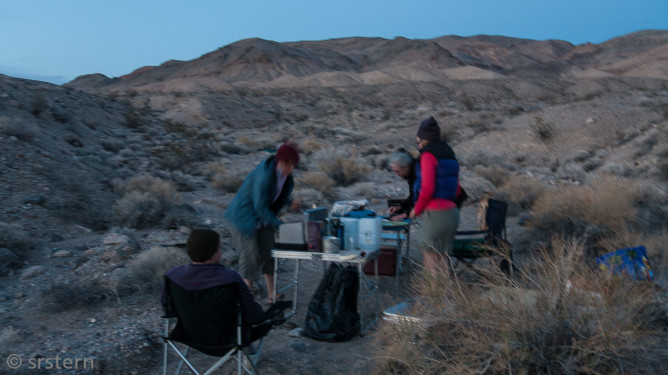 For Easter dinner, we had asparagus  eggs, baby potatoes, and – big surprise – chocolate Easter eggs. Then we lite a campfire and watched and felt the day end.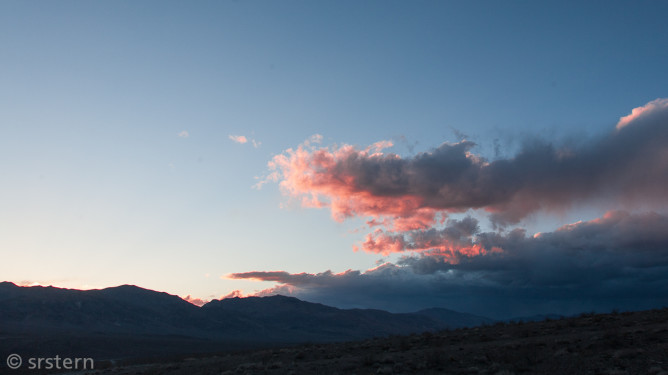 Part One: Here
Part Two: Here
Part Three: Here 
Part Four: Here
Next: Red Wall Canyon here