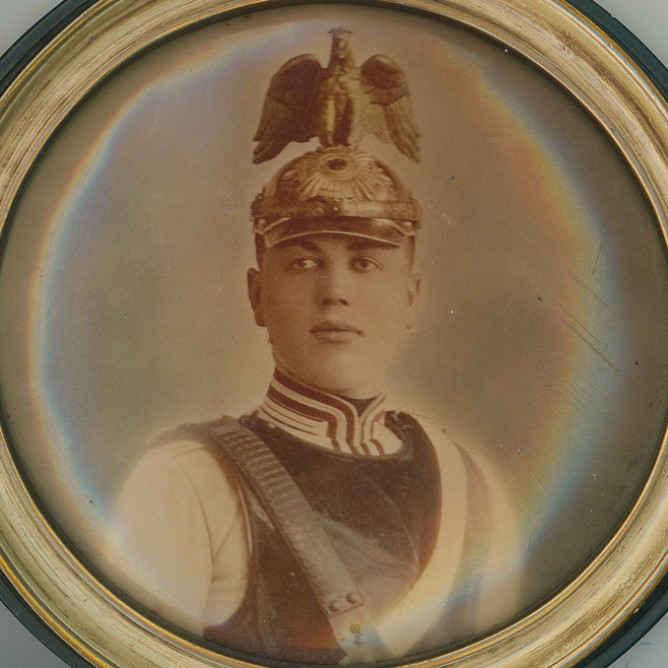 The other day I was meeting a friend for lunch, and I was planning on wearing a pair of jeans that I had just washed for the occasion. But, when I had to leave, my jeans – in the drier – were still damp around the edges. They were warm so I decided to put them on and let them finish drying in situ.
Driving to lunch, in the car, in my damp jeans, I started thinking about my Uncle Wilhelm von Borstel, my maternal grandmother's younger brother. He was 6'6″ tall  and was known as Little Bill because his father's name was also Wilhelm and stood 6'3″. He was Big Bill and, of course his son became Little Bill even when he grew taller than his father. To me, uncle Wilhelm was more myth than real person.
Typically, around an hundred and twenty years ago, European monarchs had special guards. Wilhelm II, the emperor of Germany – Kaiser in German – had a group of bodyguards called the Garde du Corps Potsdam. To be in Corps, one had to be – at least minor – royalty and over six feet tall.  My Uncle Wilhelm qualified and, as his family was impoverished as well as royal, he ended up in the the Potsdam Guards (as my family called it).
One of the stories  that I heard growing up was that while Uncle Wilhelm was in the Potsdam Guards, he had to get up at four or five – AM – to put his uniform on. Still damp! The uniform was white suede and – as it dried – it became form fitting. Driving in the car, it didn't seem like a great way to start the day. Maybe occasionally, in the middle of the day, like I was doing, but not every day. Not at five in the morning. On the other hand, at 6'6″ tall with  black-over the knee-boots and a black leather breastplate over the tight, white-suede, cat-suit, Little Bill must have cut an imposing figure. Especially when he was wearing his gold helmet with an eagle on top.
I think that my mother was slightly in love. She was certainly in love with the image: the strikingly good looking young man in the even more impressive uniform. When I turned 16, we took a trip to see him. I think it was a trip in which my mother – who didn't graduate from highschool – planned to  show off her heritage. Uncle Wilhelm had come to the United States after World war I and even though I had met him a couple of times when I was very young, I really didn't remember him. He was now living in Alturas, about as far north and as far east as we could drive and still be in California.
When we got to Alturas, he didn't really live in town, but in a trailer, alongside the highway, a little out of town. Oh! and with a huge hole between his trailer and the highway. It turned out that the State was enlarging the highway and he had dug a hole and moved the dirt to a pile behind his trailer. His plan was to sell the dirt back to the State to augment his day job which was, apparently,  poaching geese. When we got there, Uncle Wilhelm von Borstel greeted us wearing a pair of loose overalls with the fly unbuttoned and he didn't change for our afternoon get together. It turned out that he didn't really like to get up early to put on those damp clothes afterall.
(The picture is Wilhelm looking dashing in his uniform, I don't think my mother kept any pictures of him, in overalls.)