(For some strange reason, when I tried to put this on facebook a couple of days ago, it didn't take.)
Google maps tells me that the trip from Michele's family cabin in Olympic Valley, California – where Aston and Eileen picked us up at about 7:15 AM – to Ophelia and Peter's home in Garden City, Idaho is 465 miles and should take 7 hours and 34 minutes driving time.  Most people will tell you that it is a boring drive. Google is about right and most people are more or less wrong.
We get coffee in Truckee and head east to The West. After clearing the spectacularness of the Sierra Navadas, we follow the Truckee River – past the Mustang Ranch, surrounded in cyclone fencing with concertina, looking unhospitable as we thought when Michele and I pruriently drove by years ago – until it turns north to its sink at Pyramid Lake.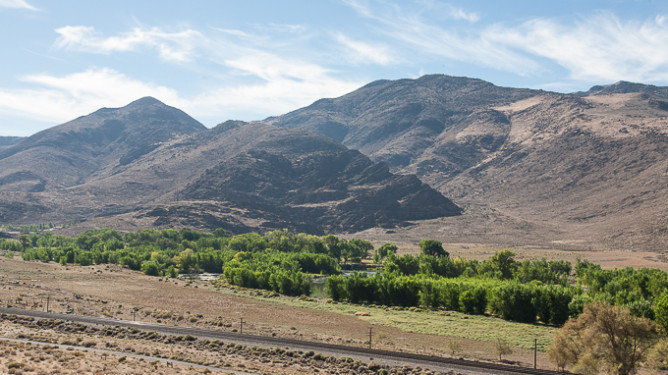 Then we drive out into a flat nothingness of the Humboldt Sink surrounded by distant, hazy hills. Driving up to Tahoe the night before, we could smell  smoke and the moon glowed faded red. Now the whole Humboldt Basin seems full of smoke.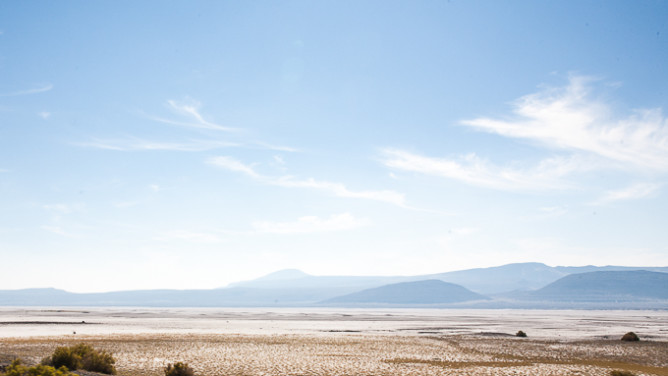 We are in an air-conditioned BMW sitting on leather cushions and breathing filtered air as we watch the Humboldt Basin slide by as if we were watching it on TV. The California Trail passed through here and people actually walked across this wasteland. Between 1848 and 1855, almost 150,000 people walked it – at a pace of around 15 miles a day – carrying their belonging on ox carts as part of the biggest migration in human history. (In 1850, when California became a state, the official census said 92,597 souls lived here; by 1860, the population had jumped to 379,994.)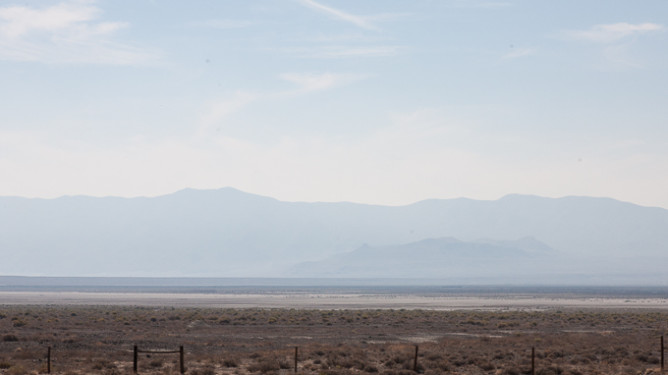 The most severe part of their journey was from Salt Lake City to Reno and the scarcity of water was probably their biggest worry. Our biggest worry is where to stop for gas and we decide on a truck stop west of Winnemucca.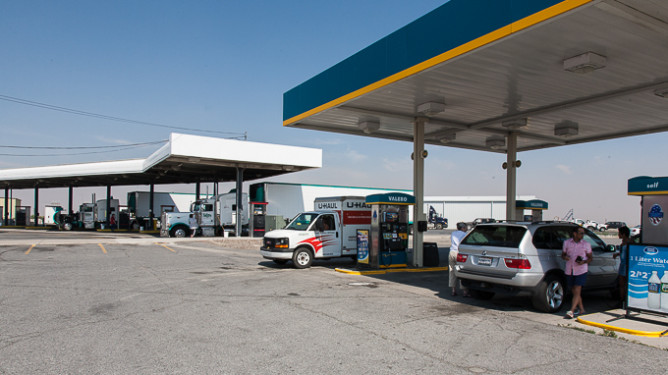 From the truck stop on, we are driving in increasingly clearer air, giving us a clear view of 7200 foot Auburn Peak in the East Range. Maybe twenty or twenty five years ago, Mike Moore bought an old US Air Force Radar Station on Auburn Peak and named it Radar Ranch, he sold it sometime later and it is now for sale again for only $200,000. It has a concrete block main building, an artist studio, lots of water storage, electricity, and a 360° view of the world all the way to the edge. Check it out.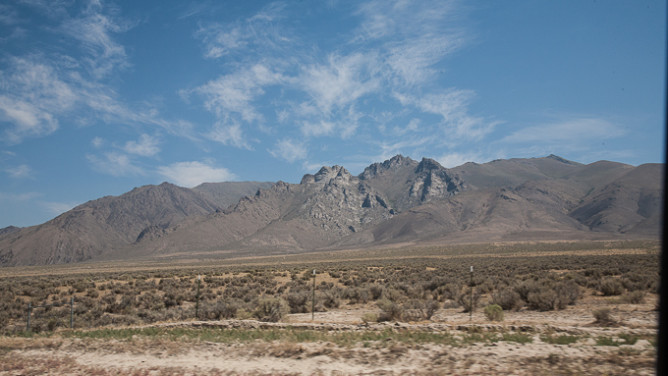 When we turn left at Winnemucca, it begins to feel like we are almost there even though, intellectually, I know we have another four to five hours of driving.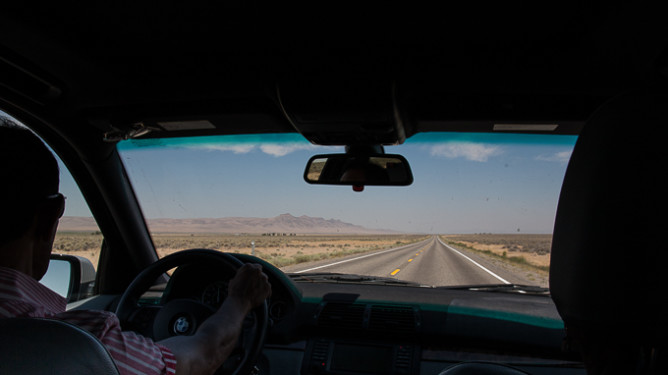 First we have to climb out of the Great Basin which we do at Blue Mountain Pass – 5293 feet – after we crossed the border into Oregon, then we run along the top of  a high plain. The fire off in the distance reminded all of us that this is a early and busy fire season.  We drove by fires in California and the weather forecast for Boise predicted heavy smoke. When we got to Boise, one of the main topics of conversation was the evacuation of Sun Valley and Ketchum because of fires. The red state west is in a drought and it will be interesting to see what that does to their perception of Global Warming, or Global Change if you prefer (I read today that Florida Republican Congressman Jeff Miller says that God is changing the climate, not our pollution, so maybe that is the answer and I guess it is OK to keep up these long road trips).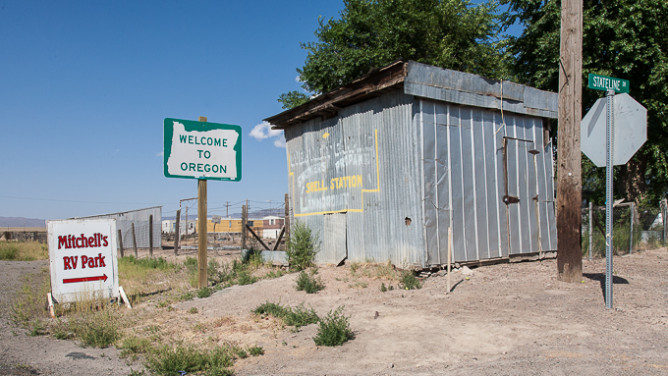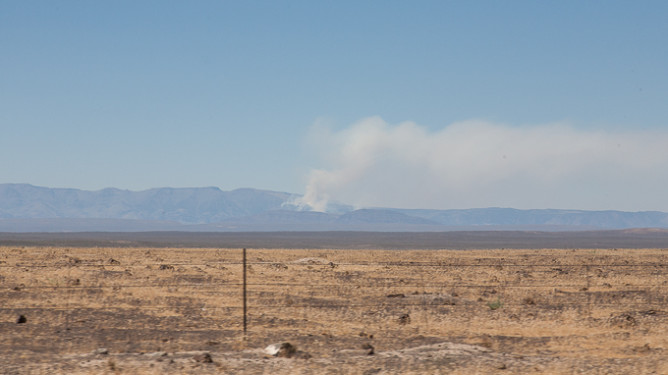 We are now in the Owyhee River Basin and start talking about what we are going to order when we get to the Rock House Espresso and Ice Cream Parlor in Jordan Valley, Oregon. Jordan Valley is a neat and tidy oasis with a nifty coffee house.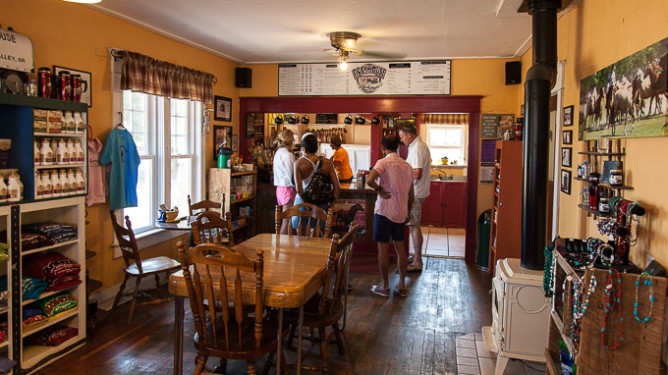 This was our last stop in Eastern Oregon, and the old part of the town seems so orderly, that I was pretty sure this was a Mormon town, but it turned out that it was settled by  Basque(s?).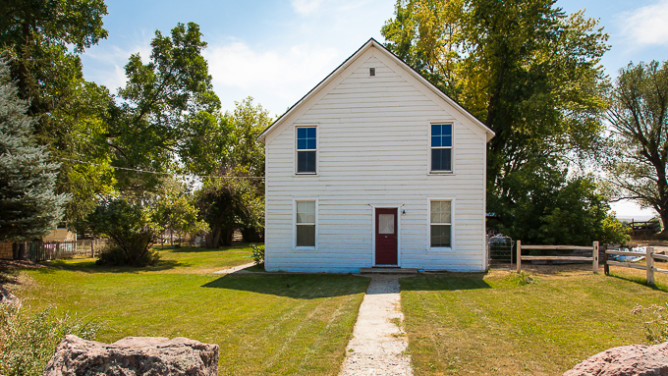 To be continued.