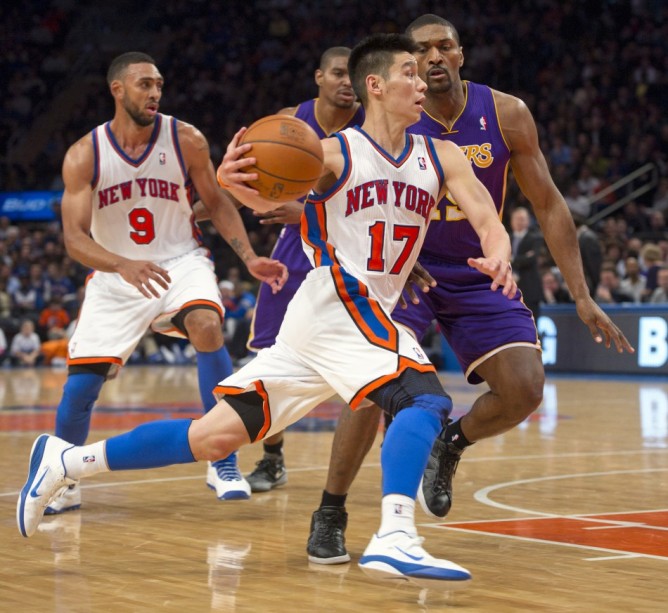 I am not sure how it happened – and it really does not make much difference – but Michele and I have been caught up in Linsanity. If you are blessed enough to not be caught up in this whole Knicks-Lin thing – or, maybe, cursed to not be following this feel good, heart warming, story of Linderella coming out of nowhere – there are plenty of places to get caught up on the background. As Sports illustrated says, Think of the singular demographic alloy at play. Lin, who's worked endlessly on his strength and his jump shot in the past year, is a normal-sized, Christian, first-generation Asian-American. He's excelled academically, faced racism on the court, been cut twice and sent to the D-league four times. Now he's an NBA sensation amid the cultural diversity of hoops-starved New York. Opponents aside, who wouldn't be a fan?
Anyway, we sat down Sunday afternoon to watch Lin and the New York Knicks play the Dallas Mavericks. A confession is in order here: I was in in Texas -while in the Army – in the early sixties and like anyplace in the South, it was not a good place to be a young man from California or any part of the North; I was also a 49er fan during the Montana years and Dallas was an arch rival; so I am pretty much anti-any-Texas-sports-team. Also, Lin played for Palo Alto High, maybe seven miles from our home, so we were defiantly rooting for him, but there was an underlying feeling that the bubble might burst any game now and the Mavericks were the best team in basketball last year. We would have been happy with a good, close, game.
It was a great game with huge swings in the scoring. In the end, the Knicks won and Lin was the reason. It brought up all the questions of how this kid could have been overlooked; how did the Warriors release him after a season? how did Houston? Because we are all racists, even if it sometimes plays out as anti-racists, the most obvious answer seems to be Because he is Asian. I don't think that is the main reason, the real reason. The real reason is that Jeremy Lin was trying to fit into the Warrior's system and he did that by not playing his game. During the game's halftime, they played part of an interview of Lin by ABC's Rachel Nichols, the interview starts about 3:50 into the clip below and, for me, gets very interesting at about 5:45 where Lin says , I was trying not to make mistakes, I was trying to fit in….this year I am going to make sure I do it my way.
It is one of the oldest lessons out there and one of the hardest to follow. It is as old as the Bible, Polonius said it in Hamlet, This above all: to thine own self be true, And it must follow, as the night the day, Thou canst not then be false to any man, and they still say it in every self improvement book; be yourself. And it is so hard. When Lin had been cut by two teams, when he was afraid he would be playing in Europe,  or on some unknown D-team, or maybe not playing at all; in other words, when he had nothing else to lose, he became true to himself, he started playing his game. His game, it turned out, that fit the Knicks system like a glove. By playing his game, by being true to himself, I suspect, he was able to play with a lot more intensity.  His game, it turns out, includes a lot of assists and his generosity and intensity have transformed the Knicks. With Lin in they are less of a collection of outstanding players and more of a Team.