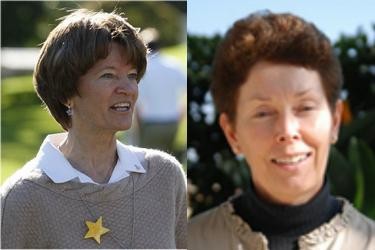 Dr. Ride died from pancreatic cancer last Monday. She was only 61 and is survived by her partner of 27 years, Tam O'Shaughnessy. The fact that she was gay came as a big shock to me. Not that I have spent much time thinking about Sally Ride in the last twenty years.
I was hyper-interested to the space program when it started in 1959 with Mercury and read everything I could on it. But the presentation by the news was so un-factfilled, that it was hard to stay attentive. Project Gemini was more of the same and going to the moon, in its own way, more of the same. In Wernher von Braun's books, the moon lander would take off from Earth orbit but Apollo had the moon lander take off from a Moon orbit; I never did find out why (and I tried). And the astronauts were so so white bread, so bloodless, so flag-lapel-pin-American, so characterless, that they were not interesting.
Then I read The Right Stuff  by Tom Wolfe and the astronauts were brought to life as flawed, crazy – in a good way – over achieving test pilots. They were fascinating and it makes me wonder why they were presented as so boring. It seems to me that the only time public figures aren't presented as boring is when the press is getting ready to hang them. By all accounts – made after her death – Dr. Sally Ride was an equally fascinating astronaut and it is too bad that she had to hide who she was and it is sort of nice that she was able to.
May she rest in peace.