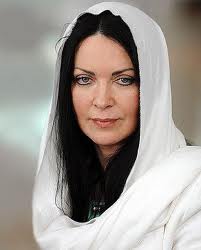 There is an interesting article on Bin Laden's three widows – isn't that a phrase you never thought you would read, Bin Laden's three widows? – in The Christian Science Monitor. As an aside and speaking of The Christian Science Monitor, if the president of General Motors were a Christian Scientist who did not believe in conventional medicine, do the Republicans who voted for allowing bosses to opt out of contraception on religious ground, think it would be OK to stop all medical beifits – including Viagra –  The article, quoting Shaukat Qadir, a retired Pakistani brigadier general, says The tranquility of his large household was shattered when it was joined early last year by the oldest of his remaining three wives…There were 27 people packed into the house in Abbottabad when US Navy SEALs arrived on the night of May 2, 2011. But until a few months before that, when bin Laden's oldest surviving wife, Khairiah Sabar, joined them, they had all got on well.
Even though it is a cliché, it is true- or, maybe that is the reason it is a cliché – that, in the end, relationships are everything, even when it is a relationship between three wives. That afterall is what Big Love was all about.
Lewis Hamilton is a great Formula 1 driver. So great that, in his first season as a Formula 1 driver, driving on the same team as a two-time Formula 1 champion – Fernando Alonso – Hamilton tied him in points scored and almost won the the Championship. Last year, he came in 5th. Last year he also broke up with his girlfriend, and fired his manager who is also his father. In other words, his primary relationships fell apart and he fell apart, too. Now he is back together with his girlfriend and has reconciled with his father, it will be very interesting to see how he does this season (which starts in 8 days and 11 hours from this posting).
As part of a series on comedy, David Steinberg interviews Chris Rock, who says his comedy is all about relationships. It is only one minute 20 seconds long and worth listening to.