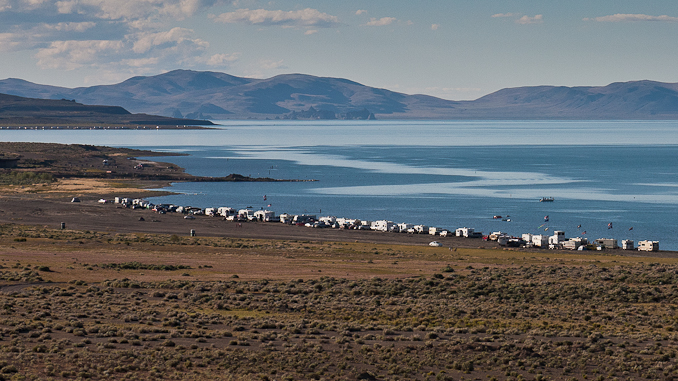 Every time I read about the rich getting richer and everybody else slowly getting poorer, I get pissed. Every time I read about Bain Capital buying a company – say KB Toys, worth $302 million by putting up $18 million and borrowing the rest – driving it into staggering debt and, then, bankruptcy, and walking away with a an $85 million dividend taxed at a special low rate, I get hot, sweaty, pissed. It seems so unfair, first the making of money by closing down a company, by eliminating jobs, and then, to compound the unfairness,  to pay less taxes than the people who work for a living.
It is unfair, but when I drive by Pyramid Lake and see the RVs crowding the shore, I am beginning to think that the unfairness may be better for the planet. Actually, I know it is better for the planet and I am just beginning to admit it.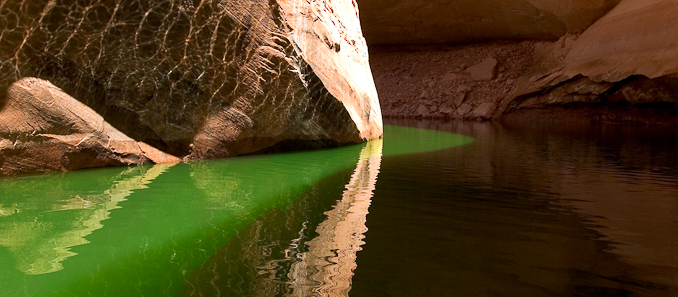 In 2005, because of a long drought and for other – more endemic – reasons, the lake level of Lake Powell dropped low enough to expose the Cathedral in the Desert. Michele and I went to Lake Powell to go see it. We were blown away, but I was even more blown away by the long line of 4wheel drive trucks towing elaborate ski-boats at the boat ramp. It was an early weekend in May and the line to get in the lake must have been longer than a mile, one 4X4 after another each with a trailer carrying a heavy duty skiboat. Each rig owned by a middleclass American living the Dream.
When I hear about Scott Walker busting unions, I get enraged, but I am starting to think he is right. Union people, the vaulted and abused middle class of the American Dream, make too much money – well, to be more accurate, they don't make too much money, they spend too much money, they buy too much shit – and it is not good for the long term, health of our planet.
In the Scott Walker case, it is not like the state workers will starve. They will still have jobs, they will just get paid less and get a smaller – maybe much smaller – retirement. Yes, they might not be able to have a big 4X4 and a skiboat, but they will still be wealthy by almost any historical measure. The tenants of modern trailer parks live in more, real, luxury than Roman rulers. Every one of them has access to unbelievably good health care, they all have cars, they all have televisions and heated houses, and – probably – air conditioning. Even after their Unions have been busted and the American Dream is dead, the workers Scott walker went after will be living a life of almost unimaginable wealth by even 1960's standards.
That is not to say that Scott Walker isn't a asshole; he is, after all, commanding others to sacrifice without having to sacrifice himself, asking others to sacrifice while probably enriching himself. If the test of a moral assertion is where its burden falls, Scott Walker flunks. That is my problem with conservatives, they are always demanding change that makes life harder for others, never for themselves. But that doesn't change the basics; we can't continue to live like this.