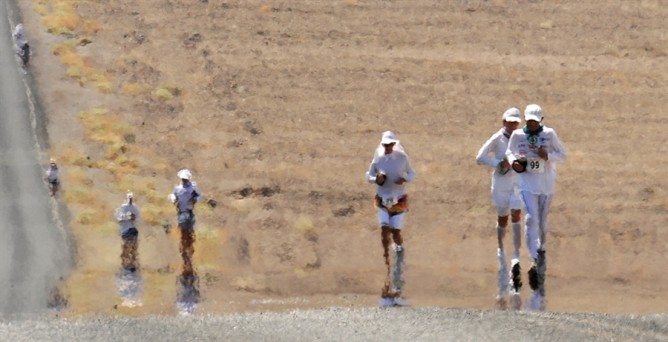 Today is the start of the Death Valley Ultra Marathon.
I love all things Death Valley, well, almost everything. Maybe the Death Valley Ultra Marathon is an exception. The Death Valley Ultra Marathon is a foot race that starts at Badwater – in Death Valley at about 280 feet below sea level – and ends, 135 road miles away, at Whitney Portal (about 8360 feet above sea level)…pause…in July!  In the process, the runners cross two passes, the first one, Towne Pass is at 4960 some odd feet, and then – after going down to 1550 feet – the next one, maybe named Darwin Pass, is at about 5300 feet. That just seems nuts.
Last year, the winning time was 23 hours and 41 minutes; doing the math, I come up with a pace of over 5.7 miles per hour, almost ten minute miles. Oh! And it is hot in Death Valley in July: 120 in the shade – and there is no…. – last year. Last Thursday, Death Valley experienced a record – high – overnight low at 107º, but this week will be cooler, with a high of under 110 and overnight lows in the 80s.
Strangely enough, this race seems to be an old person's game. Almost all of the runners are over 40. Last year there were 27 runners over 50 and two under 30! Probably proof that people don't always get smarter with age.
It is astounding what humans can do.