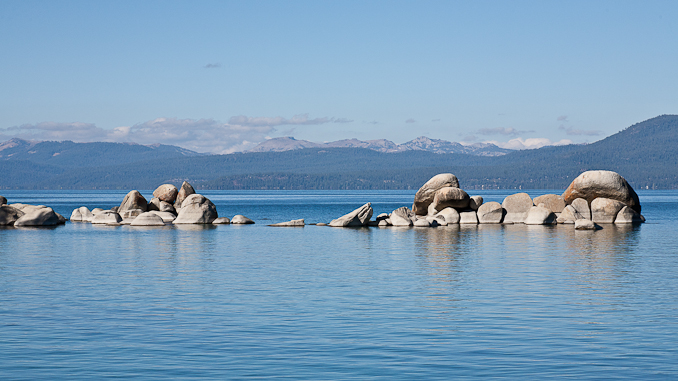 On Tuesday morning, Aston and Eileen got up early and drove to San Francisco to go to work and we started a little later to drive to Lee Vining to meet Karen Amy and her friend Chris. The first stint took us along the east shore of Lake Tahoe so we could marvel at its blue gem-likeness set in a granite ring. From there, we picked up Highway 50 to crest the Carson Range at Spooner Summit and drop down into the Great Basin of  Nevada just south of the state capitol, Carson City.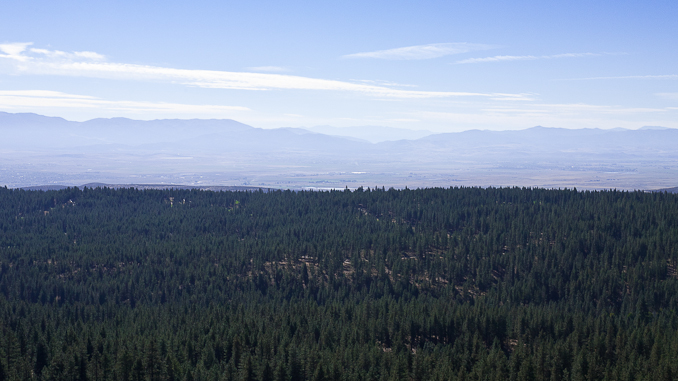 From there, it is Highway 395 all the way south to the backdoor to Yosemite at Lee Vining. We cross back into California at Topaz Lake about 60 – some odd – miles south of coming into Nevada . I was born in San Francisco and have lived in California all my non-Army life. I was brought up to think of myself as a Californian more than as an American. As much as I love Nevada, I think of California as my home and even though we have only been in Nevada for a little over an hour, I get a little coming home tingle as we look down the valley with California in the hazy distance. This border crossing, back into California at Topaz Lake seems so archetypical: we drive through high Nevada – it may be dry enough to be called – desert, cross a long flat pass at about 6,000 feet, and then head down into the Topaz Lake Basin with green fields on the California side.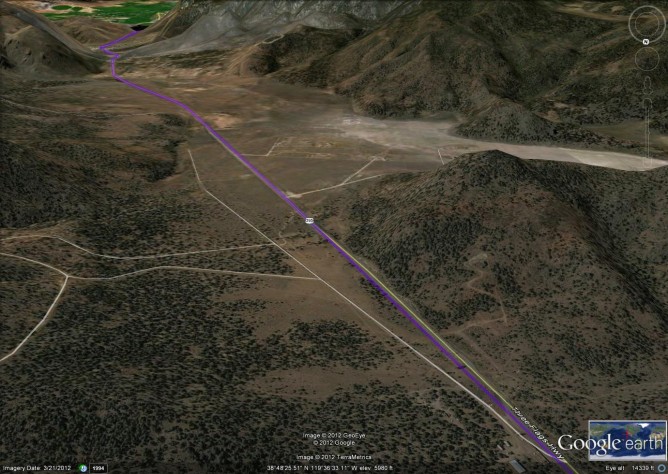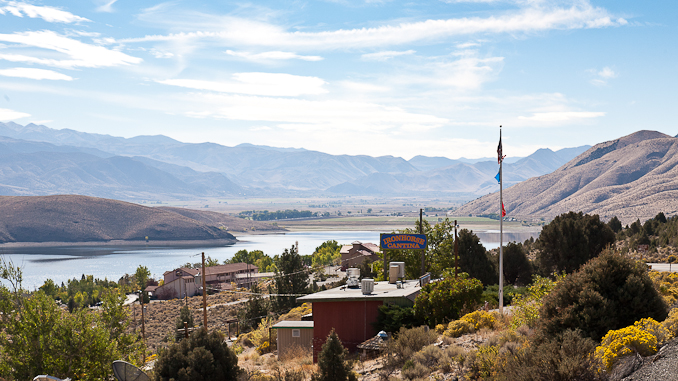 The Walker River flows into Topaz Lake and we go up river as we head south up a long canyon. About 15 years ago, the Walker River overflowed taking out the road and we had to detour about 50 miles out of our way to get to Death Valley. A year or two later, we drove through the denuded canyon on a new road and marveled at the devastation. Now, going up canyon, I am not sure, even, where the river took out the road.
Our plan is to meet Karen at noon at the Mobil Station cafe but we start to run late because we keep running into unexpected traffic controls. It turns out that we are caught up in construction of Digital 395, a 583-mile fiber network whose motto is Connect on the Wild Side. The project seems to be a public/private partnership with lots of semi-official – but unidentifiable –  sounding names like the Eastern Sierra Connect Regional Broadband Consortium and the California Advanced Services Fund. Among others, it is funded by the California Public Utilities Commission and the Department of Commerce under the Recovery Act. I couldn't help thinking that alot of the people who moved here to get away from civilization and are now getting broadband would use it to badmouth big government. Our trip through Bridgeport is the worst with twenty minutes waits for a slow, controlled, crawl through town which is having all its roads repaved;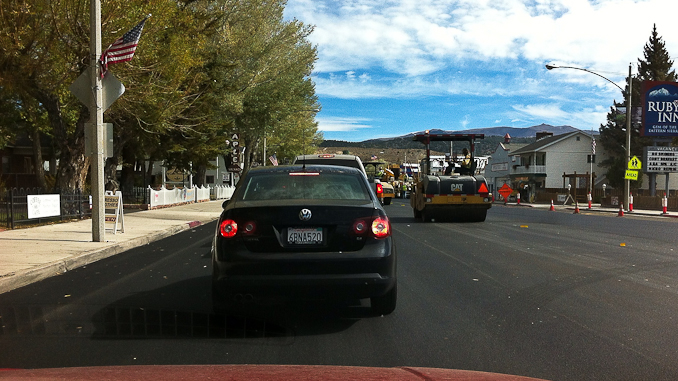 iPhone photo by Michele Stern
meanwhile, Karen has shown up an hour and an half early. We finally show up about 30 minutes late and the four of us have a quick lunch so we can scurry twelve miles back to Conway Summit at 8,138 feet where the Aspens are starting to turn.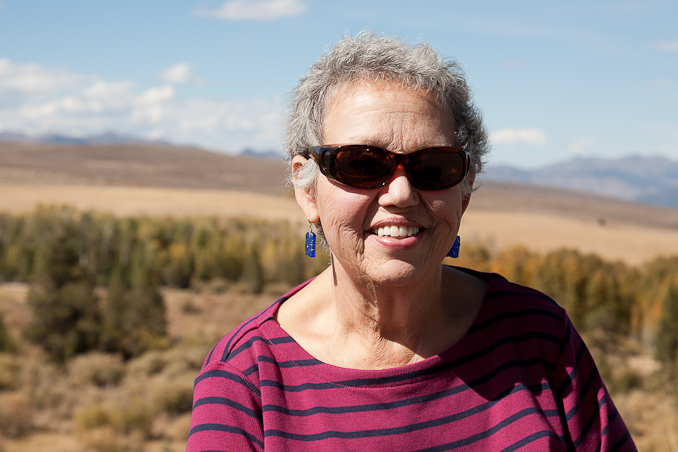 Portrait by Michele Stern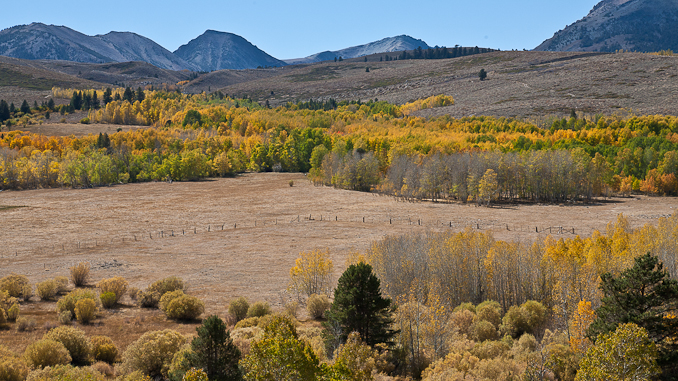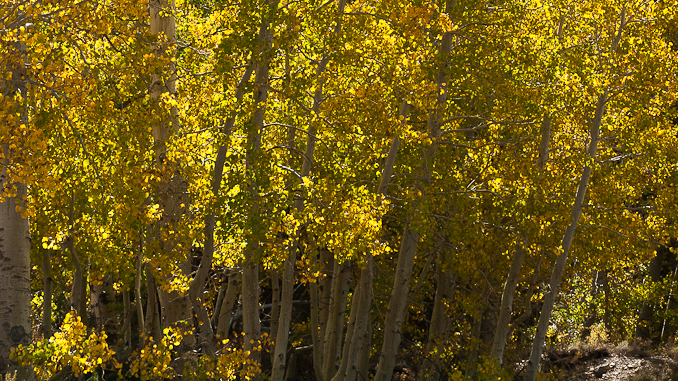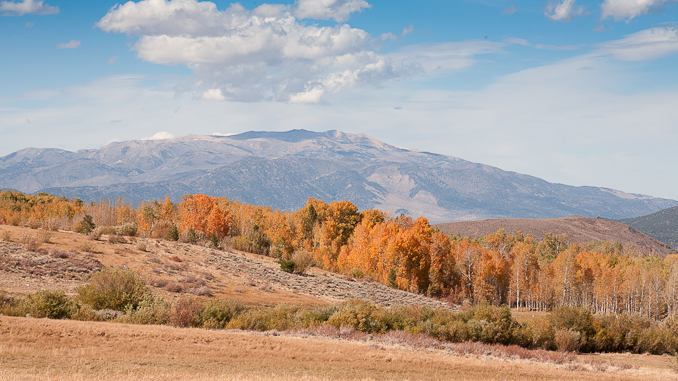 After we wandered around the Conway Summit area, going to Virginia Lake and then back down to the view overlooking Mono Lake and, way in the distance, the Sierra Nevada Mountains, south of Mammoth.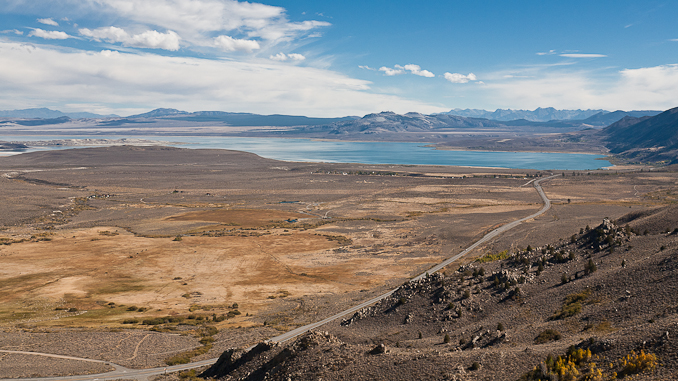 By now, Michele and I were in full tour guide mode, wanting to go down to the edge of Mono Lake to better show it off.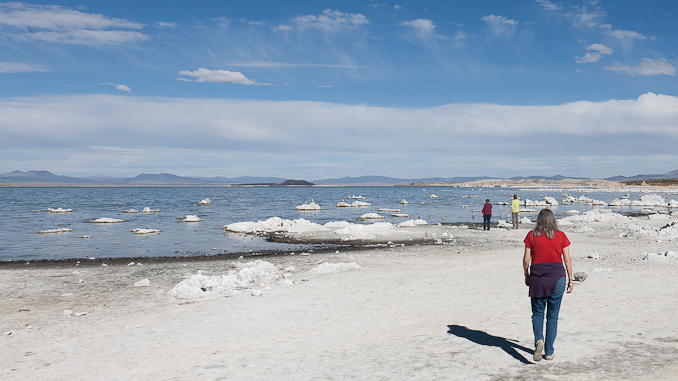 Mono Lake is, of course,  not a lake but a dead sea and it is the major rookery for Seagulls on the west coast. Still, it is always a shock to see them here, hundreds of miles – by road, at least – from the sea (which is, after all part of their name). But, here they are, chowing down on Alkali Flies and Brine Shrimp. Somehow, they seem both tamer – as in less frenzied – and wilder – as in less dependant on humans – than on the coast. As we watched the Seagulls, I ended up watching the soft waves, lapping the shore, and marveling at how different these waves are from the waves at Virginia Lake, 45 minutes and 3,200 vertical feet away.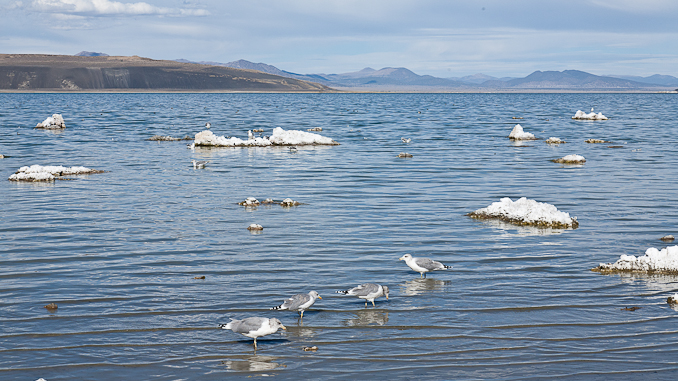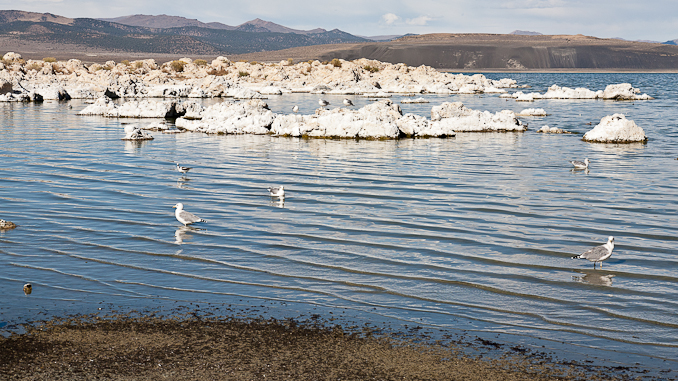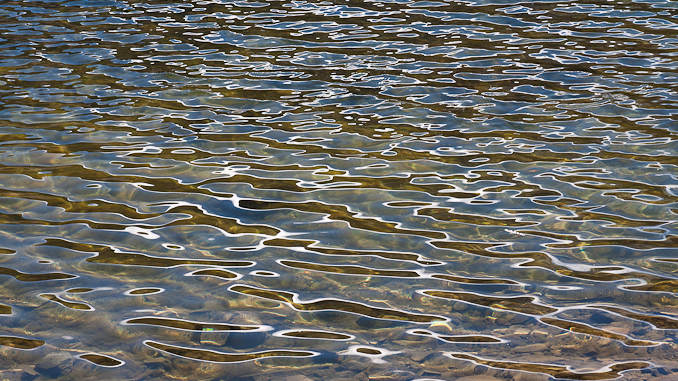 By now it was getting close to our 4 o'clock cut off time, so we took a quick peek down the June Lake loop, looking for fall color, and then headed back over the hill. Karen and Chris to Yosemite Valley and Michele and myself to Portola Valley. At 8600 feet, it was already winter at Tuolumne Meadows.