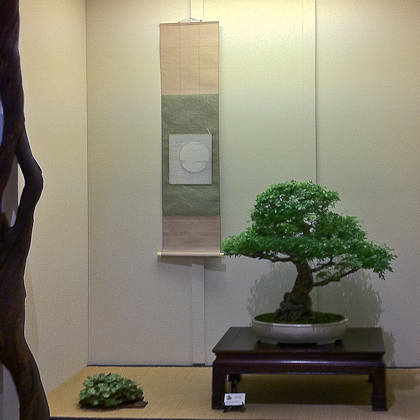 A couple of weeks ago, at the invite of Vern Smith, Michele and I went to a Bonsai Show. I love plants and I love plant shows, but I have never been to a Bonsai show. My only exposure has been through wandering around a couple of Bonsai nurseries and what I have gathered from the zeitgeist. Most plant shows feature rows or groups of plants, usually lined up in some sort of contest mode – at a cactus show for example, all the Mammillarias will be together –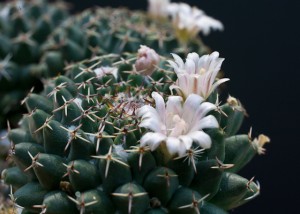 but, at a Bonsai Show, each plant is displayed separately as an individual. And the entire display is important. The plant, the pot, the top dressing – which is often some sort of moss – and the background. Even the entry to the show is given special attention with a display called a tokanoma – I think. To me it felt very Japanesey but when I talked to various hall monitors at the show, they didn't think so.
As an aside, I think of Bonsais as being only Japanese and was shocked to find a very old Bonsai at the Guangzhou Airport when we were in China. End aside.
It seems that each Bonsai Club has a different character – on purpose – as part of their charter. For example, the Dai Ichi Bonsai Kai ("Number One" Bonsai Club) – Serenity through Bonsai – says that they take  great pride in its family-oriented character. The California Kusamura Bonsai Club, according to its website, specializes in teaching. Because of that, there were several first time entries at this show which I found very attractive but Vern found somewhat wanting. I can hardly wait for a show from a club that specializes in only experts. In the meanwhile, this very fun show will do.