Sunday morning, I left to meet Peter Kuhlman  at Bruno's Country Club Casino in Gerlach, Nevada. There are several ways to get to Gerlach from the Bay Area and they all start out on the freeway and end up on gravel or seldom used tarmac. Taking pictures of the drive to northern – actually northwestern – Nevada – explains it all. For the first half or more of the trip, when I want to take a picture, I have to find an overcrossing where I can pull off the highway; then, as I get closer, I pull over to the side of the road to take a shot; then, when I am almost where I want to go, I just stop in the middle of the road – get out – and take the picture.
But, way before I stopped in the middle of the road, I ran into snow going over the Sierras. Snow in the Sierras on Memorial Day – come on! In retrospect, I should have expected snow – it was raining the Bay Area the day before – but it did surprise me. Still, it wasn't sticking so I decided to take a backroad route that Mike Moore had recommended. I got off the freeway at Truckee. It was a great suggestion, taking me through Sierraville California and by Sierra Vally for the first time.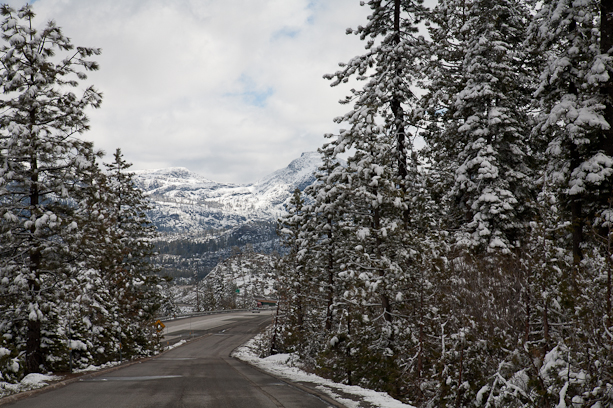 It continued to snow all the way to Sierraville but the snow never stuck and, then, I then dropped below the snow line and skirted Sierra Valley. Watching shower spots – for lack of a better word – move across the valley. As I left the valley, I began to get concerned. The snow ahead of me looked lower than I expected.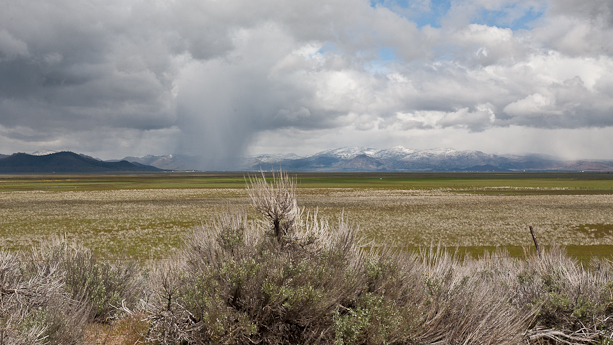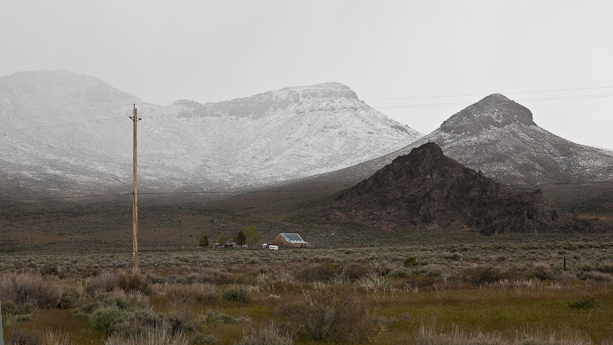 On Saturday, the weather forecast was for possible snow on Saturday and Saturday night in Gerlach, but clearing on Sunday. I was confident that it was accurate, loosing my confidence only as the roads got narrower and less used. I kept looking ahead where it was snowing and thinking of alternate plans to camping out in the – in my now active imagination – rain or snow, or worse, cold, almost snow.
Finally, just as I was getting to Sand Pass overlooking the Smoke Creek Desert, the sun broke out.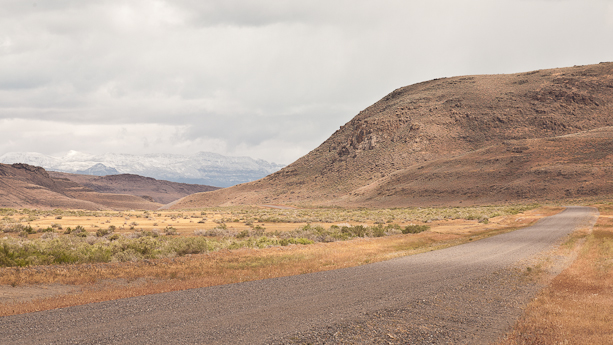 At Sand Pass, I looked ahead and saw lots of blue sky and even more running down the west side of the Smoke Creek, past an old, long abandoned, farm; I was sure the weather would work out. On to Bruno's to meet Peter.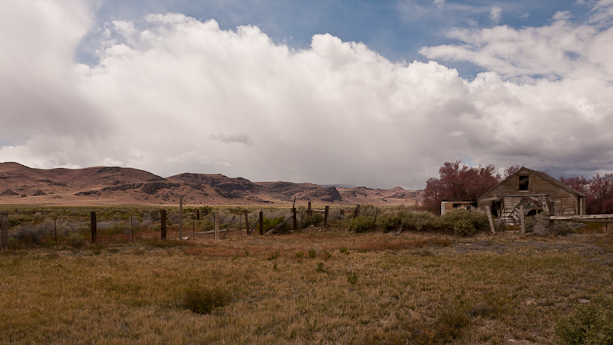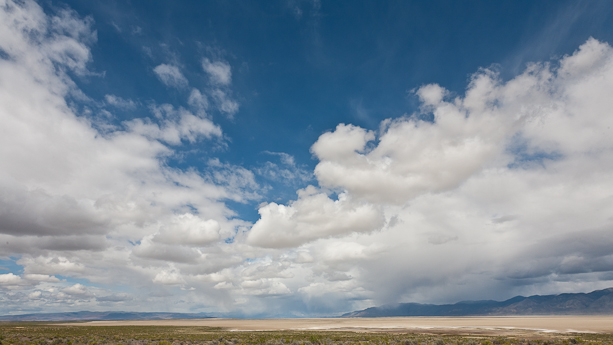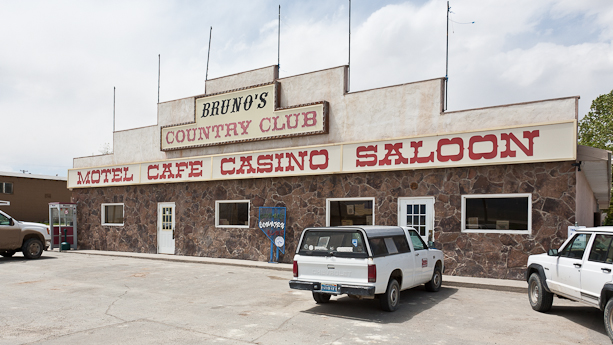 But Peter wasn't at the bar where I was sure I would find him because I was a couple of minutes late. At the bar, I nursed a drink; sure that Peter was going to show up any minute. Finally, an hour after our meeting time, I got worried and went out to check my phone. When I had arrived at Bruno's, I had checked all the cars in the parking lot for Idaho plates, what I hadn't noticed was the car parked across the street, parked the other way. It turned out to be Peter, waiting for me outside of Bruno's watching the road for my arrival. My backroad entry with 60 miles of gravel roads brought me in the back way and had had thrown him off.
After loading up the Range Rover, we drove back to the Smoke creek and then up a dirt road that took us through fields of wild grasses – all backlit  – to a great spot overlooking the desert. Dinner was marinated chicken thighs  from Ikeda's Country Market with roasted potatoes and greens.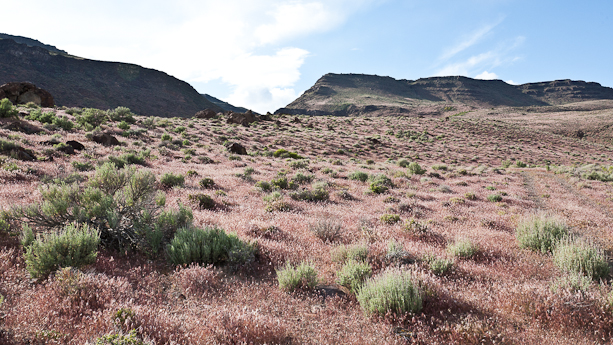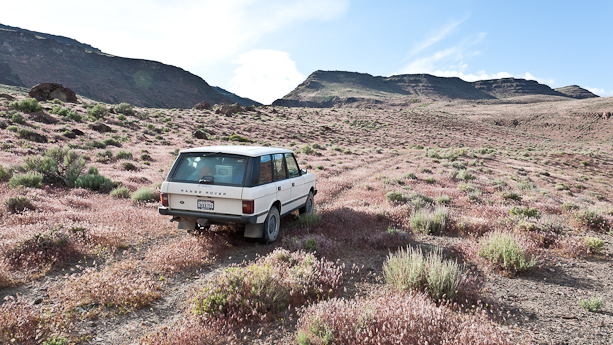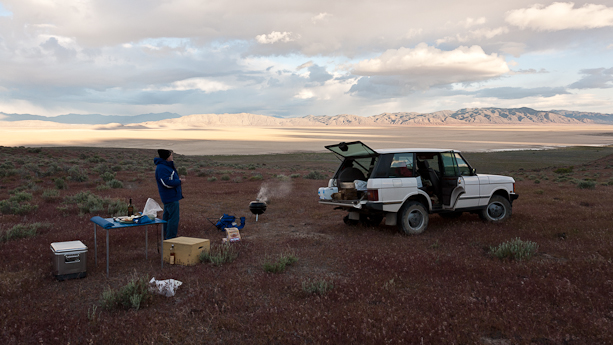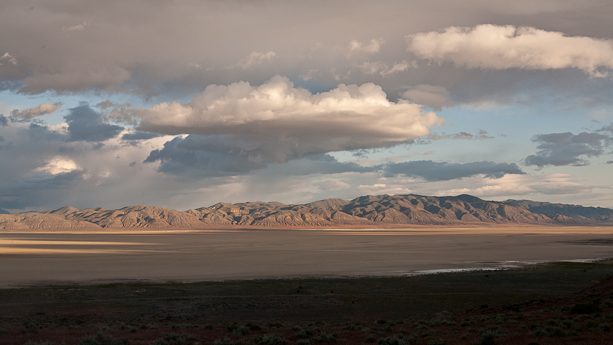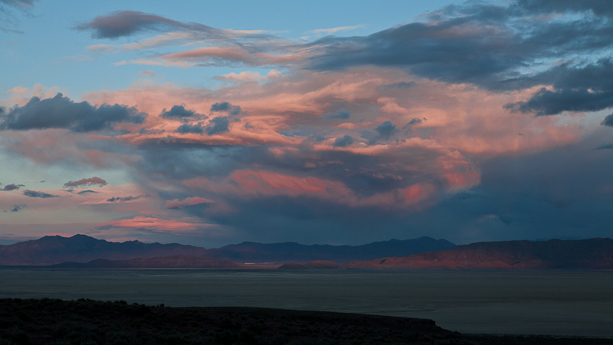 After sunset, it turned even colder and we climbed into our bags early for a – hopefully – nice sleep.  To be continued….