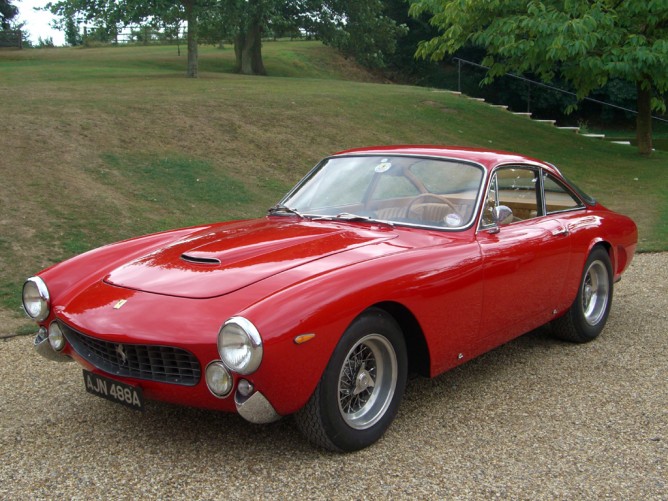 Some interests – for lack of a better word – are so culturally loaded that they are compulsory. Men like cars; women like cooking.  Of course, in reality, that is not true.  I know lots of very masculine men don't care much about cars and lots of very feminine women who don't like cooking. But I know  alot fewer that will admit it – those that do are pretty brave souls. Luckily, tut there are status symbol surrogates that stand in for cars or cooking and people often use them as proof of their love. So somebody might say Oh! Of course I love cars, my favorite car is a BMW.
Many years ago, in 1980, I had the opportunity to go to Briggs Cunningham Automobile Museum in Costa Mesa. I was going alone but I was set up to meet a friend of a friend who owned a Ferrari, and was reputed to be a even bigger car buff than me. He was coming all the way from Ohio – as I remember –  to see the United States Grand Prix at Long Beach. Our mutual friend thought we would get along famously as I also owned a Ferrari – a 1964 Ferrari Lusso, like the one above; Lusso meaning luxury which was a strange name for a car that didn't even have a radio or a glove compartment, or a lock on the passenger's door which required the driver to get in the car first and then reach across the car and open the door for the passenger. Its saving grace – as if it needs a saving grace – is that it has a drop dead gorgous body by Pinin Farina and a three liter V12 engine designed by Gioacchino Colombo. It is very beautiful and very fast.
Any way, we met at the Briggs Cunningham Automobile Museum in Costa Mesa.  Neither of us had been to the Cunningham Museum before and were both very excited. The first car we saw when we walked into the museum, and one of its jewels, was an exquisite, very red, race car. My fellow museum goer was in awe of this fabulous Ferrari. But it wasn't a Ferrari, it was a Maserati 300 S  like the one below; handmade by the Maserati brothers themselves – Bindo, Ernesto and Ettore.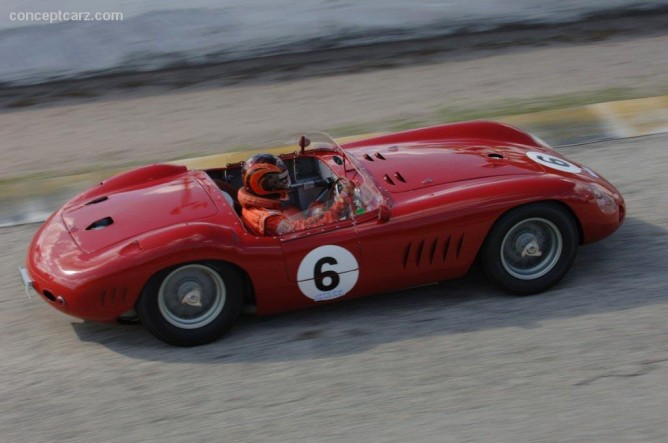 When I pointed out that it wasn't a Ferrari, he just looked at it, shrugged and walked on to the next car. Once he had realized it was not a Ferrari, he lost interest. It turned out that he was not a car buff, he was a Ferrari buff. There is a huge difference. Almost everybody who loves cars , loves Ferraris, but not the other way around. Ferraris have a reputation that transcends cars. They have a social and status overlay.
I love cars, any kind of cars, all kinds of cars, as long as they are interesting, well designed. Almost any Honda is good, Ford Pintos aren't.  I thought the Cunningham Museum was great because it had lots of cars I had not seen before: along one wall were lined up Cunningham race cars, all painted in the traditional – for the time – United States race colors of white with blue stripes. BTW, Italy's official color is red – duh! – Germany's silver, and the England's British Racing Green, known as BRG. My new friend thought it was a waste of time because it didn't have many Ferraris,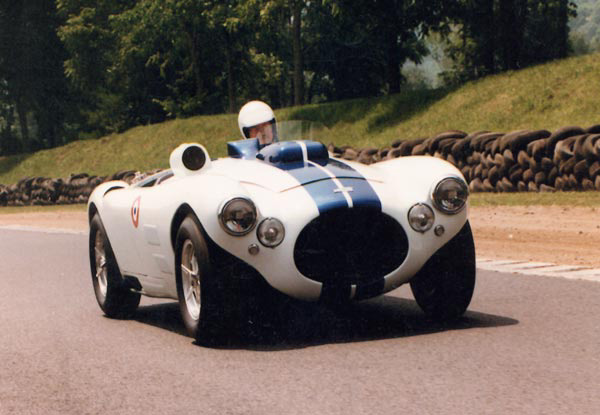 This is all background to Michele and I discovering Anthony Bourdain and his program No Reservations a couple of weeks ago. I knew the name Anthony Bourdain and knew he had worked at or owned a high status restaurant but I didn't know much else. I think that I have fallen in love with him.
Just like cars have Ferrari, cooking and food – and I believe they are linked – has a social, high status, overlay.  Two of them. Food's Ferraris are both fancy kitchens and high-end restaurants. Lots of people that don't especially like to cook have kitchens with granite counter tops and professional appliances and most people like going to a great, big name, restaurant. Of course, not everybody who goes there actually likes food or cooking.  Anthony Bourdain obviously does and No Reservations proves it . His program is usually witty, often irreverent, always interesting, and even, sometimes, like when he was in Laos, moving. But most importantly, he loves food. Any kind of food as long as it is good. Good being interesting.  He can wax almost as poetically about a good sandwich at a dive as a special meal at the French laundry. Here are a couple of examples.