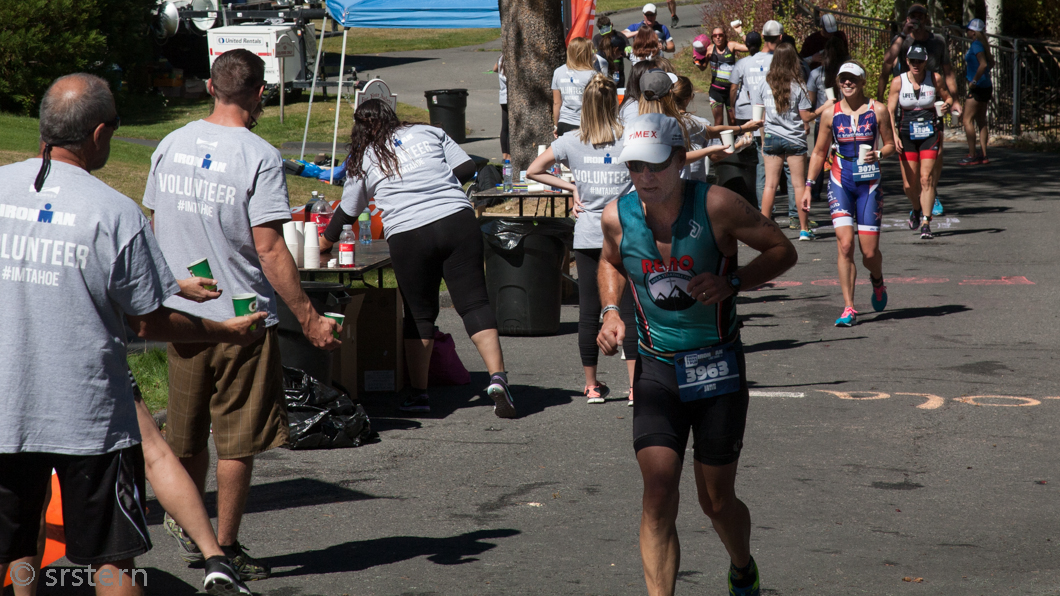 [As] human societies grew ever larger and more complex,while the imagined constraints sustaining the social order also became more elaborate. Myths and fictions accustomed people, nearly from the moment of birth, to think in certain ways, to behave in accordance with certain standards, to want certain things, and to observe certain rules. They thereby created artificial instincts that enabled millions of strangers to coöperate effectively. This network of artificial instincts is called 'culture'.
Sapiens A Brief History of Mankind by Yuval Noah Harari
We went to Michele's family cabin at Squaw Valley over the weekend just to have a change of pace. When we got there, we realized it was the weekend of the second annual – they call it Second Annual but it is the third year as smoke from fires cancelled last year's event – what is billed as IRONMAN LAKE TAHOE. On Sunday, after mistakenly not recording the Singapore Grand Prix – in which Hamilton DNF'ed – and not liking the start of a bad 49er game, we walked along part of the course to the finish area. It was a warm day, probably in the low 80°s, and the air had the familiar dry smell of the East Side, atleast until we got to the golf course. It was a perfect day for a walk
The Tahoe Ironman starts with a swim in Lake Tahoe of 2.4 miles, then a 112 mile bike ride – it's not really a ride ride, the contestants are the peddlers – and ends with a marathon. (In my old, out-of-shape opinion, any section would require an Ironperson.) The first finishers started drifting in a little after four in the afternoon, after starting with a 6:45 AM swim!, and they looked to be in shockingly good shape. The winner had a time of nine hours and thirty nine minutes and he did a little jig as he crossed the finish line.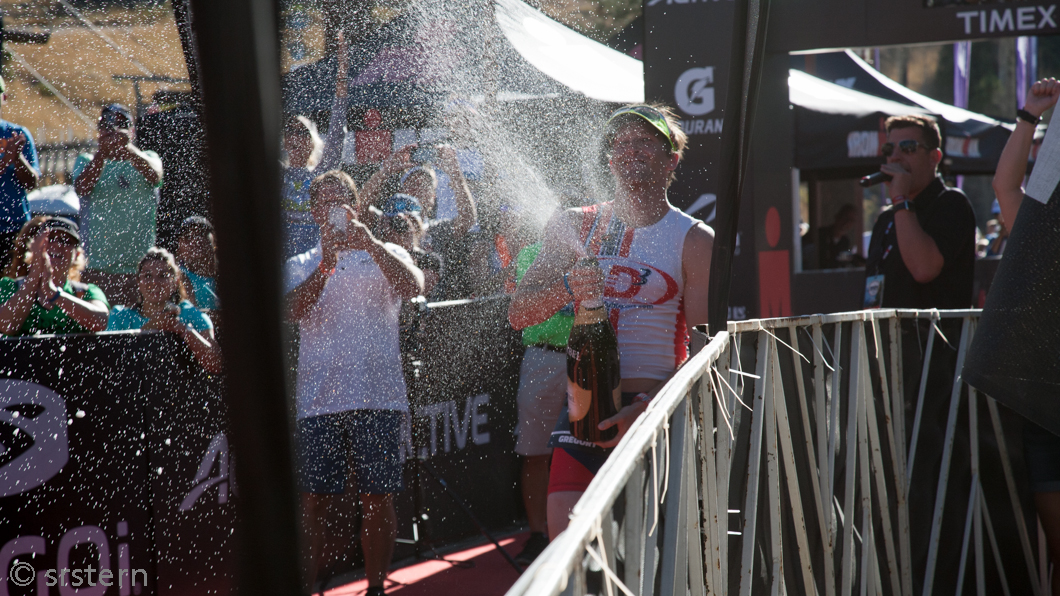 The most memorable moments – and by moments, I mean sights in time – were not the guys at the front of the race but the guys at the end of the pack. The marathon is two laps from Squaw to almost Tahoe City, on the bike path by the Truckee River, so there are people going both ways for a large portion of the race. After watching at the finish line for a while, we started wandering back to the cabin, stopping to admire the high tech bikes,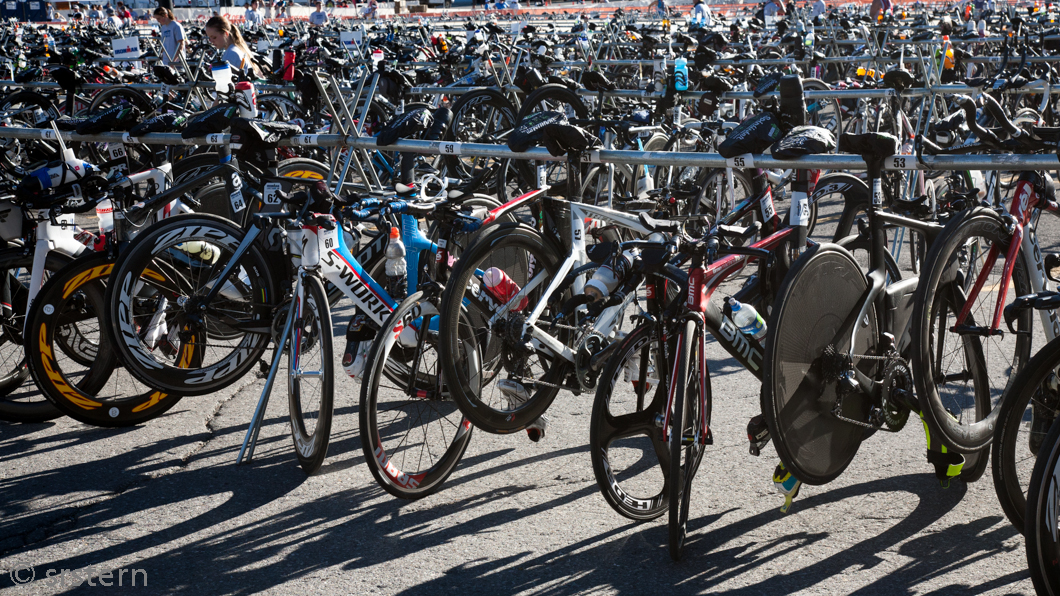 and then walking back to the cabin along the race route. It was getting towards evening and we watched one guy – who looked to be in great shape – ride in on his bike. That meant that he still had a marathon to run and it was almost 6.
As we walked, I began to watch the runners. It was impossible to tell if they were on their first lap with about sixteen miles to go or on their last lap with one mile to go and in my imagination I thought about how discouraging it must be to be that far back. It was getting dark and the runners left were few, they looked beat. In my imagination, they were discouraged by how much longer it took than they expected. It got darker and as we walked by the lonely water girls,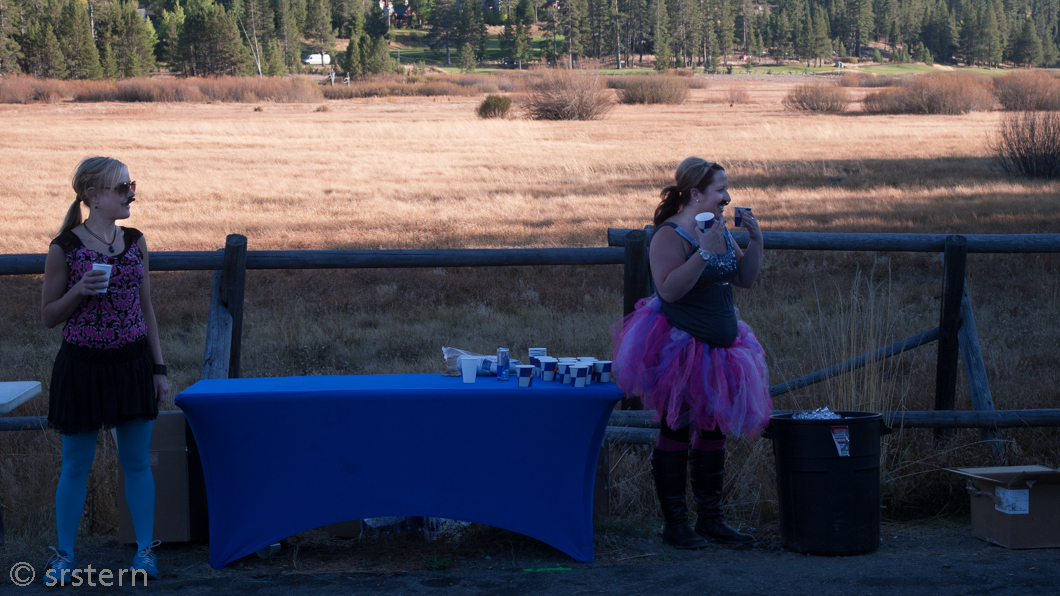 something amazing started happening. Runners started putting on headlamps. My imaginary runner disappeared, replaced by the real runner who knew, when she started, that she would be running in the dark, in the mountain cold, on an almost empty course, on an almost empty tank. That takes an amazing spirit, I think more than the guy who won.
But that spirit is not enough because people are not equal – they are not born with the same abilities or have jobs that allows for equal training time – and an amazing spirit is not enough to overcome that.
I have been reading Sapiens A Brief History of Mankind by Yuval Noah Harari and parts of it have rocked me. When Harari compares The Code of Hammurabi to the Declaration of Independence, by comparing If a man destroy the eye of another man, they shall destroy his eye. If one break a man's bone, they shall break his bone. If one destroy the eye of a freeman or break the bone of a freeman he shall pay one mana of silver. If one destroy the eye of a man's slave or break a bone of a man's slave he shall pay one-half his price to all men are created equal, and then says that both positions are equally valid from a biological or evolutionary point of view, I am rocked. When he says neither is more moral, I think, How can that be?.
Years ago, I did a little bit of volunteer work on several Spiritual retreats for shell shocked, body bashed, veterans and their equally shocked families. During a break, a guy I was working, another ex E-5 type, said something like There is no morality without God. I wasn't particularly shocked even though the group leader was a Buddhist, but I was a little offended. My world view does not include a God who makes rules about morality – or chemistry for that matter – and passes them down to mankind. But if neither biology or evolution make rules on morality, if the only natural rules are what works to pass on DNA, where do I get my rules? (And, man! do I have rules.)  Where do those rules, that I believe in the core of my being, come from?
If they are only constructs and those constructs are no better than, say, a Afghan tribesman's construct, let's say a tribesman who is trying to sell his thirteen year old daughter who he owns, where does that leave me? It is hard to be morally superior if those morals are not morally better. Without God, where does that morality come from? It obviously isn't self evident. If nature gives different individuals different abilities and different chances, who are we to say that people are equal and should thereby be treated equally? Where does the authority for the morality we know to be right in our very being – in our soul, if you believe in that sort of thing – come from? Surely it must be more than just culture.