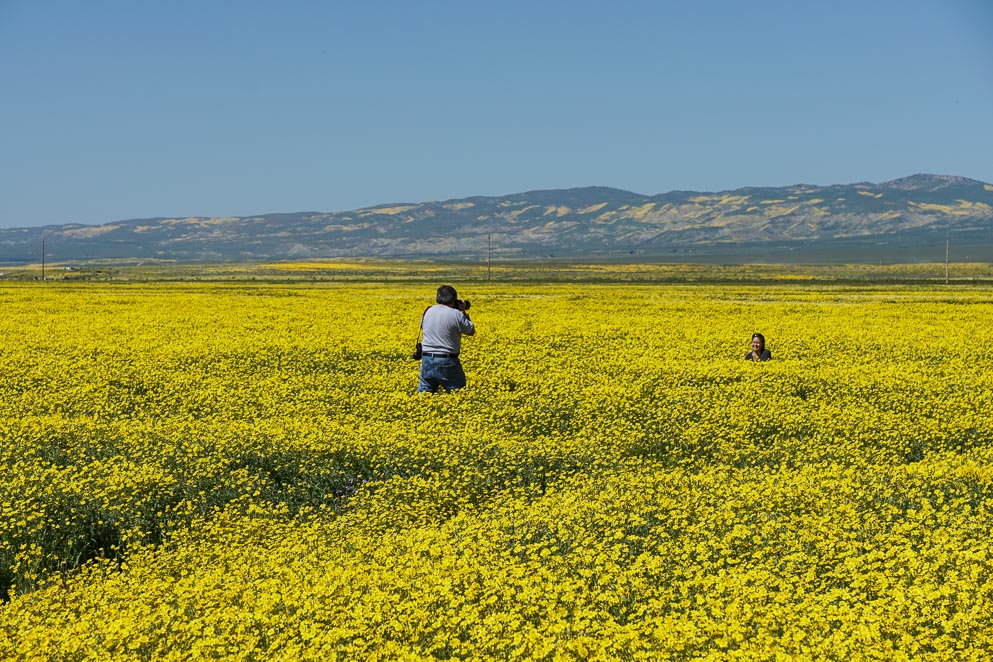 I've had a nasty winter cold for almost a month but, with antibiotics, I've been getting better. We decided to celebrate by driving down to the Carizzo Plain, last Sunday, to see the northernmost Superbloom. Spending 14 hours driving down, luxuriating in the flowers, saving a stranded family, and driving back home pretty much wiped me out but it was well worth it.
The biggest difference between this trip and earlier trips is that the main roads leading to the Carizzo Plain were packed.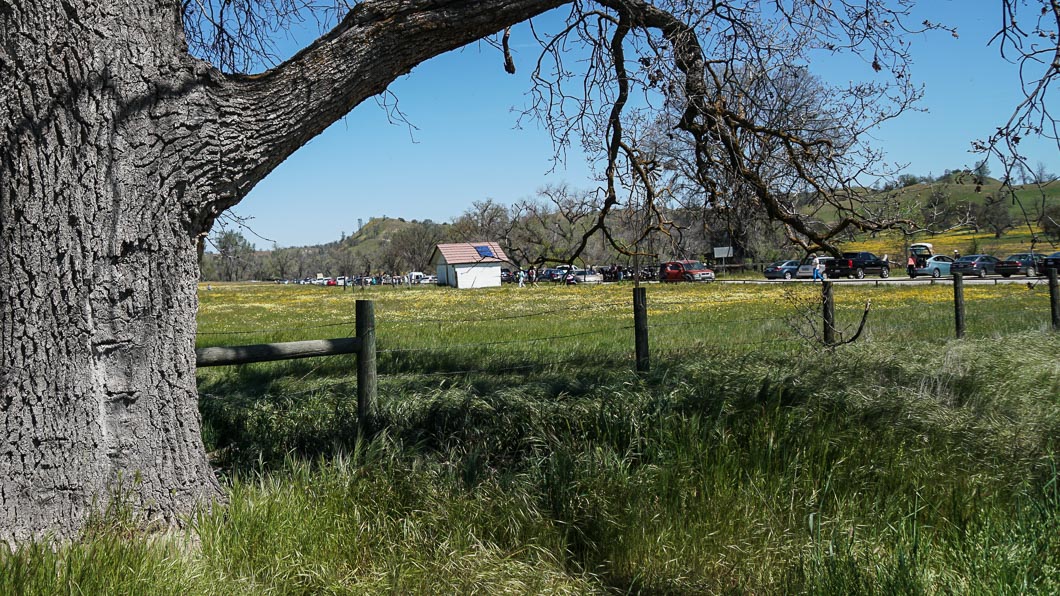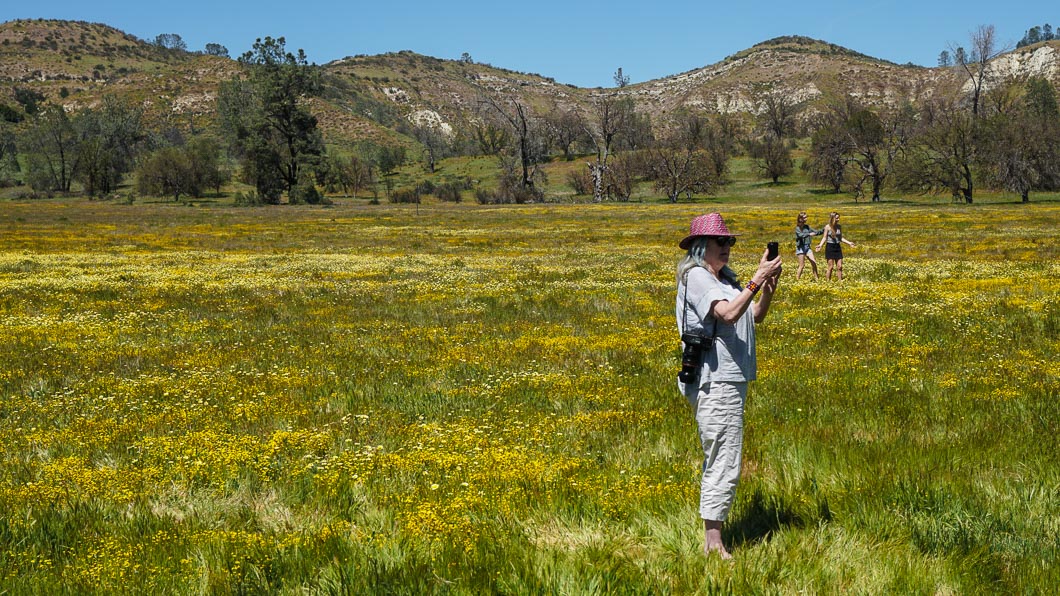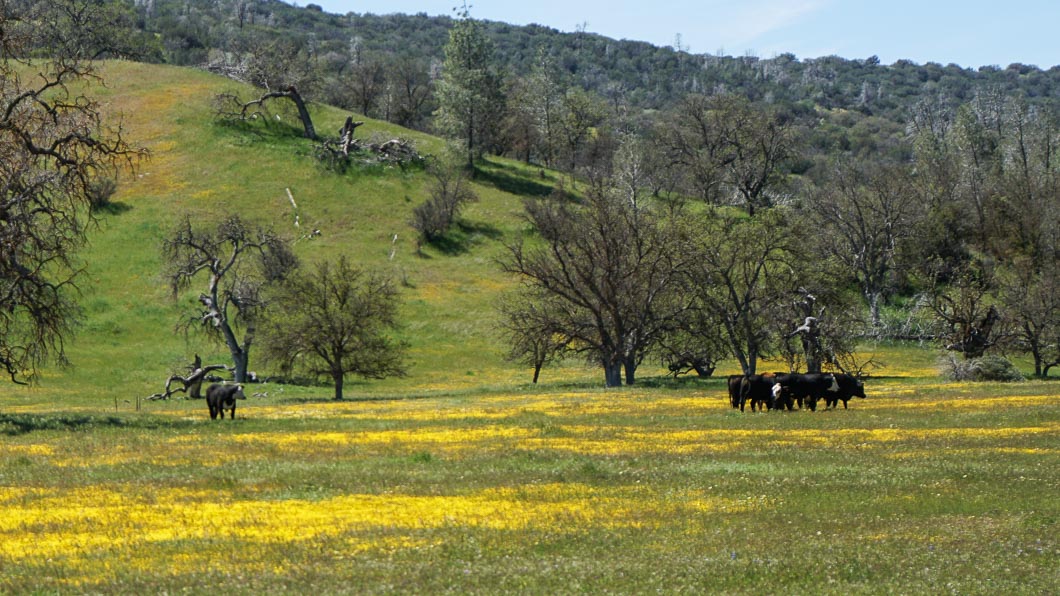 When we got to the Carizzo Plain itself, it was even more crowded. We decided to leave the main road and cross the valley to an area that had great flowers the last time we were here but is off the beaten track.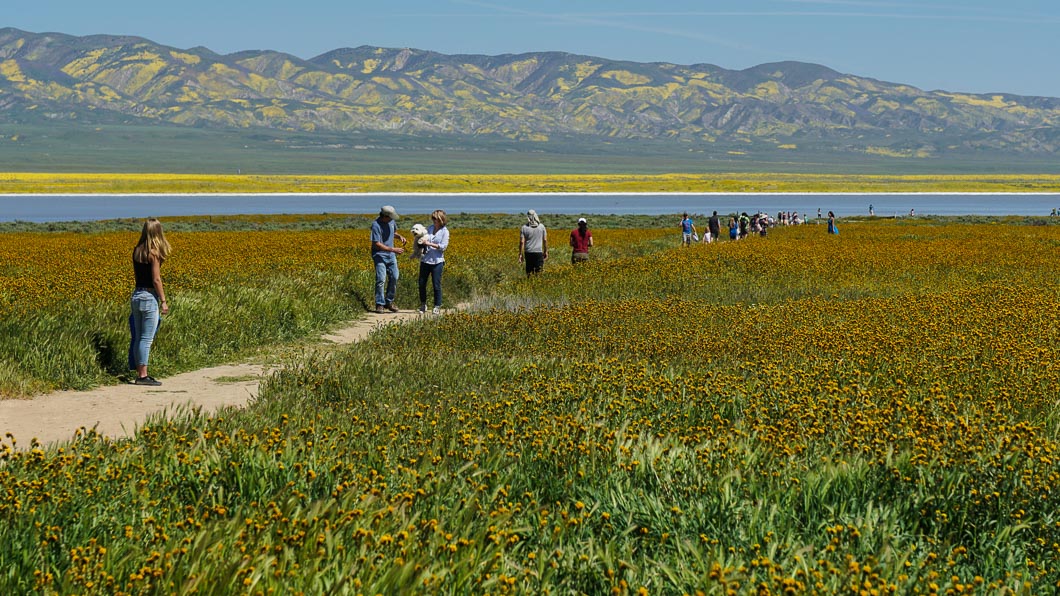 We drove down a crowded Soda Lake Road and then turned onto Panorama, driving by a Road Closed sign.  I want to put in a disclaimer of sorts, we drove past the sign because 1) I had read the road was passable in a trusted flower report, 2) we know the area, 3) we have a lot of experience driving in drying but still wet playas, and 4) we were driving slowly. As expected, the road was very passable, requiring thoughtful driving only as we drove through the saturated low point of the valley (OK, graben if you want to be technical).  On the other side, as we were heading to one of our favorite places in the Carizzo area,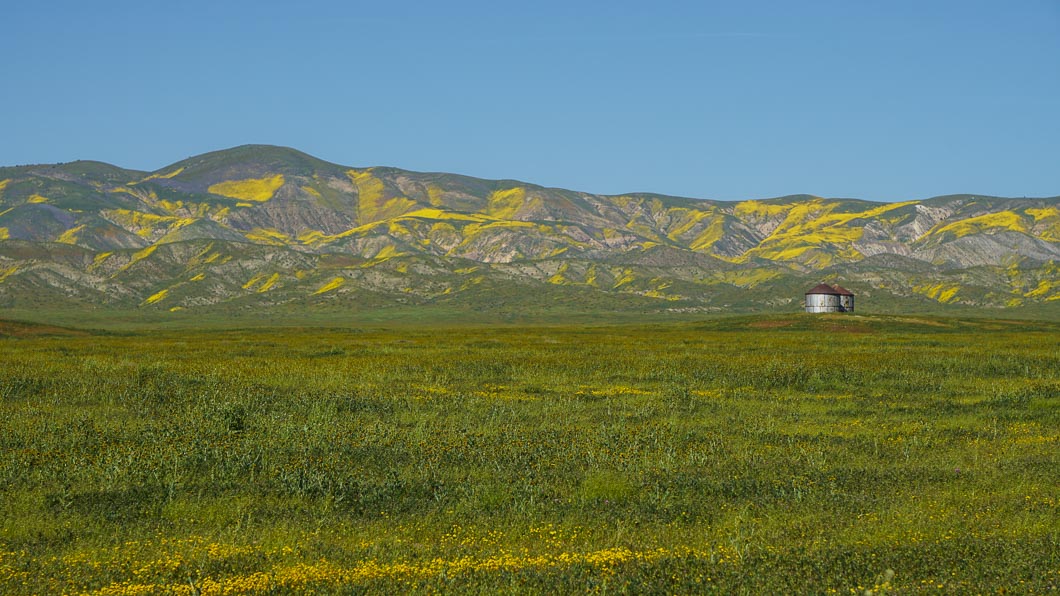 we were waved down by a lone, slightly frantic, Chinese guy. He explained, in a very thick accent, that he had come here with his family and his van got stuck in the mud at the low point (both of the road and his experience, I guess). The problem was that he had left the main road, the already slightly dicey main road, and was following an unused powerline maintenance road that was obviously – to Michele and me, at least – not passable. Apparently, he wasn't actually following the roads, he was following his GPS. In his mind, it was his GPS that betrayed him not that he had made a stupid mistake. This is not a stupid person, he had come from China to work for Intel in Sacramento but he had greatly underestimated how fast things can turn to shit off-road.
We took him, who I am going to call Mr. Wei even though that is probably not his name, back to his stuck van. It was a drive of a couple miles down a road that I would not have normally tried, where his family was waiting, in the mud, in the bright sun, understandably frightened. The road got increasingly soft as we slowly dropped down into the flat flood plain and we stopped a couple hundred feet before the stuck van, and it was really stuck, nose down in the muck. It was obvious that they – the very chagrined father, his mother visiting from China, his wife Ting, and, his daughter with a name like Victoria, – had tried mightily to dislodge the van but with zero success. As an aside, when we first got to the van, I thought the daughter was the wife' younger sister. It reminded me that, when we were underage, we used to go to a Chinese grocery to buy cigarettes on the theory that they had no idea how old we were. The subtle clues that we use to determine age don't seem to transfer between Asians and Europeans. To my very inexperienced eye, Asian women seem to jump between three age categories, children, young women, and old crones, without any identifiable transition period. To my eye, the mother and daughter were sisters, a couple of years apart and I would sell cigarettes to either one. End aside.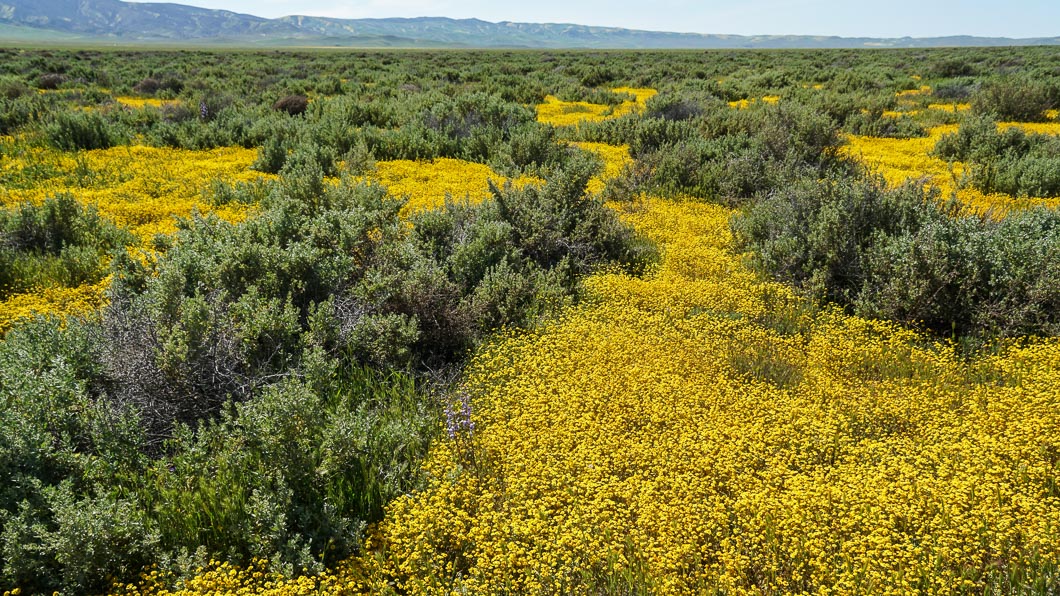 After wasting about an hour on trying to get the van out, we loaded the family into our Hyundai, which seemed to be doing pretty well in its first off-road experience, and backtracked to the Visitor Center which had just closed. There were lots of people and cars around, but no phones, or cell service, and we were reluctant to just drop the family. But there were two big Ranger Trucks, fully rigged 4 wheel drive Ford 350s perfectly suited to pulling the van out – to be exact – and I wandered around trying to find their owners. I finally found the rangers who told me that it was against government regulations for them to help and we should drive about ten miles up to yonder hill that had cell phone reception where we could call a tow truck and also, by the way, only Westside Towing would come out here. Apparently, the two fully equipped ranger trucks were only for decoration. I can sort of understand that, Mr. Wei was not the first guy to get stuck, I'm sure, and pulling people out of the mud was not the Rangers' job (of course, why have those very expensive, very capable, trucks, then?). The good news is that there was another Chinese guy with a dead battery and Westside Towing was on their way over with a new battery. We all agreed that Mr. Wei and family would wait for the tow truck and we would leave. A little after five, we finally drove down Panorama Road across the valley and over to the Trembler Range.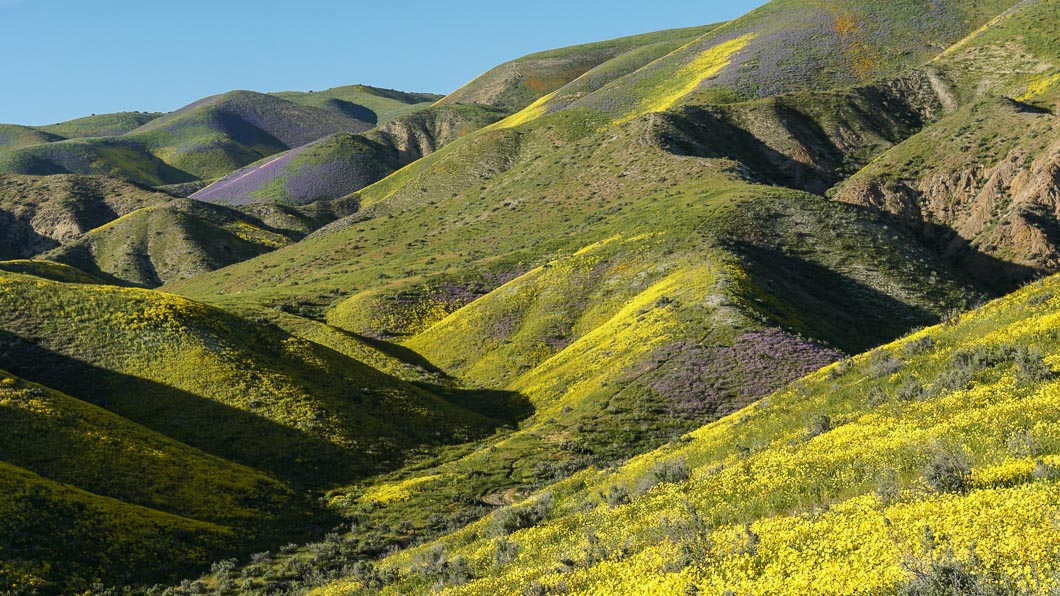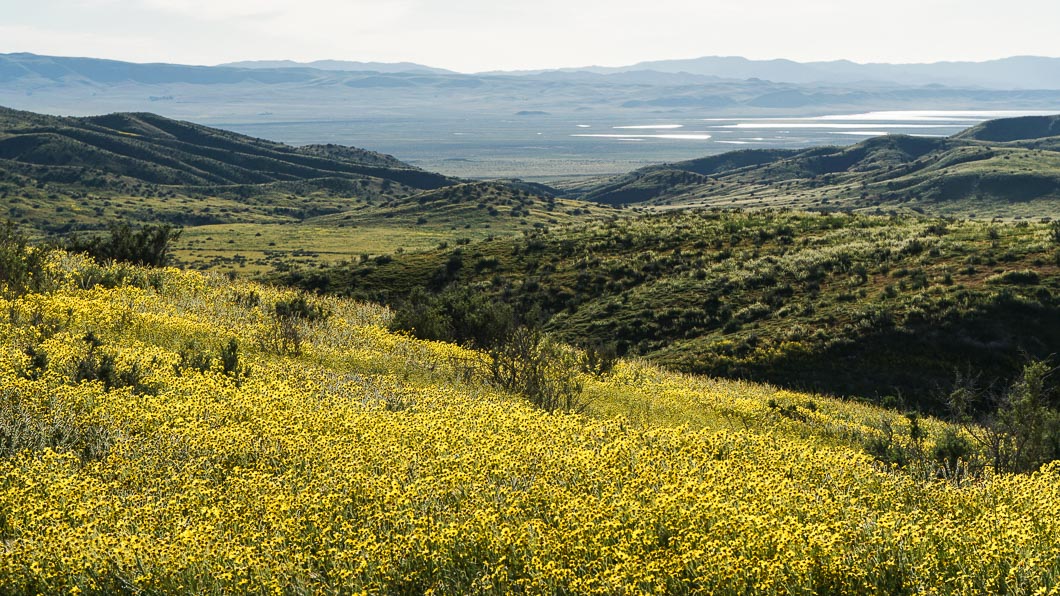 As the day ended, we had seen much less of the Monument than we had hoped, but we still had a five-hour drive ahead of us (well, five hours including a stop in Paso for guacamole, short rib tacos, a mezcal cocktail for Michele, and a glass of red wine for me). We got home just in time to go to bed.