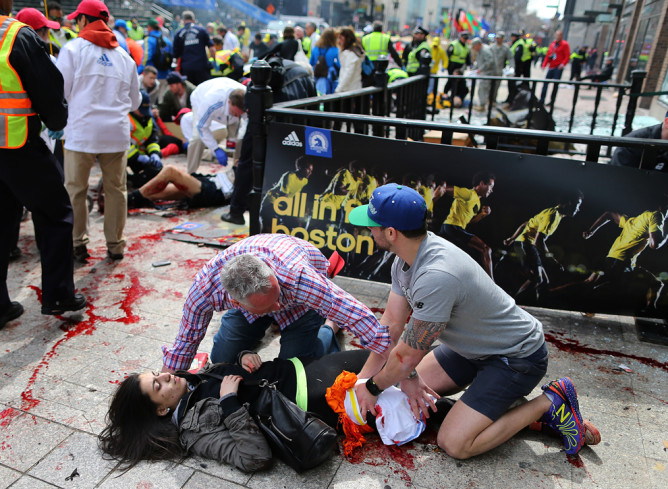 Any event with multiple explosive devices – as this appears to be – is clearly an act of terror, and will be approached as an act of terror. White House
Sitting here, nice and safe – looking at my computer monitor – I realize that my only real relationship with this Boston massacre is what I read and see on the screen. There is blood and carnage everywhere and every shot of that carnage has a person helping (usually several people). Every shot of terror also is a shot of Love.
I know that it is smart not to jump to conclusions because any conclusion includes a direction which may be a misdirection – believing IS seeing afterall – and I want so much for there to be conclusions. I want answers, and not just any answers, I want this to be a terrorist act by a Timothy McVeigh, not some Muslim and that makes my thinking and conclusions pretty unreliable.
As I read that the bombs were made from pressure cookers filled with carpet nails and ball-bearings, I wonder how anybody can hate that much and hold that hate long enough to do this. Hold the hate long enough to plan it in detail: to buy daypacks and pressure cookers, hold the hate long enough to assemble everything, hold the hate long enough to bring it to the finish line and look around at the people who will be killed or maimed. It is easy for me to say that They must be nuts. because I want them to be nuts.
I also realize how lucky it is that Trooper Charlie Hanger stopped McVeigh. It is possible that he would never have been caught and it is possible that who ever did this will never be caught. I don't think so – with all the resources being poured into this case – and I hope not, but it is possible.
What sticks with me is how small the bomb seemed on television and how much damage it did and I hope they catch the Sons of a Bitches.