I've read somewhere – and I completely believe it – that Ferrari is the most hit on luxury website. Why not, it is probably the most famous car on the planet, everybody loves them, and they have become very good at marketing, but Ferrari wasn't always good at marketing and its history is filled with stories of cranky Enzo Ferrari – who called himself il Commendatore – getting in fights with customers. One famous fight was with Ferruccio Lamborghini who went on to make his own cars.
What Ferraris did have was character. Then know as Scuderia Ferrari – Ferrari Stable – the engines were designed by people with great Italian names like Gioacchino Colombo, Aurelio Lampredi, and Vittorio Jano, usually the bodies were designed by Pinin Farina – who later became Pininfarina – and by Carrozzeria Scaglietti. One of their great engineers was Giotto Bizzarrini, and buyers knew who the designers were of their individual cars.
In the early days, not only was Ferrari a marketing dunce, but not all the cars were gorgeous, like they are now. Actually, not all Ferraris are even good looking, but when they were good looking, they were gorgeous.So gorgeous with character, no wonder they are now so sought after.
This year, the car du jour was the Ferrari 250  GTO, celebrating its 50th birthday. On Sunday, over at the Pebble Beach Concours, there was a gathering of 22 0f the total 39 GTOs that were made. The 22 cars had an estimated total worth of somewhere between $400 million and half a billion dollars. Jeeeze!
Like most great Ferraris, the 250 GTO was built to race. By the late 50s and early 60s, Ferrari was not doing well in the production – street car as opposed to all out racing cars – sports car classes. People were racing street cars like Corvettes or Porsches or Jaguars and Ferrari was not doing well. He wanted part of the action. But, to get into the production car class, there had to be a certain number made. At the time I remember the number being twenty five but I now read it was one hundred.
The most luxurious cars being raced, at the time, were known as Gran Turismo, or Grand Touring, or GT cars, meaning the kind of car one would use to drive, encased in luxury, from Rome to Lake Como or San Francisco to Pebble Beach for a weekend. Ferrari called his new car a GT, but these were not luxury touring cars. They were hard core street racers with racing engines and lightweight bodies. Staggeringly good looking bodies! When these Ferrari GTs were accepted as eligible  to race as regular cars by the FIA – the Federation Internationale de L'Automobile – Ferrari sent each of the owners a chrome "O" making them GTOs and signifying they had been homologated into the FIA's Group 3 Grand Touring Car category (O for omologata in Italian). (Even though he only made 39 250 GTOs, the requirement to be a production car could have been one hundred as il Commendatore was not above faking car numbers.)
There were so many GTOs at the races this year that they had their own class. Here are a couple, one early and one late, getting ready to go out and play in the fog. The fact that each car is different is part of what makes them so valuable.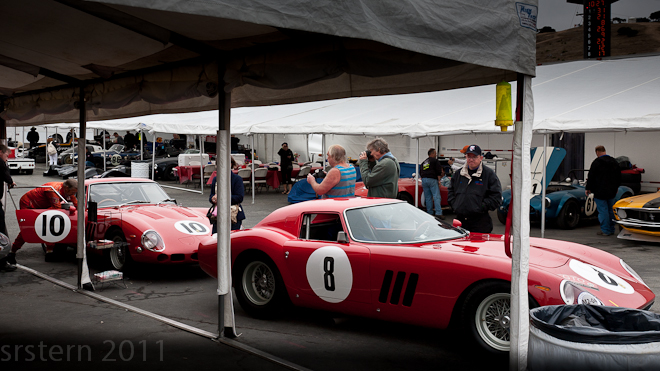 And a shot of the luxury interior with the typical, for Ferrari, shifter.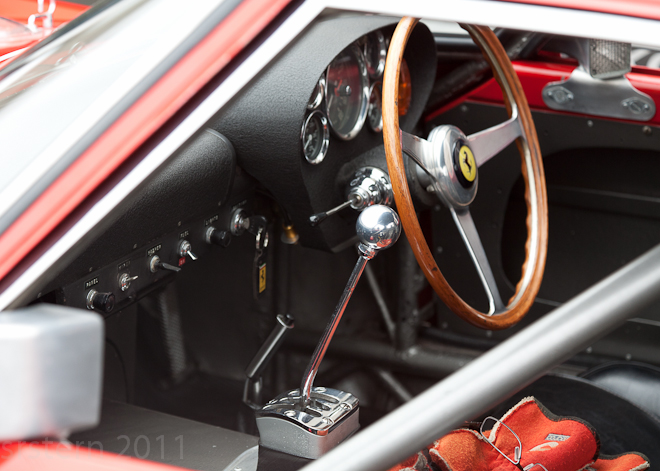 And a couple of details.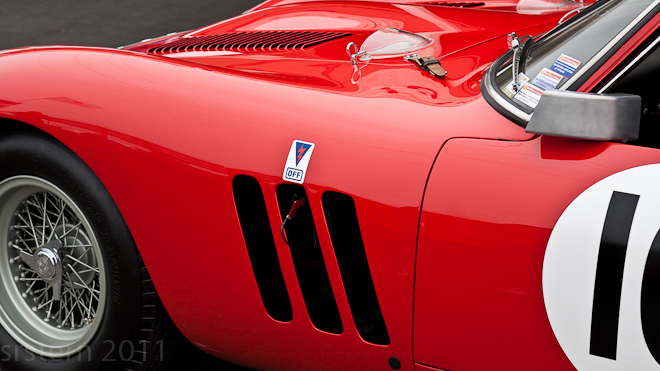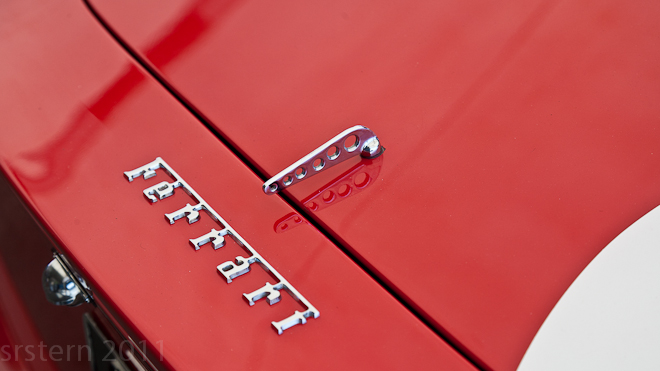 My favorite racing Ferrari is the the first Testa Rosa – redhead in English -which was designed to be a fairly inexpensive customer race car designed by Scaglietti. Also and very importantly, the Testa Rosa had drum brakes while the British had disc brakes which are much better. Because disc brakes were a British innovation, Ferrari refused to adopt them for a long time (in racing years). He thought all his cars needed was more cooling air across the brakes, so Scaglietti designed huge airducts resulting in the designative  pontoon fenders. The result was the car below which is similar to one that sold last year for about $16 million.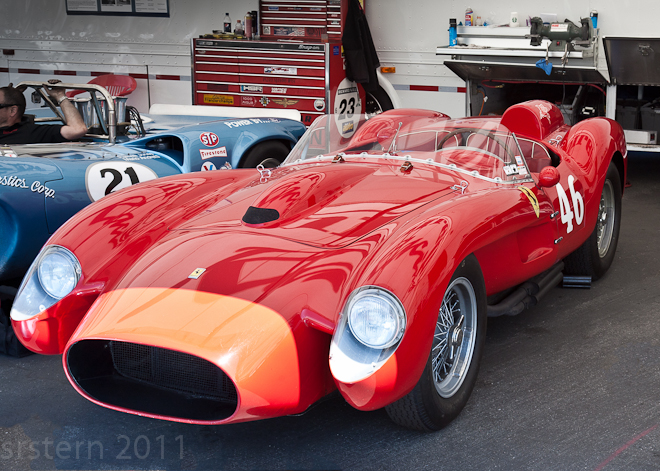 One of the factors making this such a desirable car is the V12 engine designed by Gioacchino Colombo, with its six carburetors and the red cam covers to show how hot it was. BTW, Testa Rosa means redhead.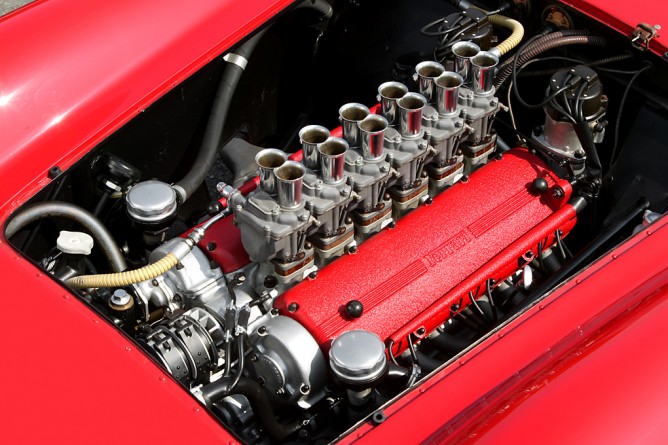 Here is a Testa Rosa mixing it up with two other delicacies, a Maserati Tipo 61 – one of my very favorite cars, known as the Birdcage because of its complicated birdcage-like frame – and, on the left, a D Type Jaguar.