"Quantity has a quality all its own" attributed to Stalin.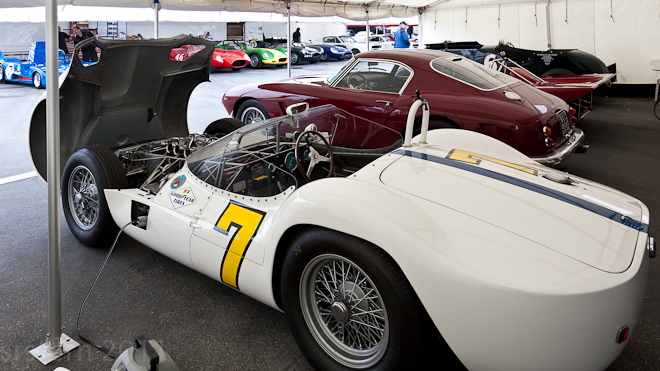 Last weekend, I went to the  vintage car races at the Laguna Seca Racetrack with Malcolm Pearson. (Malcolm is the only person I know who is as crazy about cars as I am.) We went on Friday, a practice only day, because it is cheaper and there is a chance to see all the cars run. I had not been to Laguna Seca since 2005 and it was a shock; both good and bad, but mostly good. When we got there – I want to say bright and early in the morning, but it was dark and overcast with fog – at about  8:15, the first shock was that it cost $70 for the day. I remember it as $40 six years ago. The second shock was the number of entries. It was huge.
At the vintage races – officially the Rolex Monterey Motorsports Reunion – a big part of the joy is being able to walk into the pits. And – in theory – linger. But there was no way we could linger, there were just to many cars – delicious cars of all varieties and ages: little, lithe, Formula Jr. open wheel race cars from the late 50's, early 60's; big, honk'n V-8 powered Trans-Am cars from the late 60's, early 70's;  little, lithe, sports race cars WITH big, honk'n 427 cubic inch Chevy V-8s – to linger. We walked all day and I don't think we saw everything.
At first, it was close to orgasmic, although I do think we both calmed down by the end of the day. I think that I had seen one or two or three of every car that was there, but not twenty.
About 1970, I went to a Trans-Am race at Sears Point that I still remember. All the American factories were pouring money into their race cars and the series was full of famous names: Roger Penske's Sunoco Camaro were the fastest cars, but Roger Foyt's Mustangs were almost as fast. The two of them battled for the lead for the whole race. It was thrilling. It was magical – if you are into that kind of thing –  and now the cars are back. They are not driven by the same drivers, but, still….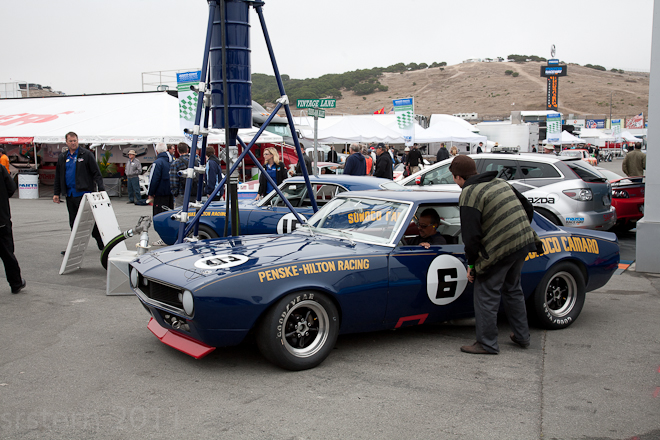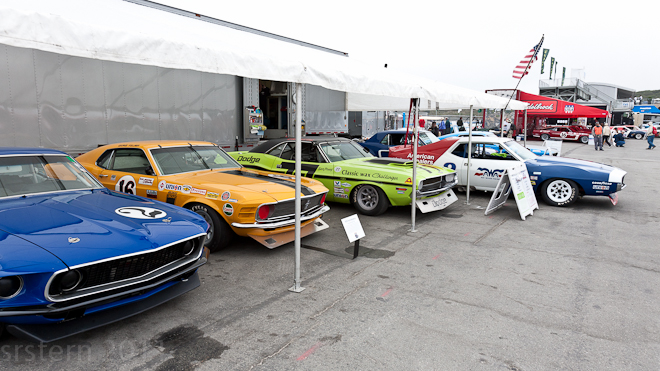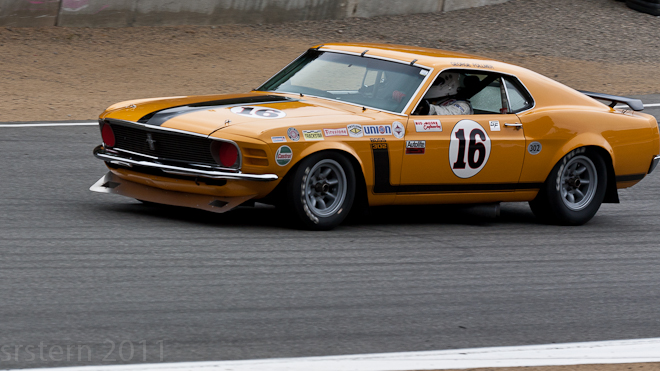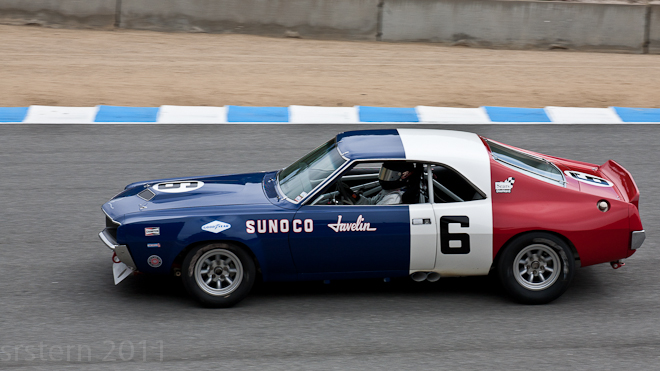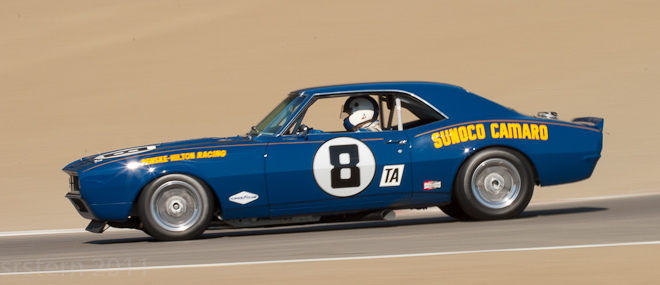 These races – really, these race cars – have two draws for me: they evoke memories of past races, past times watching races back when the drivers were gladiators; and, because they are  race cars and, almost by definition, hand made cars,  they are amazing artifacts. They have the touch of the craftsman; the touch of the artist; the touch of what makes us human.