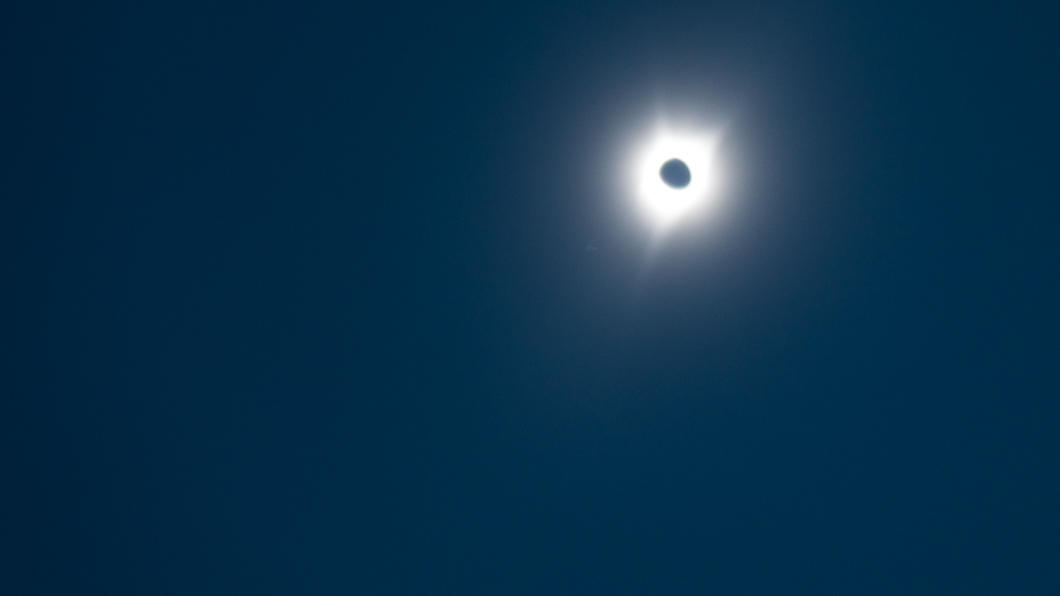 Michele and I went to Eastern Oregon to watch the eclipse. Our theory was that it is the closest place that would most likely have no crowds and clear skies. Actually, I didn't go to watch the eclipse as much as to watch people, especially Michele, watching the eclipse. My experience is that people who are interested in something like this are also usually very interesting themselves. Getting ready to go, our biggest worry was that it would be so crowded that the local gas stations would be sold out of gas and we would not even be able to get near a place to watch.
Our plan was to get as high as possible so we could see the moon's shadow race across the landscape. Several months ago, Michele called Peter and Ophelia in Boise Idaho, near the Oregon border, and asked them what their plans were. That prompted Peter to make a couple of recon runs and he thought the best place would be Lookout Mountain near Lime, Oregon which was right at the center of the Totality. We were going to a wedding in Napa on Saturday evening and the eclipse was on Monday; Lime is day's drive away so it seemed perfect. Then we started reading about the expected crowds and the campgrounds being sold out and all motels and Airbandbs in Oregon being sold out a year in advance and we started worrying that Lookout Mountain would be a magnet. Michele began to say things like "Well if we can just get to the Oregon border on Interstate 84, near Ontario, we'll be in the Totality Zone and that will be a win."
Pre-eclipse Sunday, as we were getting close to our destination – about two hours out – we switched into desert survival mode, getting gas every time the tank dropped down to 3/4s. The first station had pretty long lines, partially because it was Oregon which doesn't have self-service, but also because the traffic was getting denser. But when I asked how busy it was, the attendant said it was terrible, they had 795 cars yesterday; when I asked what a normal day was, he said about 200. That translates to four times normal and normal for Eastern Oregon is almost empty so our too packed to move fears were much assuaged. A couple of hours later, we drove up an empty washboard dirt/rock road to a ridge below Lookout Mountain and it was astoundingly deserted.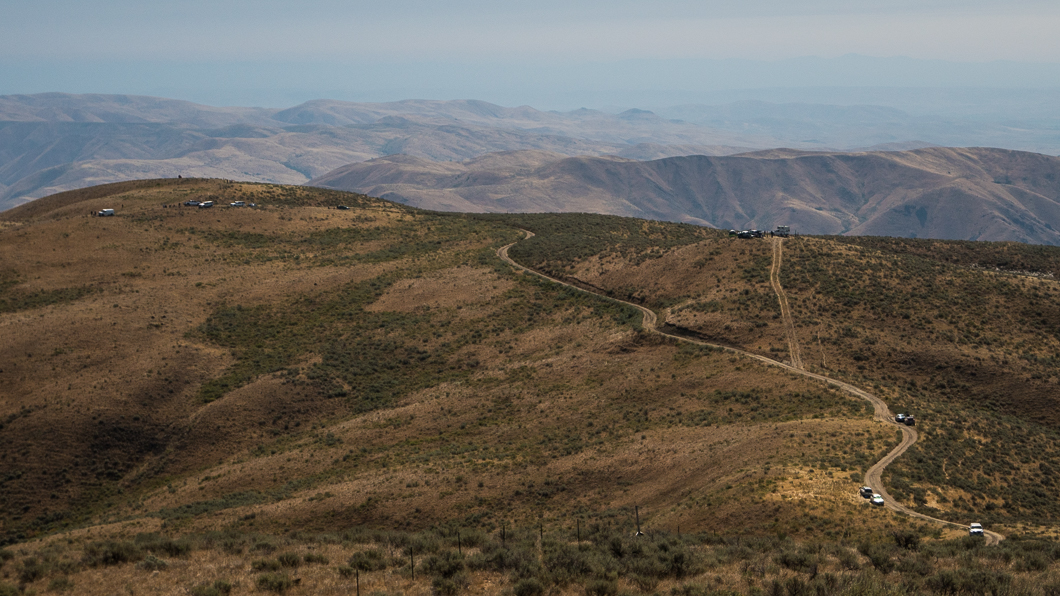 We found a wide spot in the road that was wide enough to park and set up a table, had a can of fine wine, cold chicken barbecued the Friday before, an Asian salad kit from Whole Foods, and watched a memorable sunset.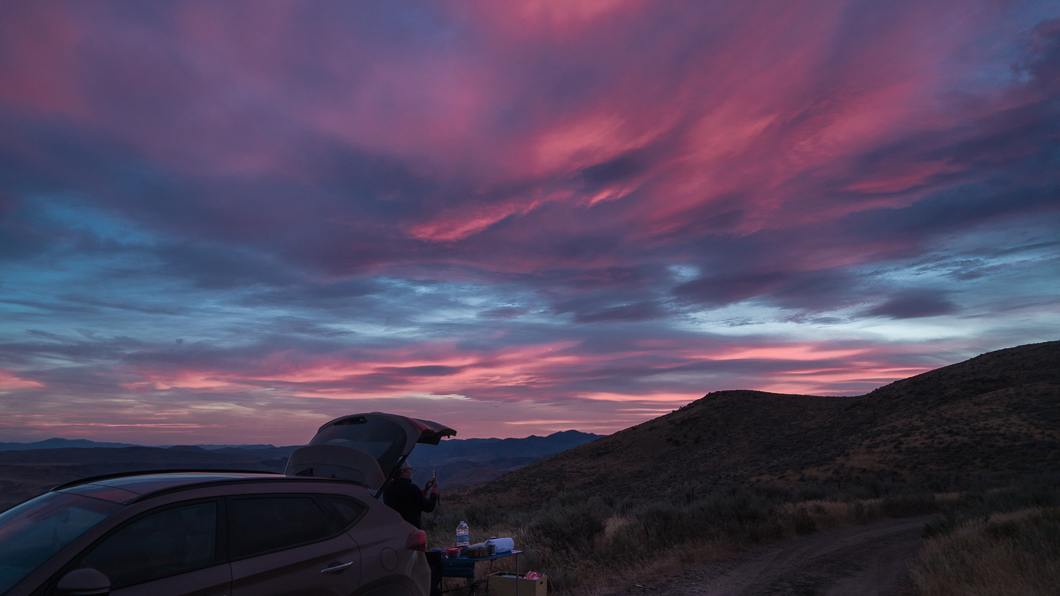 After the sunset appreciation period, a couple of guys – that were parked at the next wide spot in the road – came over for a drink. It turned out they were rocket engineers from NASA – JPL, actually – and they had spent months pouring over topo maps of the Western United States before deciding that the hill by our car was the best place in the United States to watch the eclipse. By sheer luck on our part and stellar reconnaissance skills on Peter's part, we had ended up at a superior location.
Below is a gratuitous picture of Michele enjoying a lazy morning by sleeping in. We were on a ridge and it was windy all night so we used our cooler, "camping box", and table, as a wind break. Behind her is the hill from which we watched the Great American Eclipse.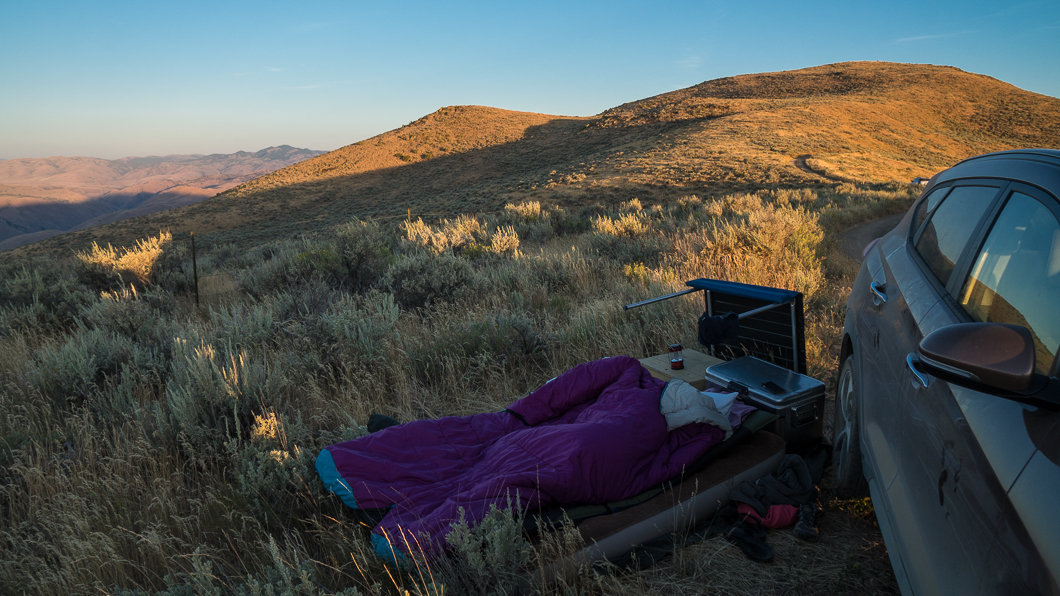 The light was already getting dim by the time we got to to the top of our viewing hill and the temperature was noticeably dropping. There we ran into the biggest crowd, sixteen by actual count, that we saw all day. It seemed to be all NASA or NASA related and it was the kind of crowd that, during totality, when Michele, looking at a very dim Mercury, said "It's dark enough that I can see a star.", six people said "planet" together; it was the kind of crowd that wore their dark glasses even as it got darker, to improve their night vision; it was the kind of crowd that laid out a piece of paper to watch for Shadow Bands, although, all I ever saw were crescent-shaped patterns.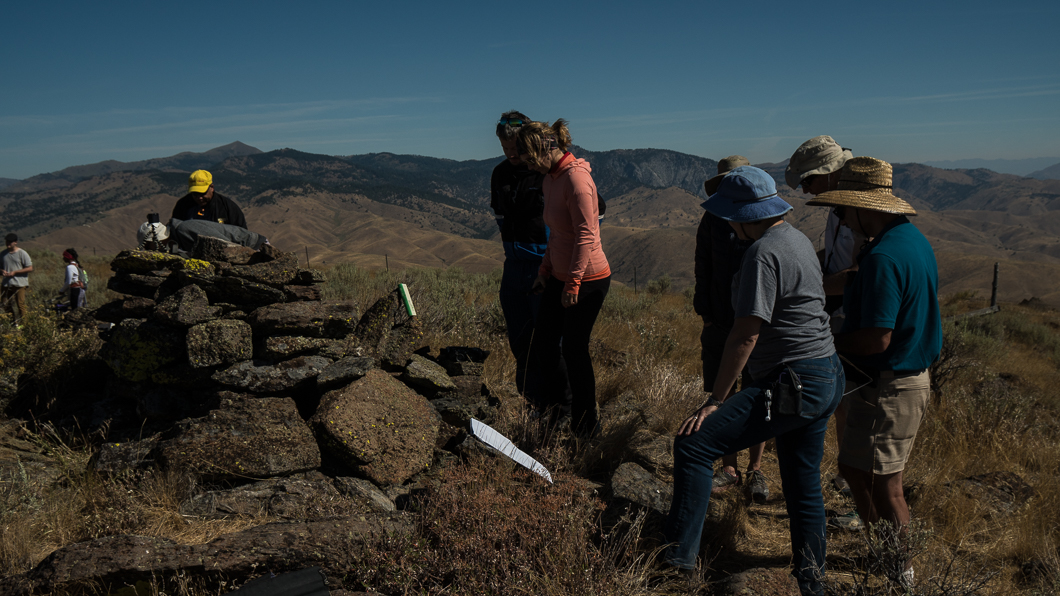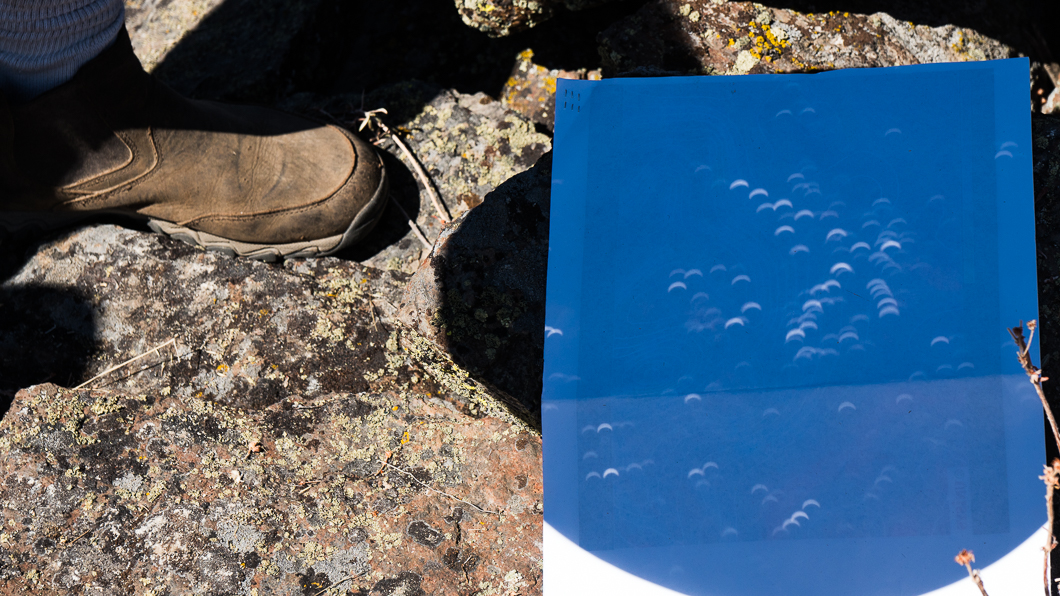 As the moon moved across the sun, cutting off the light, from 1% to 95%, the change was slow and not noticeable without actually stopping and consciously looking around. Yes, it was getting colder and the shadows were getting softer but it was still very much daylight even if it was slightly green. We stood along the ridge, in the cold air, watching for the distant mountains to disappear in a dark shadow traveling at something like 2000 miles per hour, then – suddenly – it got dark, and a NASA guy near me, who had been wearing two pairs of dark glasses, quietly said "Look at the corona without your eclipse glasses and let your eyes adjust to the corona, look at how soft and delicate it is." I looked up and it seemed huge; a giant black hole surrounded by a lacy corona reaching way out into the night sky. A night sky that was dark but only dark enough for us to see Venus and tiny Mercury almost swallowed by the corona.
This was my second eclipse, the first being in Fatehpur Sikri, India and what I most remember about that eclipse was looking around and seeing bright light off in the distance….in every direction.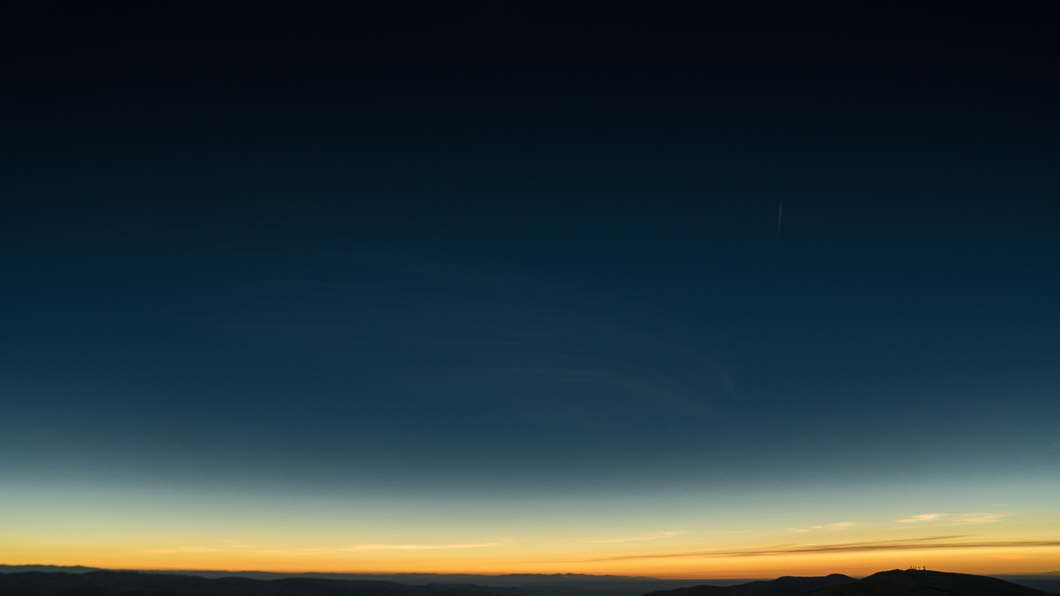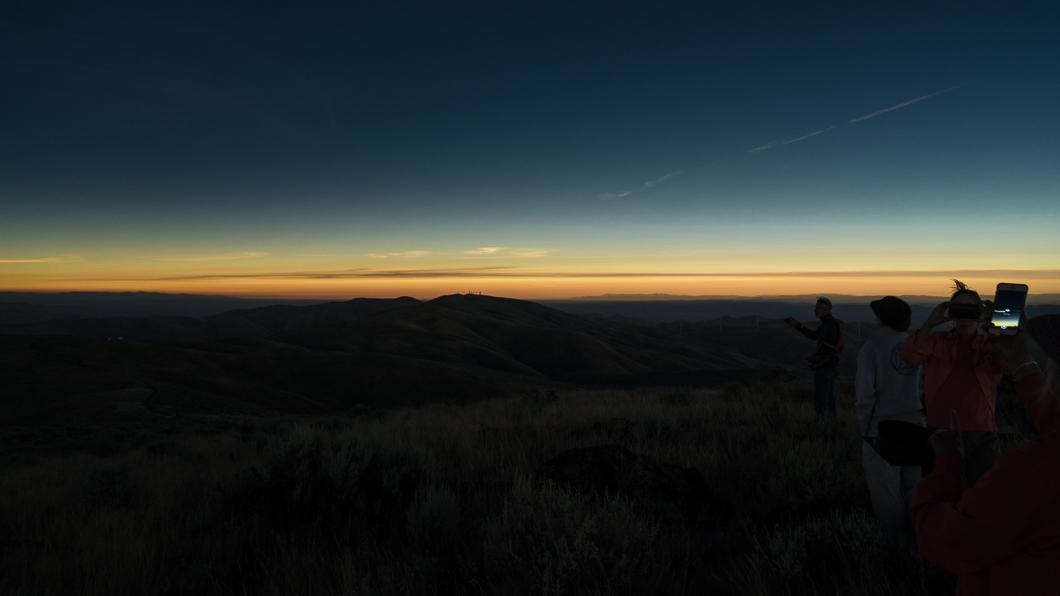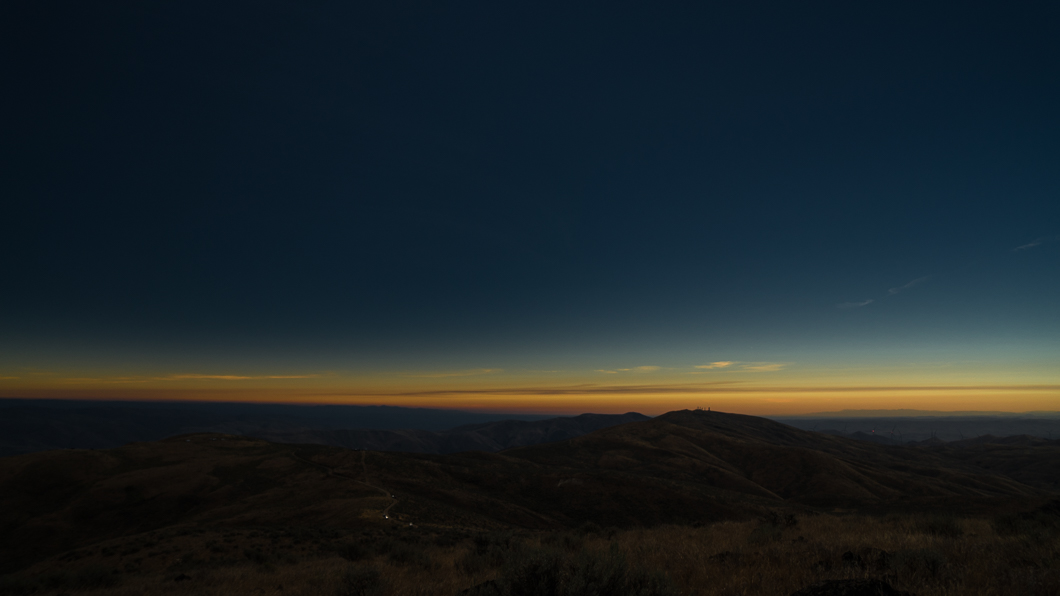 About the time I got focused enough to get several pictures of the light around us, the double glasses guy softly said, "Five seconds to the diamond ring." I looked up again and the moon seemed to be close enough to touch, black and silent in the cold night sky, surrounded by a lacy corona. Then a speck of light shown from the upper corner of the black moon, instantly – seemingly – the spec became a bright light and, then exploded into The Sun too bright to look at even though it was probably 99% of totality. It was daylight again, dim and cold and slightly green, but daylight. The Great American Eclipse of 2017 was over.