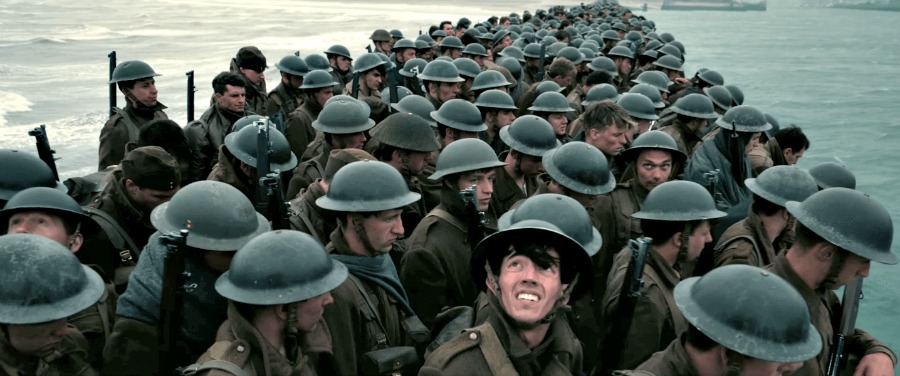 Dunkirk is an epic movie and an intimate series of character studies. It is a three-part fugue on war and is uncommonly powerful, it is also so very, "keep calm and carry on", English. Christopher Nolan wrote and directed the movie and it bends time and space in a way only he seems to be able to do. The three parts of the fugue are on the beach, on the sea, and in the air; each of the three parts have different tempos in that they take place over different time spans but they all play the same melody. The first part takes place over a span of one week which is about how long the troops were stranded, the second over one day which is about the time it takes a small boat to go from England to Dunkirk and back, and the third takes place over one hour which is about how long a Spitfire can fly in aerial combat. Then the three parts are intermixed so our sense of time is yanked around.
Dunkirk is a front brain movie that rewards paying attention. It is also a big screen movie that has a zen like simplicity, especially on the beach and in the air. It was shot on film rather than digital and it has a beautiful softness and flatness that are immersive on a big screen. As somewhat of an aside, maybe not, I've read more than ten accounts, at least, of Germany's march into Poland in 1939 and every account talks about the Stukas spreading terror. I intellectually knew that they were a weapon to spread terror and fear but, in the back of my mind, I thought it was exaggerated. The Stukas were old dive-bombers after all, they were designed in 1935 and based on an even older American plane, they didn't even have retractable landing gear and they had a top speed of less than 200mph. But, the German's mounted sirens on the bottom and, in the movie – as in real life, in Poland for example – as a Stuka dove in on a bombing run, it could be heard before it was even seen. As it got closer, it got louder. I sort of exonerated the terror because  they were flying against Polish peasants who didn't know any better, but here, in this movie, hearing the siren getting closer and realizing, feeling, the helplessness of being on the ground, I understand, I felt, that terror. It is that kind of movie. End somewhat of aside.
As the movie gets closer to the end, the pace picks up and all three parts of the fugue come together in a grand finale. It is a tour de force by a master. This is a war movie, and a powerful war movie with shocking and very intense scenes in a first twenty minutes of Saving Private Ryan way so, if that scares you, stay away. But, if you want to see a masterpiece by a master at the height of his powers, see this on the biggest screen you can.