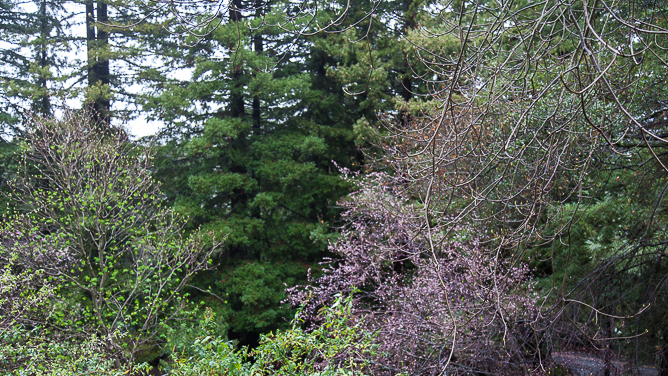 Over the weekend, a gentle rain –  in reality, a drizzle – fell steadily from the soft gray sky. It has been so long, it seems like magic.
On Saturday night, we had even more magic, going to dinner at Central Kitchen followed by the Kronos Quartet at Z Space, a spectacular birthday present to Michele that I got to enjoy, from Richard and Tracy. Coming into Central Kitchen from the rain, happy customers had already filled the restaurant with damp celebration and all we had to do was join in.
I felt like a young twenty-something again, just starting to go out and explore eating in nice restaurants. My twenties were during the 60's and besides The Hippies and The Free Speech Movement, the Bay Area was incubating a new food movement that went viral; people as diverse as Cecilia Chiang of the Mandarin Restaurant, and Alice Waters of Chez Panisse, were redefining California food and dining out became an adventure. Central Kitchen, which bills itself as part of the ongoing conversation about what California cuisine means, brought back memories of those adventures. The Central Kitchen was not the best food I have ever had, but it was the most interesting food I have had in a long, long, time. We started with what they called an Orange Wine and it was actually orange – the wine was made as if it were a red, but from white grapes – and delicious.  It went very well with my appraiser of octopus with pork belly, blood sausage, pickled mushroom & almond. 
I grew up with Jazz and  in my late teens and early twenties, Jazz was Chamber Music (we spent alot of time sitting in small dark rooms listening to people like Cal Tjader, Miles Davis, and Barney Kessel). By the late 70's, I discovered the The Kronos Quartet which has, pretty much by itself, redefined Chamber Music. The program Saturday night was a World Premiere of a work by Mary Kouyoumdjian, Bombs of Beirut, that was commissioned by the Quartet as part of a program called the Under 30 Project which is designed to help nurture the careers of young artists, while enabling Kronos to forge stronger connections with the next creative generation.
So much of my life is habituated and going to Central Kitchen and Z Space reminded me that it wasn't always so, it also triggered my desire to take more advantage of the adventure of living in Northern California. Central Kitchen's promo goes on to say  California is a young state, and right now it's an exciting time to be… That is it, that is all it says as a tagline under the name Central Kitchen, on the Google page. Maybe that is all it needs to say, right now it's an exciting time to be. 
On the way home from San Francisco, where we spent the night at Richard and Tracy's, mists hung like cotton sashes in the hills. It was warm – 51°F. – and the trees were heavy with dew, releasing their collected moisture with big drops that hit the ground in hushed splashes. We detoured by the Menlo Park Farmer's Market because I want to pick up some purple Peruvian potatoes and heritage, Bloomsdale Long Standing , spinach. The drizzle had let up and the farmer's Market was full; full of shoppers and full of goodies saying Me, me, buy me.
I got some Yukon  Gold potatoes, red Dandelion Greens, baby Collards, and Kai-lan (a sort of proto-broccoli with mostly leaves and stems with yellow flower). Michele got a bunch of  Narcissus Erlicheer, baby lettuces, two huge artichokes, a head of Romanesco broccoli, a couple of lamb shanks from Holding Farm, and a jar of fermented Winter Sauerkraut (cabbage, kale, spinach, carrots, turnips, rutabaga, and kohlrabi, with garlic).
When we got home, we turned on the Olympics and I laid out our loot on the diningroom table to photograph.