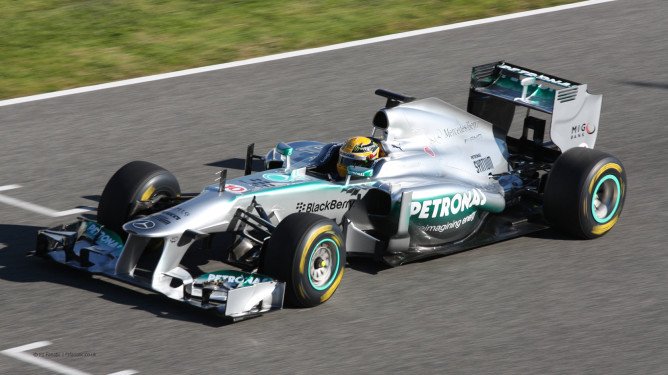 Formula 1 is a distinctly English sport. It is billed as being international but eight out of the eleven teams are based in England (two are based in Italy, and one is based in Switzerland). Even the head track engineer for Ferrari, based in Italy – duh! – is English (Pat Fry). The guy who runs the Mercedes Team, Ross Brawn, is English. On NBC, F1's new US home, the technical broadcast voice, Steve Matchett is English.
Yesterday, while watching a promo to the Malaysian Grand Prix, I noticed that NBC  has their announcers wear navy blue suits with white shirts and a tie of their choice. I also noticed that the two non-English announcers were wearing black shoes with their blue suits and Steve Matchett, the English guy, was wearing brown shoes with his blue suit.
About forty years ago, I started wearing – some might even say affecting – cowboy boots. This was before George Bush the Younger burst onto the national stage with his cowboy boots, so it was acceptable. (I think, I was copying Lyndon Johnson and Sam Rayburn, who I admired.) Anyway, a very nice pair of brown goat Lucchese boots were my favorites and I took them to England, on a trip, as my dress shoes. Several people, here, remarked that brown shoes may not be dressy enough for London but I had seen lots of pictures of men wearing brown shoes with suits in England – including prince Charles and, now, Steve Matchett – so I felt safe.
While in London, we rode the The Underground almost everywhere – it is probably more accurate to say that we only went where we could go by The Underground – and I noticed that the cars had grooming tips mixed in with the adds above the windows. This was when Prince Charles was trying to save the proper England and was campaigning against modern architecture and gauche – read modern – behavior. The grooming tips were like Gentlemen wear shirts with collars and – the one I remember the most said something like Gentlemen never wear brown shoes after 6 PM.  It turns out that to be proper in England, a Gentleman should wear brown shoes – or boots? – before 6 PM but not after. I was glad to see that Steve Matchett, the only Englishman on the broadcast team, is still following the rules even if I wasn't.