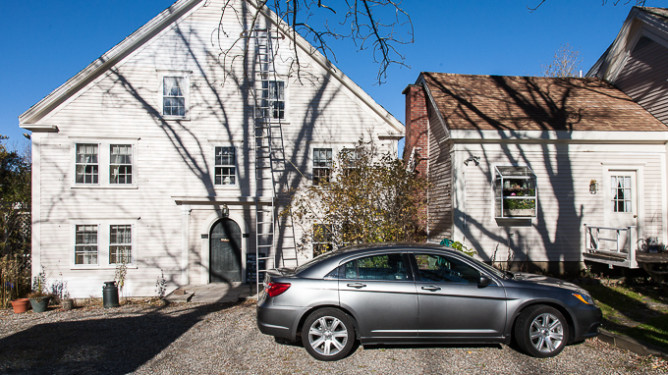 Back in Maine, we got to the  Damariscotta River area in the dark, stumbling into the Newcastle Publick House – featuring organic, natural, wild and local produce and seafood, including local oysters – where we had, surprise, oysters and, actual surprise, duck pizza. The oysters were great, the pizza a disappointment. One of the problems with traveling the way we do is that we don't know, exactly, where we are going to end up so we are often looking for a place to stay after dinner, at the dinner table. Smartphoning around, we found the nearby Brannon Bunker Inn where we spent the night. It turned out to be a good choice.
The next morning was bright and clear after a night, we were told, that had dropped to 22°F. The Inn Mistress gave us lots of good, free, tourist advice along with our free continental breakfast, and we were off. In the dark, we had snuck into an almost archetypically picturesque part of Maine. Little villages, narrow lanes – lanes sounds more accurate than roads, but they were really roads going somewhere – rocky coastlines, and perfect cemeteries. OK, every place in New England has perfect cemeteries but one of these dated back to a shipwreck in 1815 (Halloween so fits here).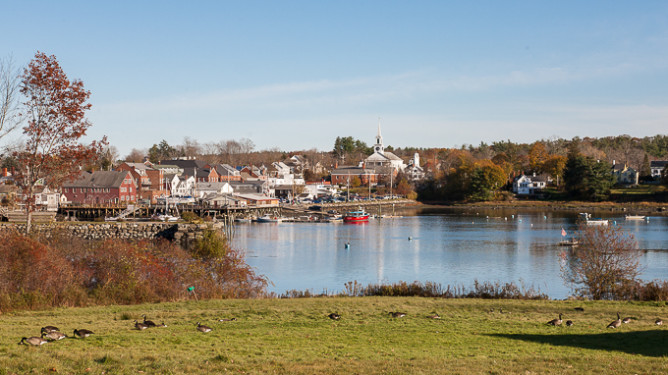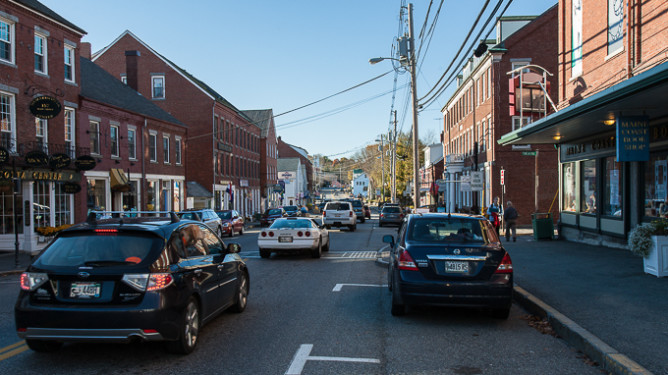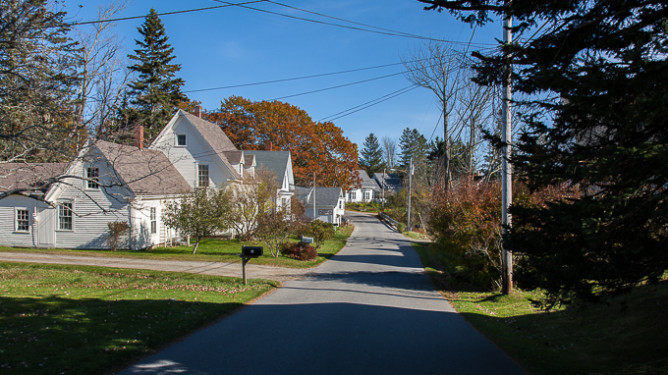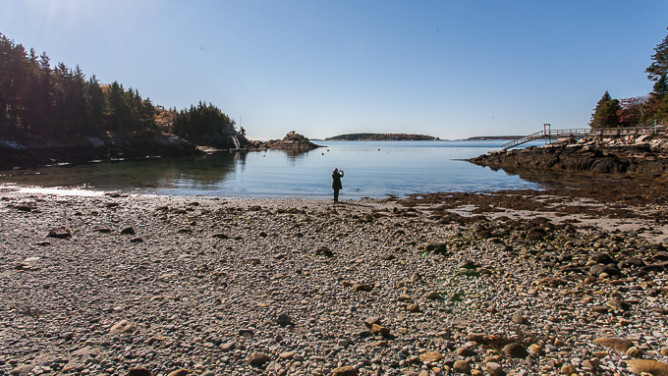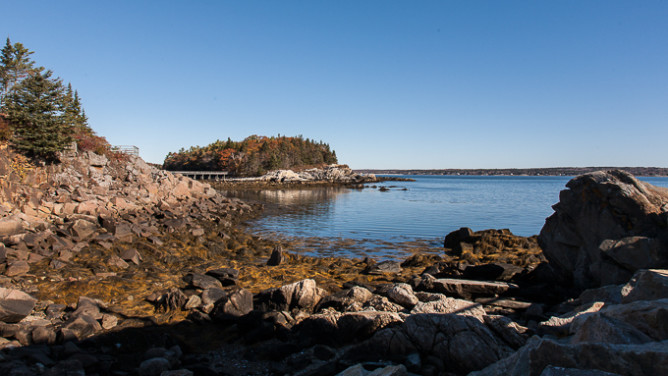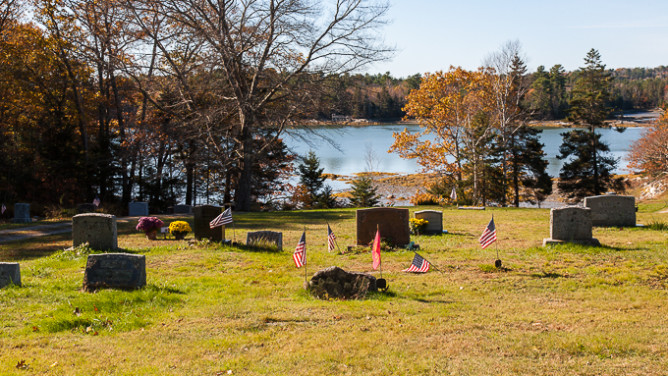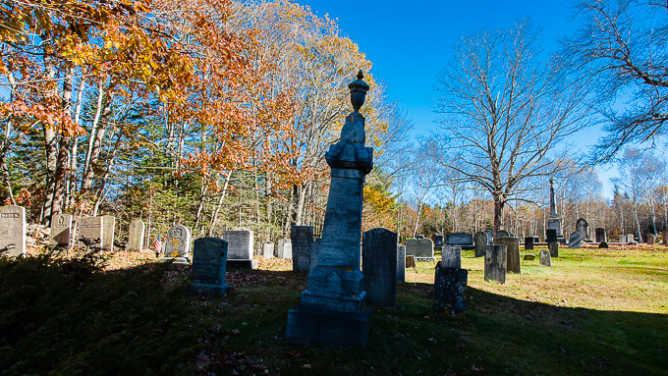 One of the suggestions made by the Brannon Bunker Mistress was to drive down to South Bristol, It is a real working town, not a tourist town and it has the biggest swing bridge in Maine. We really didn't know what the biggest swing bridge in Maine would be like, so it seemed a no  brainer to make that our first real destination. South Bristol was as picturesque as promised and the largest swing bridge in Maine was winsomely small. I took lots of pictures, including a portrait of the Bridge Master,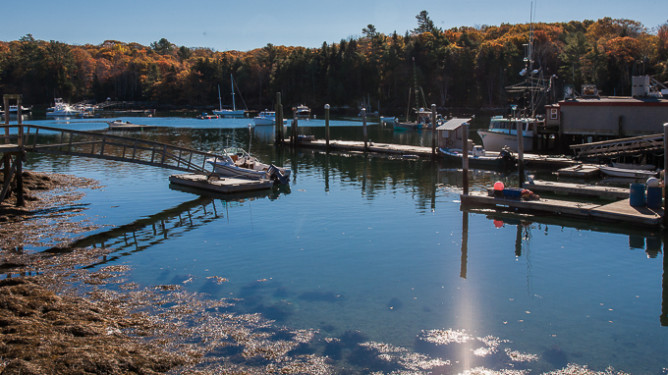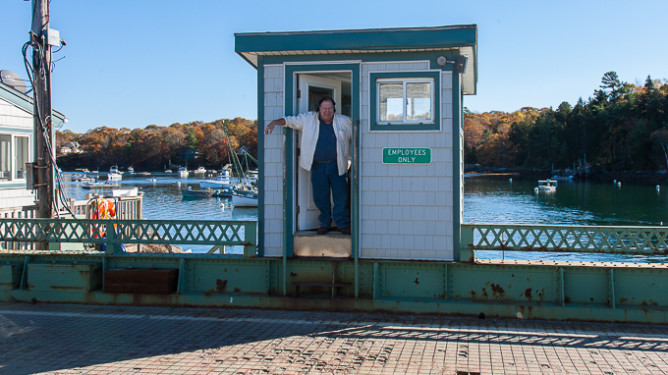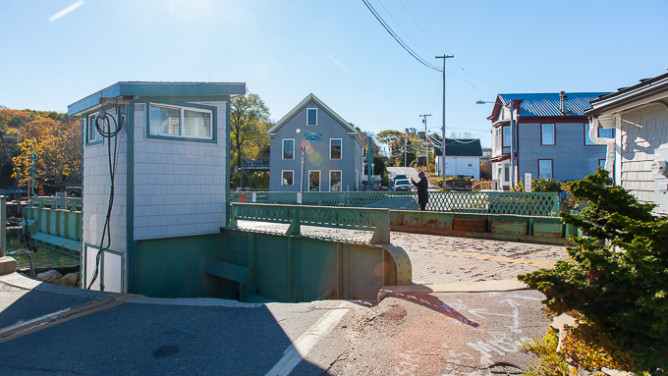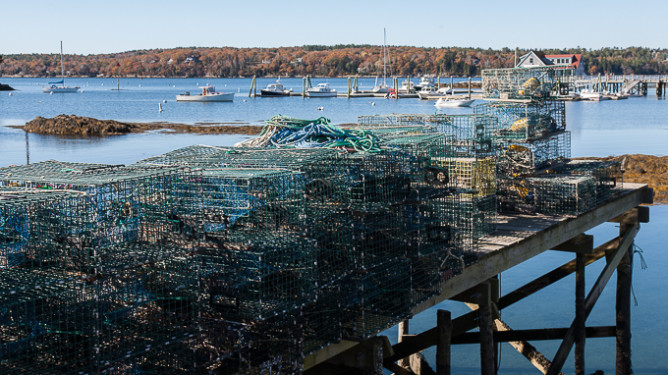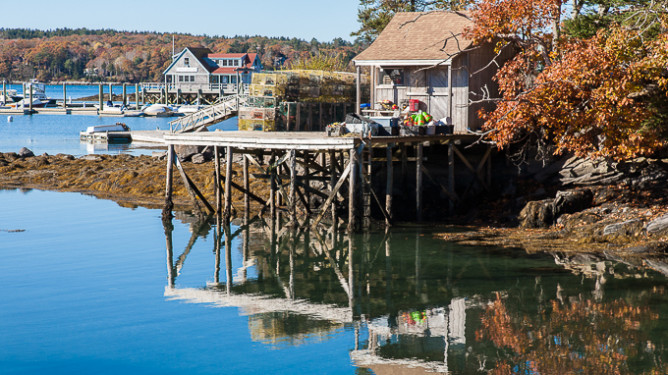 But the best shot was a video taken by Michele as the bridge opened.
[pb_vidembed title="Swing Bridge – South Bristol, Maine" caption="" url="http://www.youtube.com/watch?v=_zndy_eS4rc" type="yt" w="680″ h="383″]
We thought South Bristol and its inhabitants were charming but I am not so sure that the feeling was reciprocal.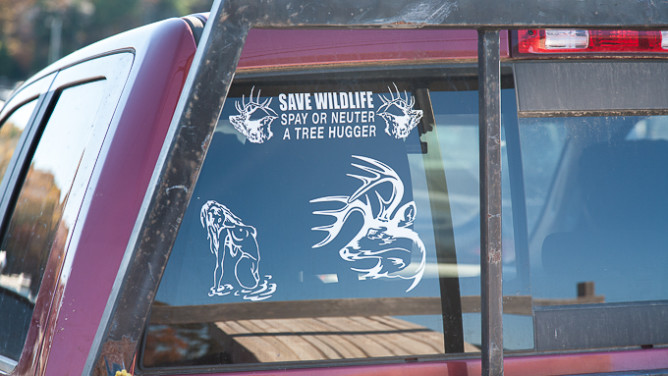 When we first started talking about going to Maine, we thought lighthouses along with lobster, but we kinda forgot about it until we wandered down to the tip of the Pemaquid Peninsula and there was the Pemaquid Point Light Station in its austere elegance.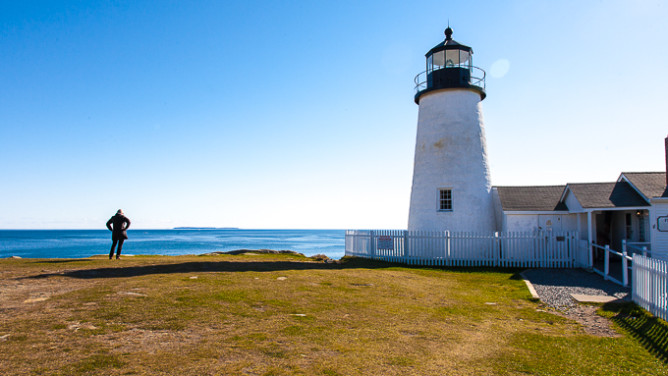 The building I liked even better was the bell tower built before the days of the fog horn (which I think of as an iconic sound of San Francisco).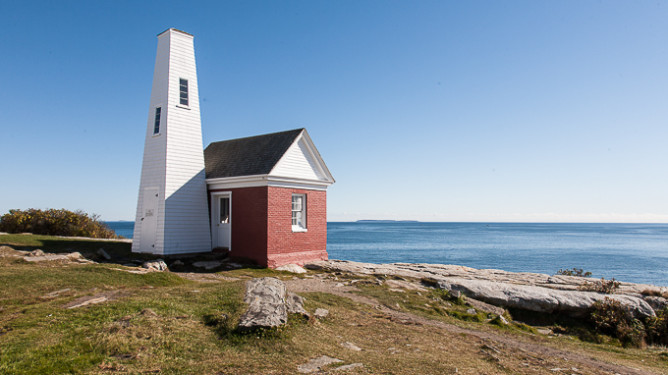 About this time, Michele said, Enough dilly dallying around, it is lunch time, we've got to go to the oyster place we saw last night. Last night, we had passed what we suspected would be the holy grail of oysters. A barn, an oyster place – the sign said Oysters Wine – within a 100 yards, or so, of Wiley Cove, itself,  in the Damariscotta River Estuary. Presumably this would be the home of the Wiley Point oyster (Crassotrea virginica). When we got there, I'm pretty sure that the car hadn't even stopped rolling before Michele lunged for the door.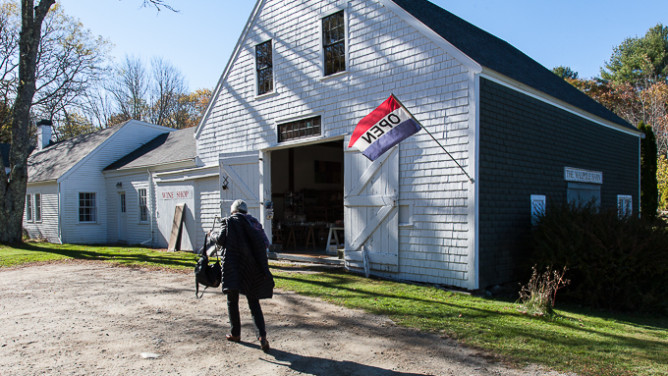 But the sitting-in-the-backyard, eating oysters freshly-plucked-from-the-water season was over. This was the kind of place that sold high-end, locally-made, souvenirs – I am sure that is not the right word – like hand woven blankets for $660.00(US), but no oysters… after Columbus Day. All we – when I say we here, I really mean Michele –  could do was talk about oysters which Michele and Warren did for what seemed like an hour.
We did find out that The New York Times had gone on an oyster quest some time ago and the winner was a Damariscotta River Estuary oyster that, for some strange reason, they ate at the Raffles Hotel in Singapore. We also got some pointers on good local restaurants. The best one which had entrees for only $95.00 and would have cost $400.00 in Manhattan, we skipped, but we did go to a local, picturesque pub for a late lunch of oysters with a beer (to drown our sorrows).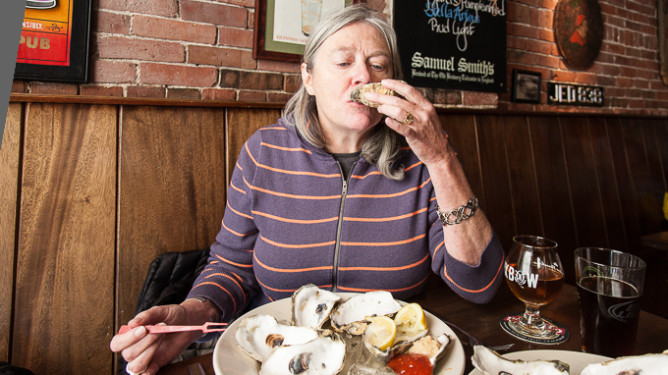 Then it was north – really mostly east – towards Acadia, passing one picturesque town after another. Most of these were working towns or working small cities where acual people lived (actual people that ate alot of potatoe chips, in some cases).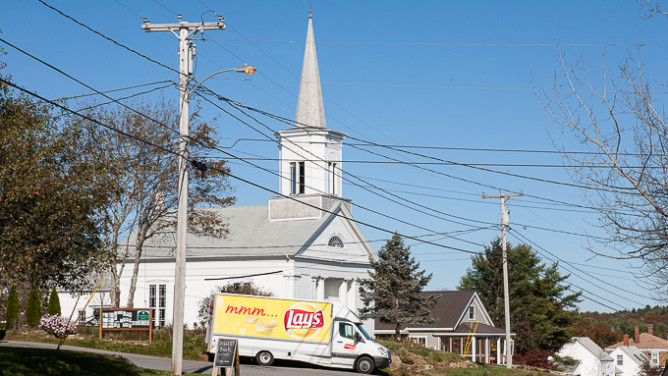 Every time we crossed a river on a bridge, or an estuary on a high bridge, we would both go Oh! Look, and keep driving into the fading light thinking OK, we've got to come back.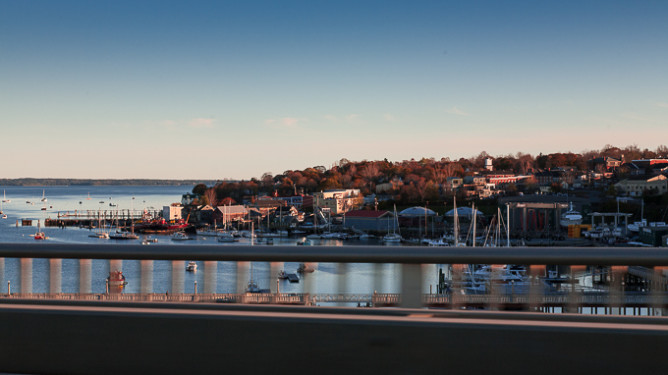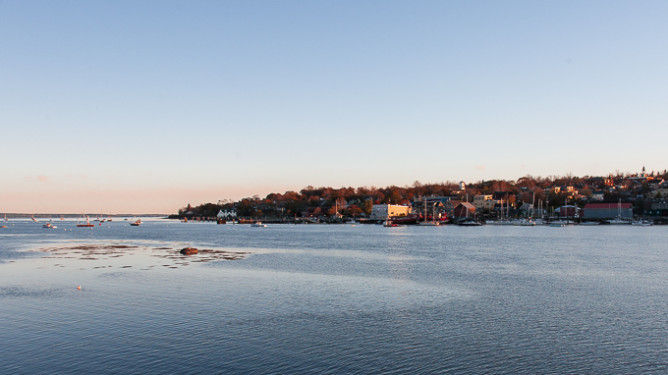 When we rounded a corner and saw the Penobscot Narrows Bridge, we were both stunned. It was totally unexpected. Scrambling to find out what it was, we read, probably on Michele's iPhone, that it was the highest bridge observatory in the world. Later, on the interwebs, I read that, as a homage to the  Washington Monument which is partially built with granite from nearby, the towers are built in the same shape. But, for me – as a Californian who had, only weeks before, driven across the new Bay Bridge that took twenty four years  to design and build – the biggest shock was that this bridge was planned, funded, designed, permitted and built in only 42 months. Amazing!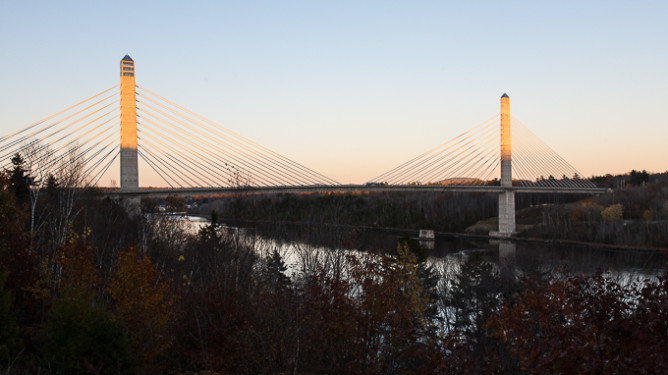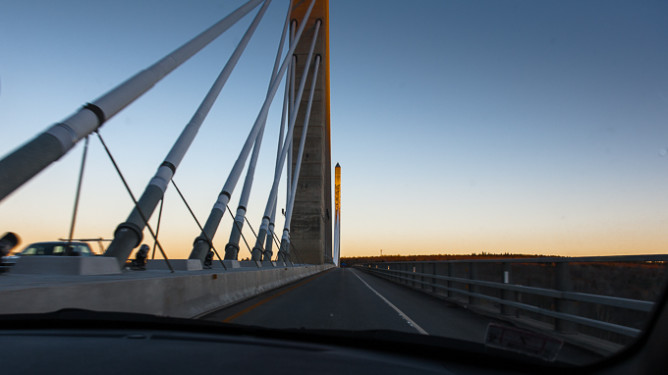 We ran for a short while in the twilight
and then a long while in the dark. I was surprised that it was getting dark so soon, thinking that the days would be longer this far north. Michele reminded me that that was only the case in the summer and we were far from summer at two days before Halloween. We had no idea where we were going to stay, I was thinking maybe a cheap motel in Ellsworth but Michele thought it was too far from our – hoped for – final destination. She suggested Hancock but, when we got there, it didn't seem to really exist. There was, however a Bed and Breakfast, The Bluff House Inn, on the Schoodic Peninsula which was our destination in the morning.
It was inexpensive and very cute so we felt we had done well. The Inn Mistress said that there were only two restaurants nearby – nearby being a thirty mile radius – one, not very memorable diner, and a local pub which was where she would go. Driving by the diner, it looked less than memorable, so we choose the pub and had our first truly mediocre meal of the trip. We were in bed early, ready to get up early on our last day.
Thoughts on coming back to California