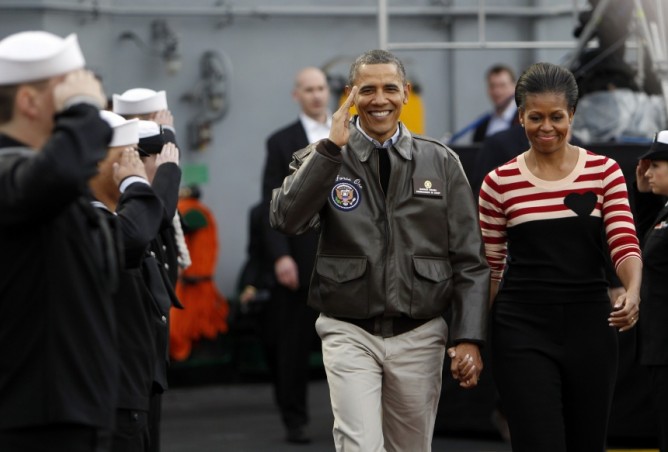 Let me start by saying that I am going to vote for Obama. I would vote for Obama even if I thought he would lose but I don't. I am an Obama guy. I am on his team and my outlook is colored by my looking through that lens. For example, I saw a clip of Obama campaigning while wearing his nifty Air Force One flight jacket. Say, eight years ago, when I saw Bush wearing his Air Force One flight jacket, I was disgusted and, when I first saw Obama wearing one, I felt pretty much the same way. But my cognitive dissonance antibodies have set in and – now – I am OK with it. It becomes him.
With all the disclaimers above, I am willing to bet that Obama is going to win this election. Maybe not $10,000 but lunch if anybody actually feels confident enough to bet that Romney is going to win. We keep hearing that it is too close to call, but I think that is really just GOP PR and the media wanting to sell coverage. Two people – three if you count Colin Powell – who are smart and probably see the writing on the wall just came out for Obama: Mayor Bloomberg and Republican governor Chris Christie. Both would have been unlikely to have been so positive towards Obama if they thought he was going to lose.
The reason Powell, Bloomberg, Christie, and I think Obama is going to win is the Electoral College favors President Obama. Let's start with the estimates from freedomslighthouse.net. (From the name, you might guess that this is a right leaning – misusing leaning in its most benign sense – organization, and you would be right.) They say that Obama has a safe lead in states producing 238 votes and Romney has a safe lead in states producing 191 votes and that agrees with what most other people say. That doesn't mean that Obama will win for sure, but it does mean that he is closer to winning than Romney.  Just like the Giants were closer to winning when they were leading the Tigers by two runs in the 7th inning (they weren't guaranteed to win, but they did have a better chance of it).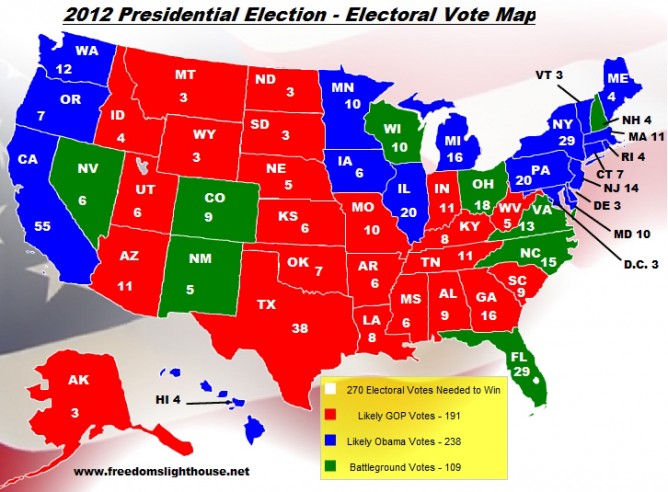 To win, Obama needs 32 additional Electoral Votes and Romney would need 79 Electoral Votes. Of the states that are up for grabs, Obama is leading in seven: New Hampshire – 51.2% to 47.9 according to Nate Silver at FiveThirtyEight1 – Wisconsin, Ohio @ 50.8% to 47.9, Virginia  slightly @ 50.2% to 49.0, Colorado @ 50.2 to 48.7,  New Mexico, and Nevada @ 51.4% to 47.5. Romney is leading in two: North Carolina @ 50.9% to 48.4 and Florida @ 49.9% to 49.5. Sure, it is possible for Obama to lose, but it is unlikely.  This campaign looks very much like Obama's primary campaign against Hillary in that they were not running a popularity contest, they are basing everything around getting enough Electoral Votes to win. Yes, they are pretty close in the popular vote, but to actually win the Presidency, Romney had a very steep and unlikely climb up until Sandy.
I think that Sandy iced it for Obama. For about four or five days, last week Romney – with no official position – was invisible and Obama started wearing – very visibly – his Commander and Chief Flight Jacket.
1. The Republican hate Nate Silver because he has been projecting Obama for most of the year, but he was only one Electoral Vote off in 2008. His methodology  for Virginia is typical.
.